<![if !vml]><![endif]>

In April 2021 I had the momentous occasion of completing all my brass PRR Steam locos including a M1 that I have owned for over 25 years that was still unpainted. Also a K4 that was in awful condition. These photos represent over 30 years of my collecting and painting. All of the brass locos below have been modified in some way from when originally built. The K4, M1 and l1 have been significantly modified and detailed. There will be no more brass PRR steam locos purchases for me - this is IT. It is too time consuming to modernize them. Shown are 1) A5 2) B6 (die cast) 2) I1, 1) J1, 3) K4 and 3) M1. The individual project pages are below.

<![if !vml]><![endif]>
PRR A5 713
Added 12-3-17
PRR B6
Added 12-3-17
<![if !vml]>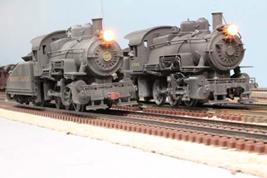 <![endif]>
B&O 0-8-0 848
Added 7-4-22
B&O C16 "Docksider" 96
Added 8-20-16
<![if !vml]>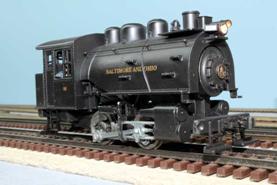 <![endif]>
B&O E27 2680
Added 10-15-20
This was made by S Helper Service in 2003. S Helper Service is now closed. It was offered in various road names however it is a B&O loco.  The detail and performance are second to none. It might take a while but they occasionally appear on eBay.
<![if !vml]>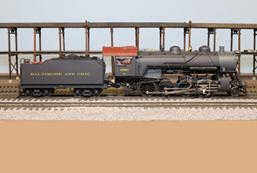 <![endif]> <![if !vml]>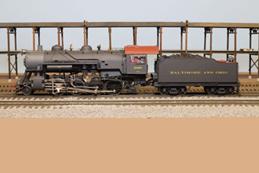 <![endif]> <![if !vml]>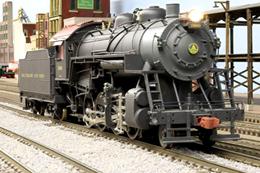 <![endif]>
B&O EM-1 655
B&O Pacific 5300
Added 10-21-20
This is an American Models loco. It is a bit generic more for the Hi Rail market than scale. It might look like a steam loco to you but uniquely is also like a diesel model. All of the driver axles are geared to each other. The side rods are completely ornamental. The drive runs very well. It is bulletproof to the point a friend designed a complete brass boiler and new all brass tender around it. You would never know it was not a commercially produced brass loco. I painted the drive black and added a LED headlight.
<![if !vml]>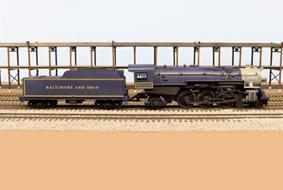 <![endif]> <![if !vml]>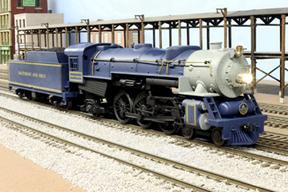 <![endif]>
PRR E6s 460
Added 11-6-16
This is a long term project. MUCH work needs to be done.
CNJ G3 832 For The Blue Comet
Added 1-13-21
Reading G-1sb 201
Added 1-13-21
Reading G-1sb 204
Added 9-6-15
PRR I1 4595 & 4616
Added 1-21-17
Reading I-8 Camelback 1601
Reading I10sa
PRR J1 6156
This was imported by River Raisin in October 2002. It was made by Boo Rim. I did not do much to it except add a working coupler to the pilot. I had it painted with DCC and sound added. It runs amazingly well. In February 2017 I installed a WOW4 decoder and LED headlight.
PRR K4 295
Added 5-23-20
Completed 4-1-21
PRR K4 3768
Added 12-14-22
PRR K4 3858
Added 5-23-20
PRR K4 5495
Completed 10-30-12
K4 5495 is by far my most involved most time consuming locomotive ever, and probably will be for my entire life. The total time spent making it is not known but I estimate it at well over 1000 hours. Click the photo for a page on its history.
PRR K5 5698
Added 7-30-22
PRR L1 554 & 1788
Added 1-15-17
The PRR L1 is the first S Scale Brass engine I bought in about 1988. A long involved project started in 2009 that reworked them to the detail level of 5495. They were finally completed in 2017.
PRR M1 6840
Added 5-4-20
Completed 4-1-21
PRR M1a 6702
Added 5-7-20
PRR M1b 6717
Added 1-22-17
Completed 4-1-21
Reading M-1sa 1726
Added 11-16-17
Reading P-7sb 353
Southern PS4
Added 5-10-23
Reading "Suburban" 2-4-4T 381
Added 4-20-21
Completed 4-28-21
N&W Y3 2020
Added 12-17-17
West Side Lumber Company Shay #12
Updated 5-10-23
All photos and content © Lanes Trains 2005-2023