<![if !vml]><![endif]>

PRR I1

This I1 was made by Samhongsa and imported by Omnicon in 1995. As you can see I went to great lengths to make this look like an unpainted loco! I have 2 of them to finish. I can't wait to see the slugfest of the 2 Hippos going up Horseshoe Curve (if my friend ever builds it!)

In January 2008 I started the long process of detailing my I1 in preparation for painting them. There are some minor details that I still have to do, but they are pretty much done. I will make a separate page for this massive project at some point. Here are 2 videos I shot of them of the test run on 2-13-08. I hope to have them painted and completed soon.

Video
PRR A5
This is one of a kind model built by Sam Powell as a "stand in" PRR A5. It is a cobble together of Rex parts. Rex is the S Scale equivalent to the old school Mantua or Roundhouse white metal kits. There are some things wrong with the kit I want to correct and give it a new paint job. There are hopefully some new drivers that don't wobble in my long range plans for it.
But it can PULL!
PRR J1
This was imported by River Raisin in October 2002. It was made by Boo Rim. I did not do much to it except add a working coupler to the pilot. I had it painted with DCC and sound added. It runs amazingly well.
PRR K4
The K4 was imported by Omnicon in 1987. It was made by Samhongsa and runs very well. A K4 from this run won an all scales performance contest at a NMRA convention right out of the box, and never run.
I was extremely lucky enough to have bought this K4 as shown here. All of the Omnicon K4 were produced as built. This model has had a lot of Modernization work done to it. I have 1 more K4 to complete to at least this level of detail. With Mikes Train House buying S Helper Service in 2012 who knows what will be made in the future. A RTR modernized K4 is now a possibility. The last K4 might not get finished!
PRR K4 5495
Completed 10-30-12
K4 5495 is by far my most involved most time consuming locomotive ever, and probably will be for my entire life. The total time spent making it is not known but I estimate it at well over 1000 hours. Click the photo for a page on its history.
PRR L1
Finally, this is a locomotive that I painted in about 1992. It is also the first S Scale Brass engine I bought. The L1 was made at the same time as the K4 above. It runs equally well as the K4. I added the Modernization kit that was available separately.
The above L1 has been stripped and reworked. I am waiting for a new run of PRR decals to be made so I can finish it.
PRR M1
Not Shown
I traded away my painted M1 for an unpainted model in about 1995 ago in the name of redoing it. I did not modernize that locomotive. My redone M1 will be modernized.
PRR M1a
This is one of the first PRR engines that I modernized. Unfortunately it is now not up to my current modeling standards. I will probably leave it as is though.
Video
Shot on 2-13-08
There is not a sound unit in this engine – yet.
PRR M1b
Not Shown
I am in the very slow process of making an M1b from a M1a. I have spent LOTS of time so far Modernizing that locomotive. I even installed handrail stanchion castings I had made from measuring handrail posts on the real M1b at Strasburg.
B&O EM-1
This is one of the first model photos I took when I got my first digital camera. I thought it was stunning then and it is still one of my favorites. When compared to the lens Olympics I used to do with my film cameras to get this depth of field, I now press a few buttons and got this instantly. I miss a few things about my film camera days, but trying to get this great depth of field is not one of them. The importer is a friend of mine. He sent me 2 models to photograph. The above model was sold to someone else. My EM-1 is shown below after weathering and DCC sound was added.
No it is not PRR, but it is 1 of my 2 favorite non-PRR Steam Locomotives. I hope, but doubt that I will ever be able to get an N&W Y-6b. This is an absolutely a great engine to run. I added a working coupler to the pilot. I have already double-headed it with another EM-1. I justified getting it by needing a locomotive to pull my 3 B&O I-12 cabooses!
B&O Consolidation
Here is my S Helper Service B&O Consolidation putting on a show on my roller
track without moving an inch! The Tsunami sound unit brings it all to life!
Click on the above photo to see the live video on YouTube!
Reading I10sa
Click the below photo for a short video of the test run.
I bought this as shown on eBay December 2009. The cab, firebox and tender shell are true American Flyer. The rest pretty much is brass. It was a rather rare kit offered back in the day and I imagine even rarer when assembled especially to this level. It had a massive Pittman open frame motor in it that has been changed to a can motor.
Reading I-8 Camelback
<![if !vml]>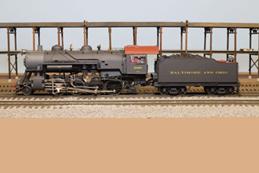 <![endif]><![if !vml]>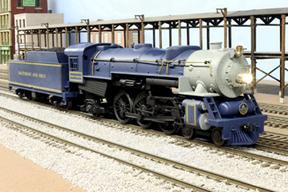 <![endif]>
This Reading I-8 Camelback was made by Overland in the late 1980s. It is a very "schweeet" piece as you can see. I bought it as shown from the same person that I bought the K4 shown above. I added a larger boiler weight because it was pitiful, and DCC.
West Side Lumber Company Shay #12
Please see my Howie Page for a video of this engine in action
Updated 12-1-12
All photos and content © Lanes Trains 2005-2013