<![if !vml]><![endif]>

It is interesting that I found 6840 photos with 3 different tenders.

No one would believe you that the Pennsylvania was on the tender with only a few letters showing, and was still in service.

 
The Omnicon PRR M1 was released in 1989 after a successful PRR K4 and PRR L1 project. The M1 was made by FM Models. Charlie Sandersfeld, the owner of Omnicon wanted Samhongsa to build it, but got a significant price increase of over the K4 and L1, so he contracted with FM Models.  When I first saw the pilot model at the 1988 Central Jersey S Scalers Fall Get Together, I met Charlie for the first time.
That was a magical time in S Scale. I asked Charlie if the PRR Trainphone antennas were going to be included on the tenders. He said "I will have to check into that". Actually both tenders made for the M1 project had the PRR antennas. You had direct contact to the company owner and input to things as they were being made. That was a major attraction for me as a fresh convert to S Scale at that time.
The M1 and M1a proved to be very problematic for Omnicon with all flanged drivers. I am sure they lost a lot of money over it. The model was built too close to the real PRR frame axle spacing drawing not allowing for model proportion wheel flange clearance. Models can have selective enlarging of dimensions to ensure a good running model.  3 sets of drivers were made. The models were delivered with all flanged drivers. That quickly became a problem because the flanges touched each other. The loco would not run at ALL even on straight track. Next was making 2 code 115 blind center drivers. The code 115 blind was a problem on most layouts with sharper curves. The center axles fell off the rails in a curve. The code 148 blind drivers proved to be the most reliable and desirable. There are M1 and M1a surviving into 2020 that are all flanged drivers making them permanent shelf models. Getting the correct code 148 center drivers now would be beyond very difficult. I do not know if enough code 148 center drivers were made in the first place. It would take a skilled machinist with advanced model railroading experience to make the correct code 148 tires and install them in the original centers.
I have seen the M1 with all flanged drivers listed at times on eBay usually by an unsuspecting seller. I have at times emailed the seller about the problem telling them the problems that will happen if the buyer wants to run the model. I have gotten mixed results – mostly leave me alone but 1 seller added my message to the listing.
Omnicon returned to building with Samhongsa for the PRR I1 and remaining few projects until they closed.
I traded away my factory painted M1 for an unpainted model in about 1995 in the name of redoing it. I did not modernize that locomotive. In January 2017 I took this locomotive out of the box and tried to run it for the first time ever. It still had all flanged drivers as originally made by Omnicon. I wanted to test it, but the flanges were touching so I installed the code 148 blind center drivers. It ran for the first time on 1-22-17
Even though I have had this loco for 25ish years, I was not sure if I ever would get to finishing it. Modernizing it is an epic job. I even had thoughts of selling it more than once. Even more epic was the virus of 2020 that left me with no job and time so it got bumped to finishing with my M1b 6717, also a long term project.
As Built By Omnicon
I finally got some true untouched before photos when I started a project. This is as built by Omnicon. I will try and document the build and completion process better this time.
I am FINALLY happy with taking photos of bare brass models in my basement under the awful fluorescent lights. It has been YEARS and truly many 100s of photos taken I was never happy with. The diagonal shots are stack photos.
<![if !vml]>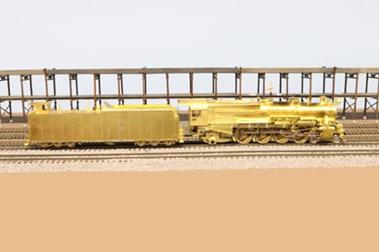 <![endif]> <![if !vml]>
<![endif]>
<![if !vml]>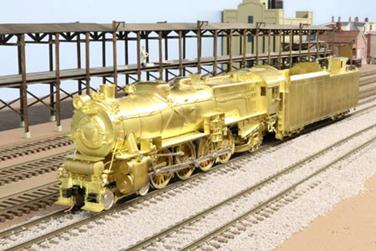 <![endif]> <![if !vml]>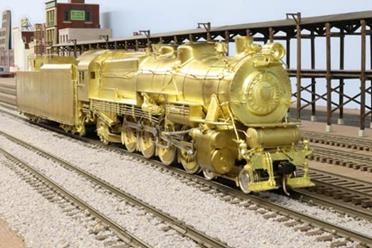 <![endif]> <![if !vml]>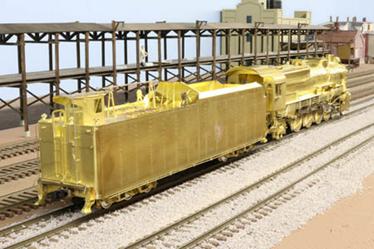 <![endif]>
Before I started the modernization of 6840 I briefly had 3 M1 running at 1 time on 5-15-20. There is no headlight in 6840 yet.
<![if !vml]>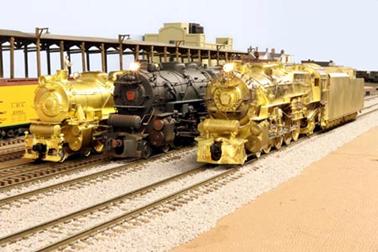 <![endif]> <![if !vml]>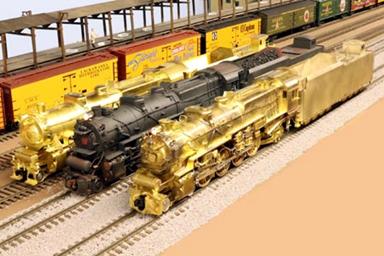 <![endif]> <![if !vml]>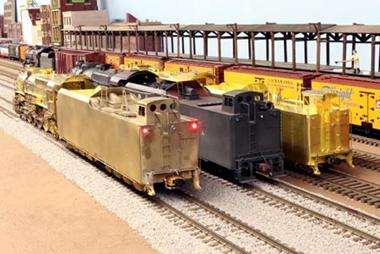 <![endif]>
The boiler is stripped down. Let the modernization begin.
<![if !vml]>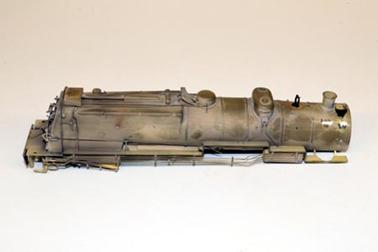 <![endif]> <![if !vml]>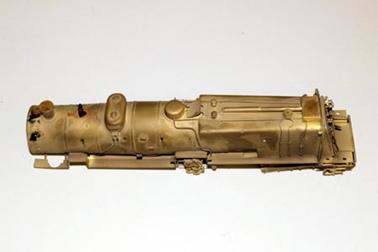 <![endif]>
Some of the handrail work is done.
<![if !vml]>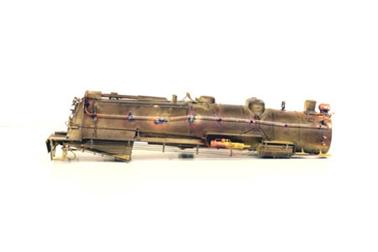 <![endif]> <![if !vml]>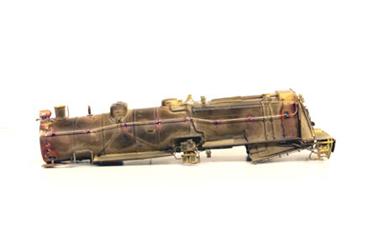 <![endif]>
I added an equipment box and other lines to the tender.
<![if !vml]>
<![endif]> <![if !vml]>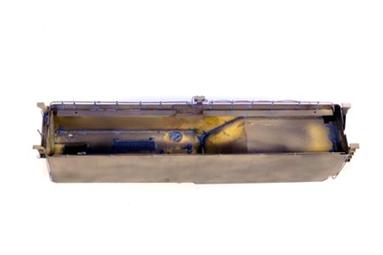 <![endif]>
The very front edge of the boiler was not closed tight when it was made new. This made the boiler front casting loose and it fell off easily. I needed to tighten the front edge up and close that gap. A simple hose clamp and my Hotip got it done. It would have been better and easier if I did it before adding the headlight and handrail stanchions. Oh well………
<![if !vml]>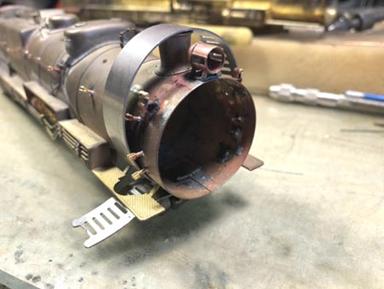 <![endif]> <![if !vml]>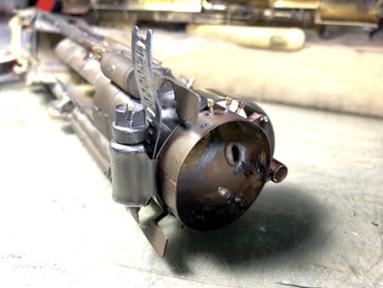 <![endif]>
Added 3-2-21
Ready For Paint
After 6 months off I circled back and got this M1, the K4, and M1b ready for paint. There were a few minor things left to do on all of them. I did a lot more detailing to the M1b. The M1 was just a "get it done and running" project.
<![if !vml]>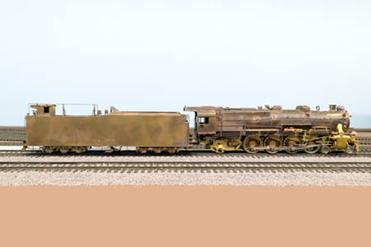 <![endif]> <![if !vml]>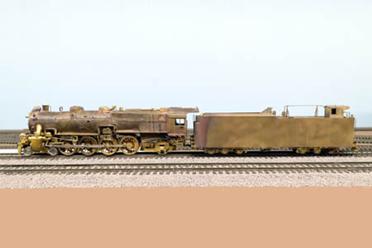 <![endif]>
The tarnish turns dark brown when sitting for months. Tarnish actually starts rather quickly right after blasting which is why painting as SOON as possible is always best. Everything gets another blasting just before paint.
<![if !vml]>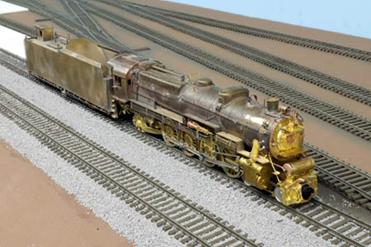 <![endif]> <![if !vml]>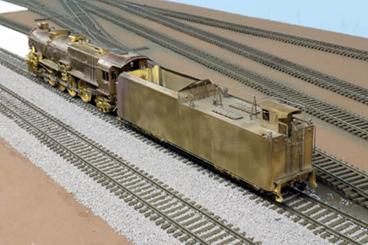 <![endif]>
I HATE Masking
Added 3-20-21
There is nothing in working on my trains that I HATE more than masking for painting. My goal is to do as little hand touch up as possible so that makes for an extremely tedious job of masking the boiler and tender. The bracket on the back of the boiler is a part of my painting holder.
<![if !vml]>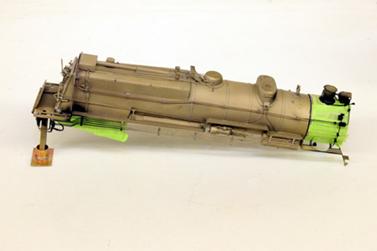 <![endif]> <![if !vml]>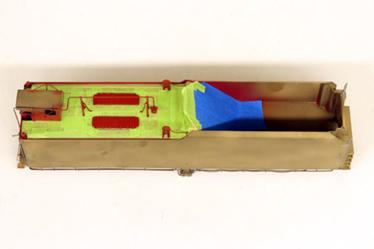 <![endif]>
Painting Is Done
Added 3-24-21
Finally the painting is done. Baking makes Scalecoat paint very glossy. I used Floquil graphite for the smokebox paint. The numberplates turned out really well for the 3 locos in this project. I used Tru Color flat Santa Fe red and flat yellow.
<![if !vml]>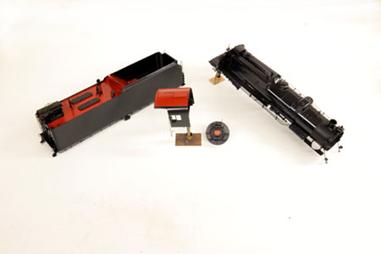 <![endif]> <![if !vml]>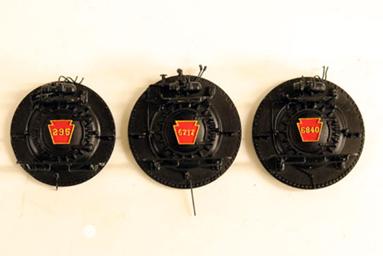 <![endif]>
Completed 4-1-21
This completes me having all my brass PRR locos in paint. The 3 in this project are the last of existing brass PRR steam locos I will have. It is all but assured no one else is going to make any new brass locos in the future. I am not buying any more. The modernization is too much work. Still I have the most unique and detailed collection of PRR steam locos in S Scale. Almost all of them have been significantly modified with parts I made that no one else has. My M1a 6702 is now my oldest surviving paint job. It is also my first modernization. I bought a K4 that was modernized and was a guide for later locos completed. Both could be updated and improved at some point to better match the rest of the fleet.
I was hitting my attention span wall again just trying to get the 3 locos done. The weathering was by far the most minimal weathering I have done on my steam locos. The cab roof and tender deck are still too bright. I had some thoughts of making 1 of the 3 at least a semi gloss but that did not happen. This batch of Scalecoat flat coat was pretty good and flat. Scalecoat paints can vary from bottle to bottle.
<![if !vml]>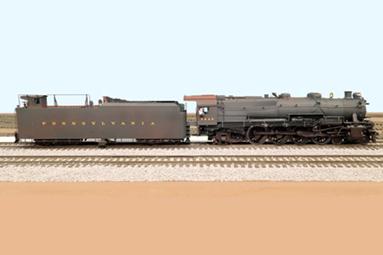 <![endif]> <![if !vml]>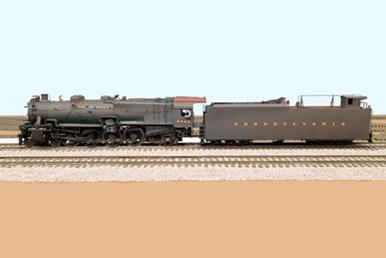 <![endif]>
 <![if !vml]>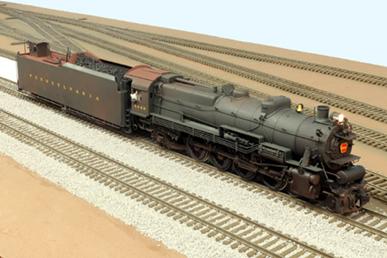 <![endif]> <![if !vml]>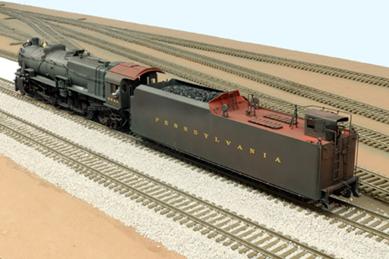 <![endif]>
 <![if !vml]>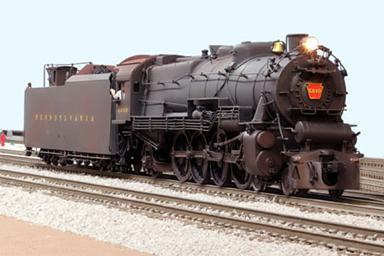 <![endif]>
This line up of the M1 at left, M1a and M1b does not exist anywhere else in S Scale. The M1a in the center is likely my oldest existing paint job at about 25 years old. All other old original paint jobs have been redone. It is my first attempt at modernizing. That might get updated and repainted with a new cast numberplate at some point.
<![if !vml]>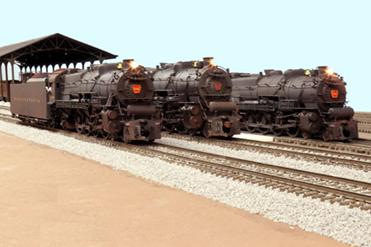 <![endif]> <![if !vml]>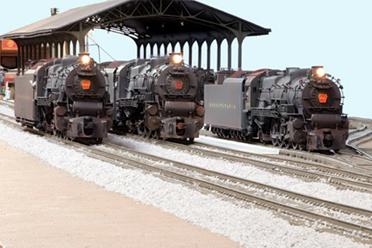 <![endif]>
Updated 4-1-21
All photos and content © Lanes Trains 2005-2021
<![if !vml]>

<![endif]>