<![if !vml]><![endif]>

I am making a M1b from a M1a by, among other things, adding the cleanouts plugs. This work was all done in about 2004, and well before I learned Solidworks and started making my own parts. Possibly the only 3D created parts will be the handrail stanchions and numberplate.† It is not quite ready for paint as shown below. There is some detailing left to be done. I ran it for the first time ever with my M1 on 1-22-17. You can see the modernization work done when compared to the stock M1.

<![if !vml]><![endif]>

Don Wood Photo

<![if !vml]><![endif]>
2020 Reboot
I donít have any in progress photos of this loco. These were taken 4-19-20. The angled views are stack photos. The good thing about getting an old project out to work on is not having to start from the beginning. I have does this MANY times.
I usually only work on steam locos in the winter. They demand steady uninterrupted work. The 2020 virus left me with no job and time so no time like now to get it done. I only needed a WOW4 decoder. I had everything else.
<![if !vml]>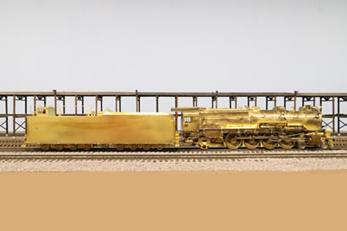 <![endif]>†<![if !vml]>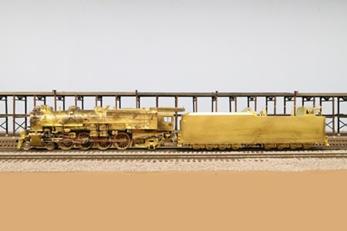 <![endif]>
<![if !vml]>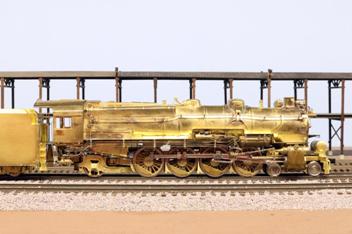 <![endif]>†<![if !vml]>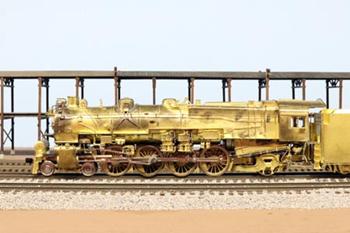 <![endif]>
<![if !vml]>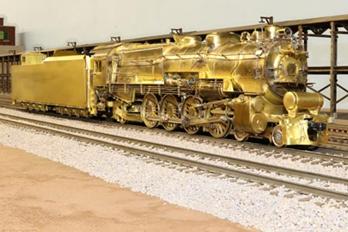 <![endif]>†<![if !vml]>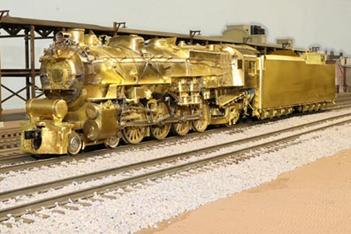 <![endif]>
Note the PRR modernization and lubricator linkage I made. There is a LOT of time invested in this detailing.
<![if !vml]>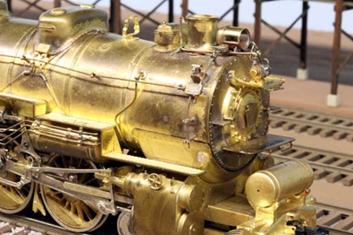 <![endif]>†<![if !vml]>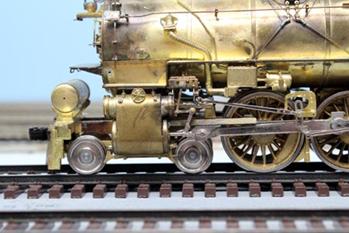 <![endif]>
Test running on 4-18-20 here.† No sound unit yet.
Added 4-27-20
I cast a boiler weight then milled about 1/4 back off. Milling the new weight is easier than modifying the steel mold that is now about 20 years old to replace the original M1 boiler weight that is pitiful. It is a difficult trade off of loco weight or sound where it belongs - coming out of the stack. I have made all of my steam locos like this for years if it was possible.
<![if !vml]>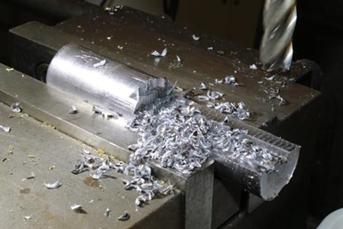 <![endif]>†<![if !vml]>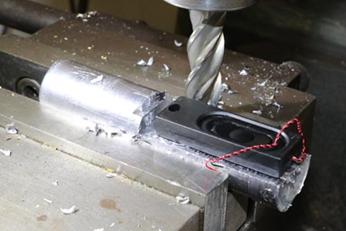 <![endif]>
I got the cast numberplate and a Train Control Systems WOW4 decoder installed. It is really running well now.
<![if !vml]>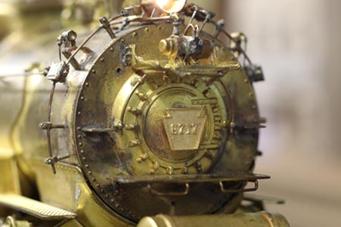 <![endif]>†<![if !vml]>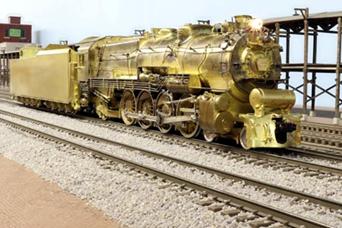 <![endif]>
This is a variant of my sound cam wiper on my M1a. They vary a bit for each loco but are mostly the same. All screws are nylon. The large screw is a minor height adjustment so it JUST touches the cam and fires. I made the same thing for this loco as well. I have truly 100s of hours of running with my sound cam wipers. They have never broken.
Added 3-2-21
Ready For Paint
After taking 6 months off I circled back to finish this M1b with the K4 and M1. Note the recessed marker lights in the rear of the tender.
<![if !vml]>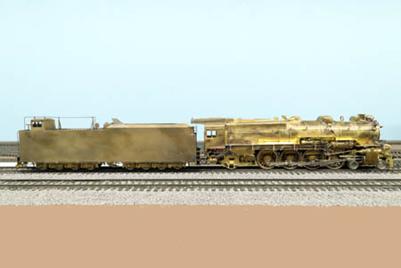 <![endif]>† <![if !vml]>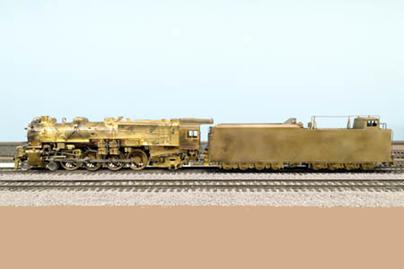 <![endif]>
<![if !vml]>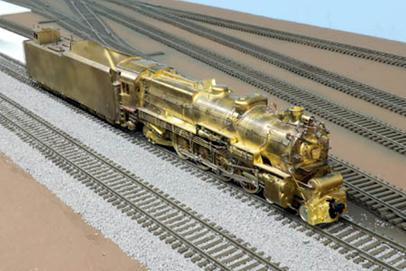 <![endif]>†<![if !vml]>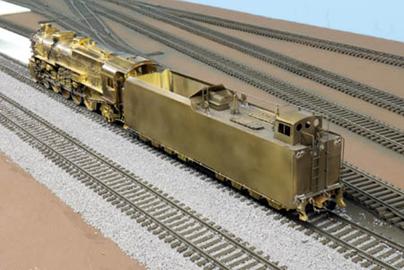 <![endif]>
I HATE Masking
Added 3-21-21
There is nothing in working on my trains that I HATE more than masking for painting. My goal is to do as little hand touch up as possible so that makes for an extremely tedious job of masking the boiler and tender. The bracket on the back is a part of my painting holder.
<![if !vml]>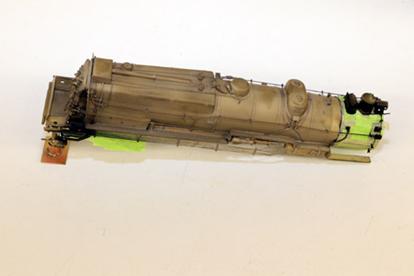 <![endif]>†<![if !vml]>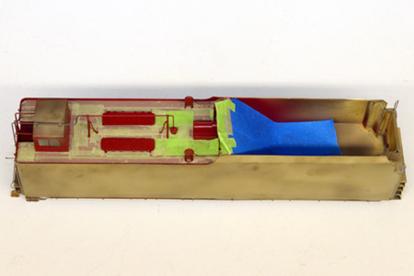 <![endif]>
Painting Is Done
Added 3-24-21
Finally the painting is done. I used Floquil graphite for the smokebox paint. The numberplates turned out really well for the 3 locos in this project. I used Tru Color flat Santa Fe red and flat yellow.
<![if !vml]>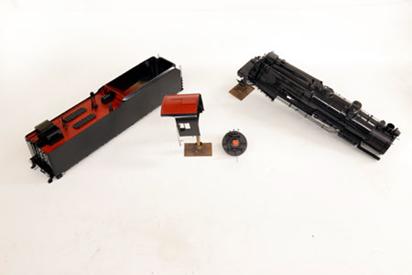 <![endif]>†<![if !vml]>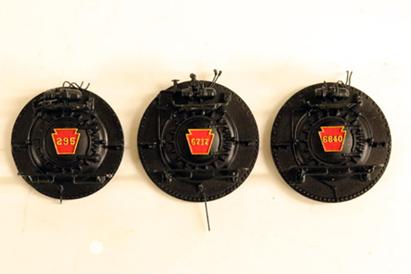 <![endif]>
Completed 4-1-21
This completes me having all my brass PRR locos in paint. The 3 in this project is the last of existing brass PRR steam locos I will have. It is all but assured no one else is going to make any brass locos in the future. I am not buying any more. The modernization is too much work. Still I have the most unique and detailed collection of PRR steam locos in S Scale. Almost all of them have been significantly modified with parts I made that no one else has. My M1a 6702 is now my oldest surviving paint job. It is also my first modernization. I bought a K4 that was modernized and was a guide for later locos completed. Both could be updated and improved at some point to better match the rest of the fleet.
I was hitting my attention span wall again just trying to get the 3 locos done. The weathering was by far the most minimal weathering I have done on my steam locos. The cab roof and tender deck are still too bright. I had some thoughts of making 1 of the 3 at least a semi gloss but that did not happen. This batch of Scalecoat flat coat was pretty good and flat. Scalecoat paints can vary from bottle to bottle.
I sort of surprised myself when grabbed the clear gloss and blasted the firemanís side of the tender to simulate a water splash. It was a bit impulsive but very easy and different for sure.
<![if !vml]>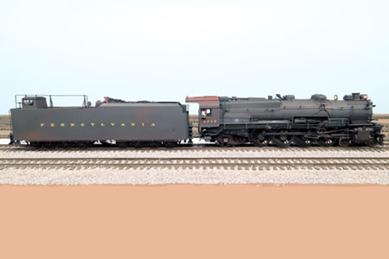 <![endif]>†<![if !vml]>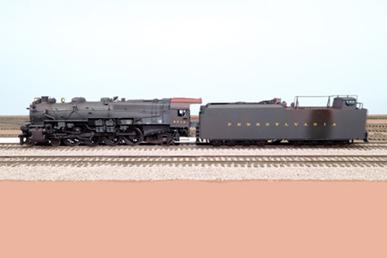 <![endif]>†<![if !vml]>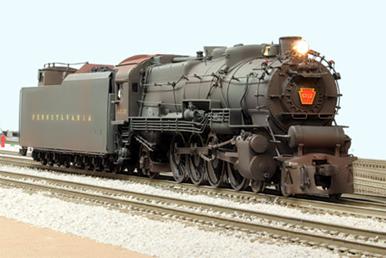 <![endif]>
This is a lineup of a M1, M1a and M1b is likely 1 of a kind in S Scale since a M1b was not made.
<![if !vml]>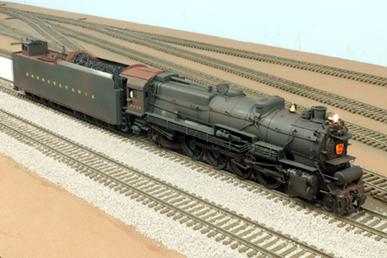 <![endif]>†<![if !vml]>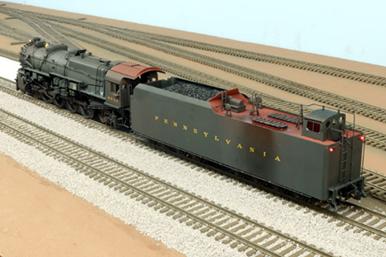 <![endif]>†<![if !vml]>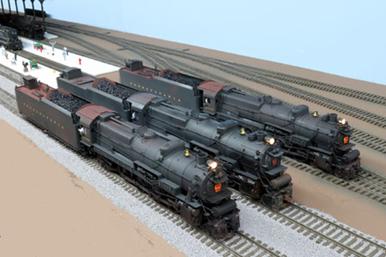 <![endif]>
<![if !vml]>

<![endif]>
Updated 4-5-21
All photos and content © Lanes Trains 2005-2021