<![if !vml]><![endif]>

USRA Pacific To PRR E6 Atlantic By Sam Powell

<![if !vml]><![endif]>

                                                                    Bill Volkmer Photo

I wanted to have the PRR counterpart to my Reading P-7sb, which is the PRR E6. Many E6 ran late into the PRR steam era in PRSL service. I did not choose 460 because it is the "famous" Lindbergh locomotive. I chose it because it was retired from PRSL service in January 1956. 460 is close enough to me to visit and use for research. It went through a 8 year long cosmetic restoration that was completed in October 2016.

The opportunity to get this PRR E6 without completely building it myself came to me in a tragic unfortunate circumstance. In the fall of 2015 my good friend and famous S Scaler Sam Powell emailed me to say he was converting an American Models USRA Pacific to a PRR E6. I did not know how Sam was doing it but I knew he could. In early January 2016 Sam asked if I had any parts he needed. I sent him a brass boiler front, headlight and pilot I had leftover from K4 modernization projects. I goofed with Sam all along that once it was done he could just send it to me. About 2 weeks later Sam very suddenly passed away while shoveling heavy snow.
I thought this loco might be lost to me forever. It would have been very awkward (and rude) to contact Sam's wife asking for it. I felt a connection to it, as I just sent Sam some parts, and it was his last active S Scale project. Fate or Karma intervened in another very unusual circumstance when the loco wound up in the hands of my friend Pieter Roos in June 2016. Pieter did not know connection between Sam and I, but he knew I would want it. I got the locomotive in July 2016 just as Sam left it.
It is my goal to finish and enjoy this locomotive in tribute to Sam Powell.
 The Late Sam Powell
At My House 7-21-14
The goal here is not rivet by rivet perfection. Just get the taste of the model and get it done with a reasonable effort.
Sam's Locomotive
This is how I got the locomotive on 7-23-16, from Sam's hands to mine. Sam scratchbuilt the cab. I don't know much else about how Sam got it to this point. Still this is some significant work completed in the transformation from a USRA Pacific to what I have here.
<![if !vml]>
<![endif]> <![if !vml]>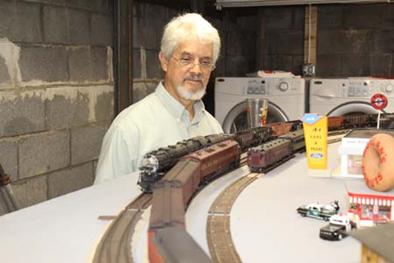 <![endif]>
<![if !vml]>
<![endif]> <![if !vml]>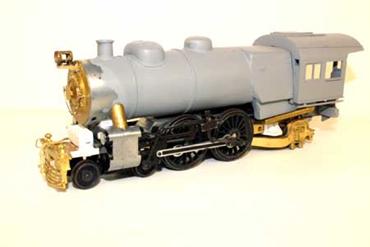 <![endif]>
There was no tender started, making me think this would be a very long time project.
But very good luck intervened once again.
(Maybe from Sam?)
There was a mention of an S Scaler on the former Yahoo S Scale group that made an amazing tender from plastic. It was just really awesome work. I contacted him, and most amazingly of all, I had this tender shell in my hands in about 3 weeks. My E6 just got the next biggest missing piece keeping me from proceeding. It is a work of art in plastic. The wrapping of the plastic is just wonderful. This locomotive was meant to be completed.
<![if !vml]>
<![endif]> <![if !vml]>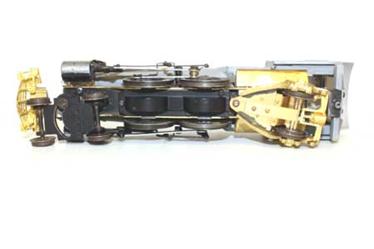 <![endif]>
<![if !vml]>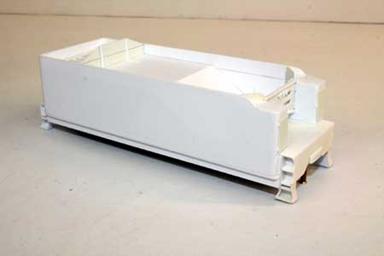 <![endif]> <![if !vml]>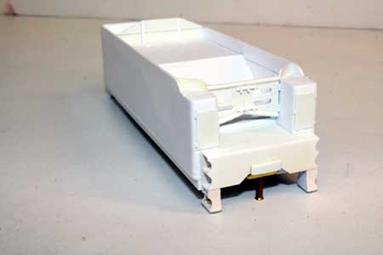 <![endif]>
Added 1-1-19
Just for a goof I got this out of the box for the first time in about 2 years. The lack of correct tender trucks has kept it off the to do list. I hope to have that resolved soon. But I took it from a various parts status to quick in dirty running in 1 day. It even surprised me how much I got done.
This is the only known PRR E6 in S Scale besides possibly some Industrial Rail O-27 locos fitted on American Flyer drives. As far as for Scale operation this may be the only one. I have taken over other steam locos started by friends like my Reading G1-sb but it was more complete when I got it. I have a lot of detailing to do! It should be fun.
<![if !vml]>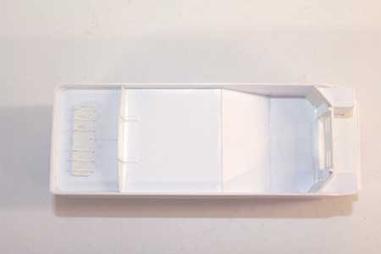 <![endif]> <![if !vml]>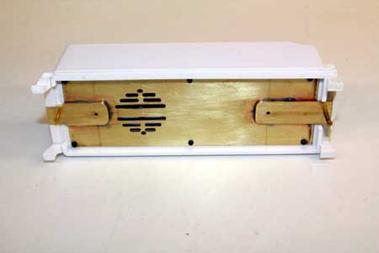 <![endif]>
<![if !vml]>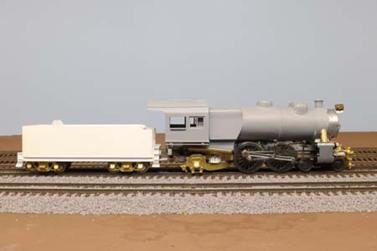 <![endif]> <![if !vml]>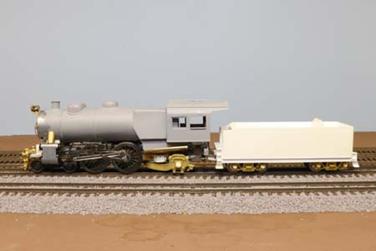 <![endif]>
Boiler Weight
Added 1-5-19
I am NOT encouraging anyone else to melt and pour molten lead. It is dangerous to do it and should be done at your own risk. But I don't follow my own warnings!
I needed a boiler weight. I have recycled tire weights for years. I have an all steel boiler weight mold that has been used in many of my steam locos. This is the first time I made a wood mold for a steam loco. I cut a 3" long piece of 2 x 4, and drilled a 1" hole clear through. The drill was actually spinning when I took the photo and did stop action on the drill bit. I added 2-56 threaded bushes that get suspended in the pour and locked in place. I screwed a bottom on the 2 x 4 and poured the lead. The weight eventually slid out but if not chop the wood up and get the weight out. I picked up 13 ounces. The loco alone now weighs 3 pounds. It has pulled a 11 cars all brass train.
Placement of these threaded bushings is pretty important for placing the weight on the drivers and loco balance. Without the weight the front drivers were almost getting picked up off the rails. Most of the weight is on and forward of the drivers. It just digs in now. The test run pulled 10 brass cars.
My big Green Milling Machine is great at removing lead in places it should not be. At 1" diameter the weight was very close fitting. There was no room for the headlight wire so I milled a small flat on top for clearance. There is still room for the decoder, a large speaker and the capacitors in the boiler.
<![if !vml]>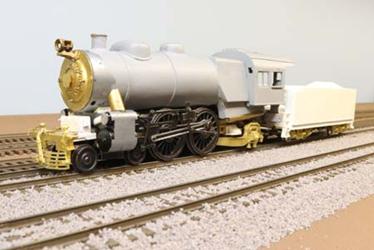 <![endif]> <![if !vml]>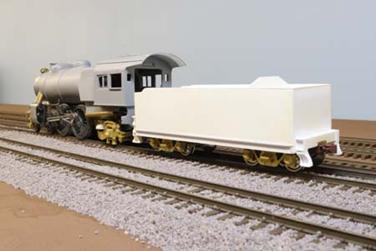 <![endif]> <![if !vml]>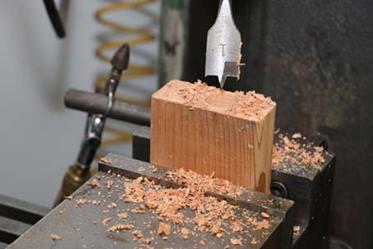 <![endif]>
<![if !vml]>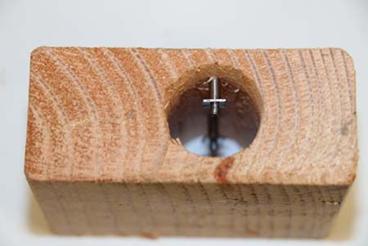 <![endif]> <![if !vml]>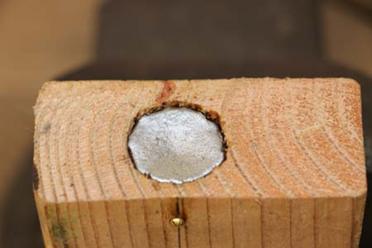 <![endif]>
New Photos Of Sam's Construction
Added 1-10-19
These photos are new to me, but were sent by Sam to Roger Nulton in January 2017. I never saw them before as Sam never shared them with me. Roger just sent them to me on 1-6-19. They are invaluable in many ways. I discovered at least parts of the boiler were copper pipe. Now I know just WHERE the copper pipe ends. I would have NOT primed this loco at this point in the build. There are too many things still to be added. Drilling small holes in copper pipe and die cast will break a LOT of drill bits.
Sam likely had a previously built E6 from seeing the Penn Creek tender. I would like to know where that loco is! Penn Creek was his private name railroad. Also Sam had a tender started for this loco, judging from what was painted Southern Pacific. It likely started with the Atlas Industrial Rail 0-27 Atlantic.
<![if !vml]>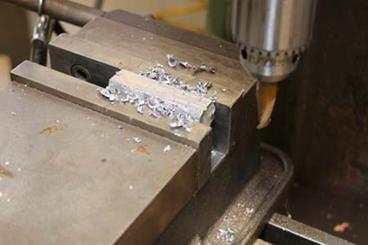 <![endif]> <![if !vml]>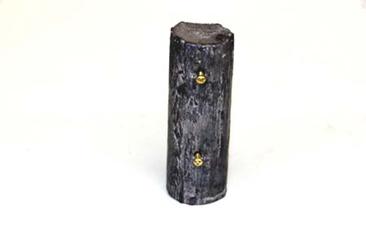 <![endif]>
<![if !vml]>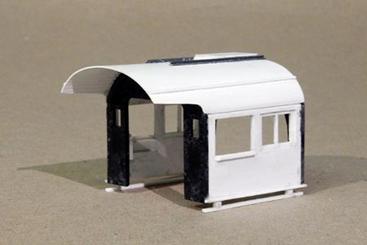 <![endif]> <![if !vml]>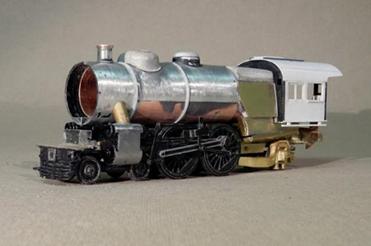 <![endif]>
Unique Drive
The American Models pacific is really a "diesel" in respect that all the axles are geared to each other. The side rods are purely ornamental. It runs VERY well. Sam removed the rear axle from the pacific.
<![if !vml]>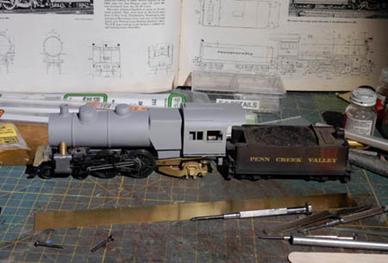 <![endif]> <![if !vml]>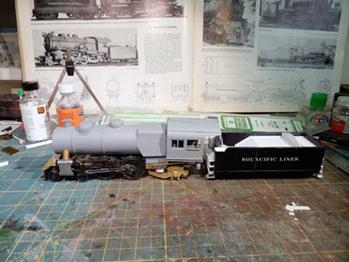 <![endif]> <![if !vml]>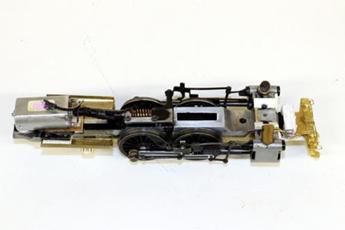 <![endif]>
It now has a TCS WOW4 decoder. I changed to the modern PRR headlight. It is running great. Let the detailing begin! The photo at bottom right is pulling 11 brass cars with some slip. I will be happy with pulling 8 cars.
Now that it is running I will have to get parts I do not have and photograph the real 460. That will start soon.
<![if !vml]>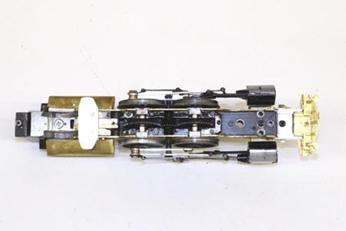 <![endif]> <![if !vml]>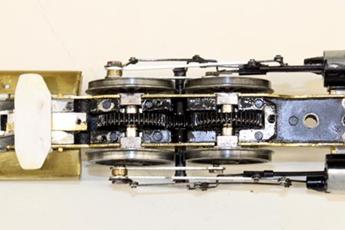 <![endif]>
Added 3-23-19
Dolphin Tender Trucks
Progress has been a bit slow but a major part is now done. The very unique Dolphin tender trucks are mandatory for this loco. The L1 tender trucks I have been temporarily using just will not do for the completed loco. I found HO Dolphin tender trucks for sale in a Shapeways store for http://www.keystonedetails.com  We eventually came together and made it happen. John did beyond an amazing job in doing the designing, making them for S Scale. Just upscaling a HO truck is easy but not the best way to go. My brass caster of 25+ years did not want to do anything with burnout patterns anymore, so we used Shapeways brass casting service. While the casting aspect was EXTREMELY expensive the quality was excellent. The fit of all the parts was well within reason. Given there really was no plan B available to me now it still all worked out really well. The first photos are a proof of concept mock up truck John supplied before getting the brass trucks made.
<![if !vml]>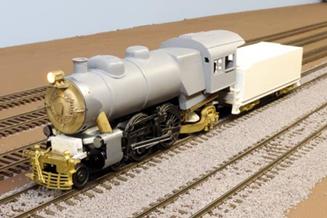 <![endif]> <![if !vml]>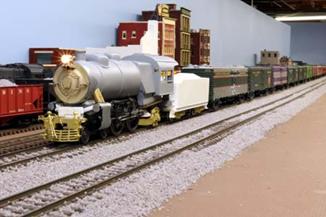 <![endif]> <![if !vml]>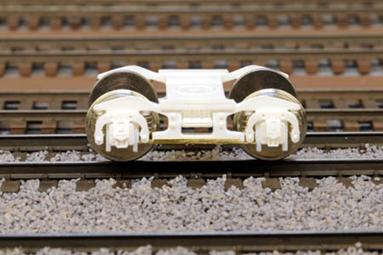 <![endif]>
5 parts trees were needed to make the trucks. They yielded enough parts for 3 trucks total in case I needed spare parts. I still have no idea how Shapeways cast these trees. The screen shots of the files look EXACTLY like the castings. There is no longer feeder that was cut off.
Photographing bare brass is always a problem.
<![if !vml]>
<![endif]> <![if !vml]>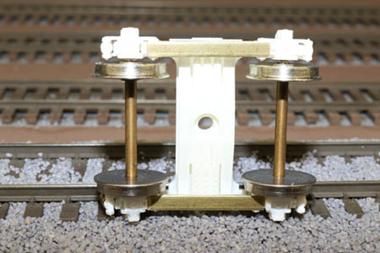 <![endif]> <![if !vml]>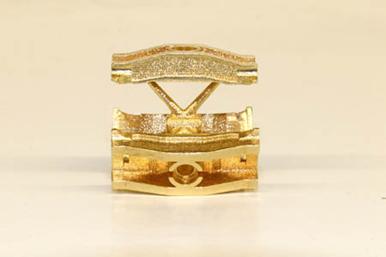 <![endif]>
<![if !vml]>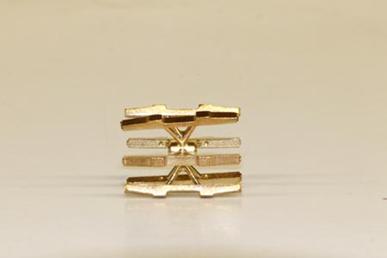 <![endif]> <![if !vml]>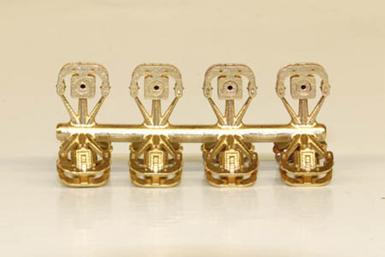 <![endif]> <![if !vml]>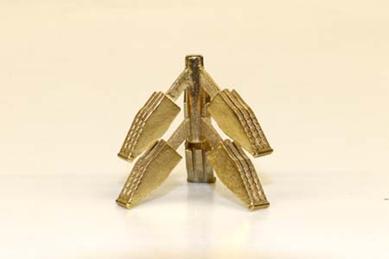 <![endif]>
The real Dolphin truck on the real 460
Done and running
<![if !vml]>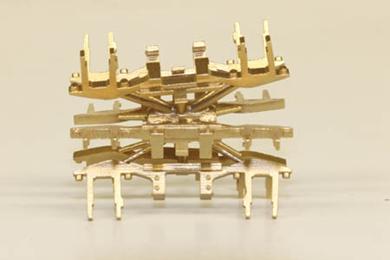 <![endif]> <![if !vml]>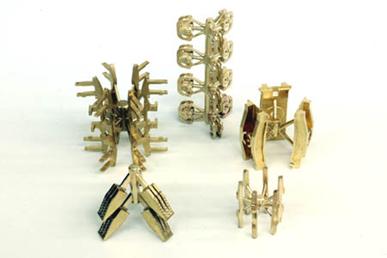 <![endif]>
<![if !vml]>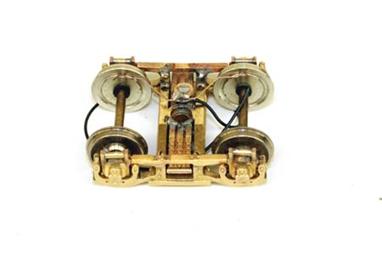 <![endif]> <![if !vml]>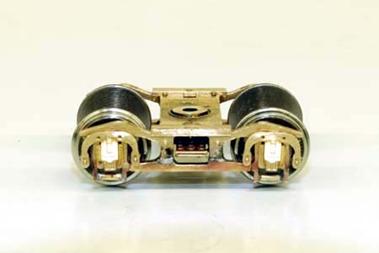 <![endif]>
Numberplate
The last thing I had made at Shapeways was the numberplate.  The other numberplate is for a PRR B8a I hope to build.
<![if !vml]>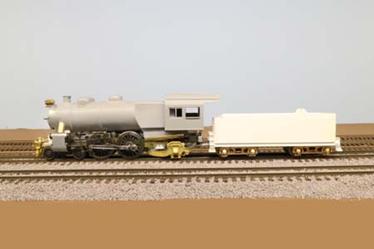 <![endif]> <![if !vml]>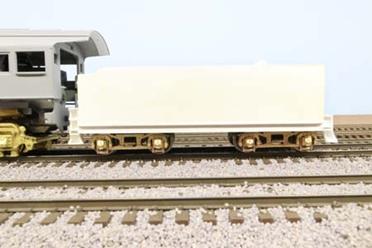 <![endif]>
Added 5-4-19
Let The Detailing Begin
Now the real heavy lifting begins detailing the tender and boiler…. this is new territory for me starting with such a blank boiler. I visited the Railroad Museum of Pennsylvania on 3-31-19 to measure and extensively photograph the real 460. I now have enough info to get started.
I added draft gear to the pilot and tender. Sam attached the pilot with a piece of plastic, and used a scratchbuilt plastic signal control box. I made a sturdier pilot mount and brass casting for the control box.
<![if !vml]>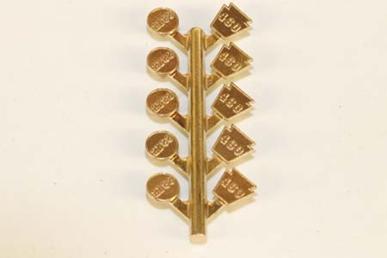 <![endif]> <![if !vml]>
<![endif]> <![if !vml]>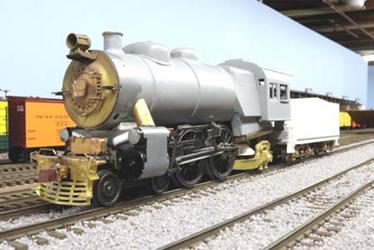 <![endif]>
Archer Rivets
I moved the coal bulkhead wall to the slope sheet. This left some small indentations in the tender deck at the original site. I filled with 2 heavy coats of paint and wet sanded.  This is my first time ever using Archer rivet decals. I had some apprehension about it but was unfounded. They are really pretty easy to use. I will be using a LOT of them especially on the tender. The sides are covered in rivets I still have to lay out and apply.
<![if !vml]>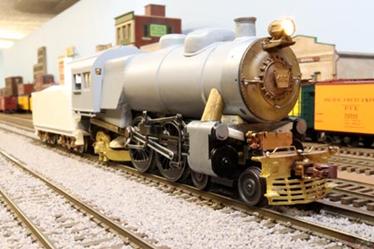 <![endif]> <![if !vml]>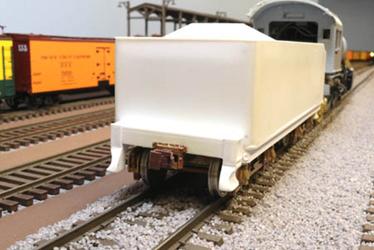 <![endif]> <![if !vml]>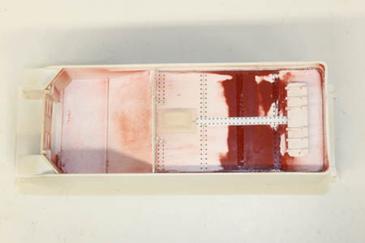 <![endif]>
I lucked out that the E6 runs perfectly with my Reading P-7sb. They are also almost the same size. I am sure they will be running together once the E6 is completed.
<![if !vml]>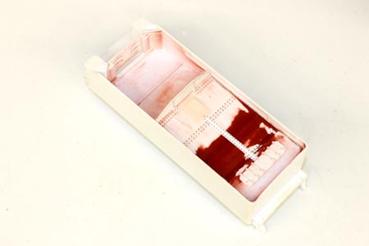 <![endif]> <![if !vml]>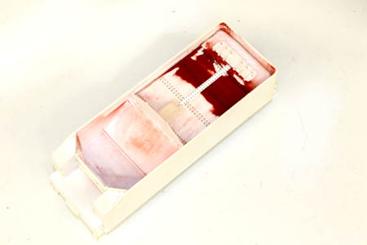 <![endif]>
Updated 5-5-19
All photos and content © Lanes Trains 2005-2019