<![if !vml]>
<![endif]>
Need something painted?
I highly recommend my friend Charlie Carangie if you need a piece painted. He does not have a website or use email, but you can reach him at (302) 737 -4599 (Delaware) His work is second to none. He paints complete runs for many well known importers. But his turnaround time can be on the long side because he is worth waiting for. Charlie has painted some of MY rolling stock. He is just that good. Just be persistent in occasionally giving him a friendly call and you will get your models returned in a reasonable time frame. Charlie also will not turn down a complex paint job. He also does DCC and sound installation.
Models I have painted in the past
<![if !vml]>

<![endif]>
I have painted about 12 J&L tank cars total in HO, S and now O Scale. It is a rare but interesting car that everyone seems to want.  I would have loved to take a photo of the HO, S and O Scale models all together, but I did not have all the cars at one time, so it was not to be. The O Scale car is the most recently completed. It is an old Lobough kit someone else assembled with lots of plumbing solder. It was a little rough when I got it. My assignment was to make some detail improvements before painting it. I removed the whole dummy coupler draft gear, then made and installed Kadee coupler mounting pads at the correct height. I custom machined some of the underbody detail parts. I made 2 Carmer cut levers for the ends. Finally, I had to get decals custom made because the old Champ set did not cooperate. See the progression of the work here.
<![if !vml]>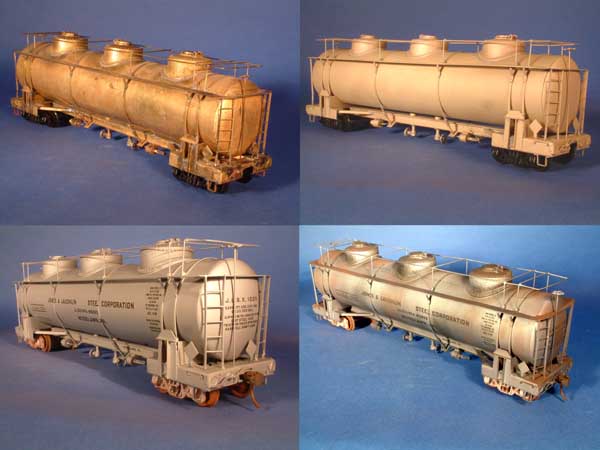 <![endif]>
Click on these buttons for more photos
of models I have painted.
<![if !vml]>

<![endif]><![if !vml]>

<![endif]><![if !vml]>

<![endif]>
Updated 12-1-12
All photos and content © Lanes Trains 2005-2013