<![if !vml]><![endif]>

This is the Omnicon/Samhongsa PRR K4 imported in 1986. It is the same K4 as my 5495 in 1928 as built condition. Modernizing them to look better for the mid 1950s is a LOT of work. I have had this loco for many years now. I don't remember the details, but I had a factory painted K4 I did not want. Figuring the paint job was worth something I traded it for this unpainted loco that needed a "little work". It really did NEED work! For the longest time I did not expect to actually do anything with it. I even had thoughts of using the drive to make a Reading G3. I robbed parts from it for other locos. It was all but scrap status for many years. In the spring of 2020 I restarted another long time steam loco project my M1b then I added the M1 to the mix so why not drag this loco back from the dead and finish it. That is just what I did.

I have had a K4 tender with antennas in progress for many years. 295 is a major NJ interstate road that is 1 mile from me. The real K4 295 ran late and was scrapped in May 1956. According to the Edson roster this K4 is the 5th loco that was number 295. The PRR did reuse numbers on newer locos. Making a 3 digit K4 with antennas would be different.
May 2020
This is what the loco looked like then I got it out of the box for a few photos. There is really not much left of it right now. I have the lead and trailing trucks. There is no motor or gearbox in it as shown. Someone else started to modernize it. All that was done was removed.  I took the pilot off. It needs truly everything!
<![if !vml]>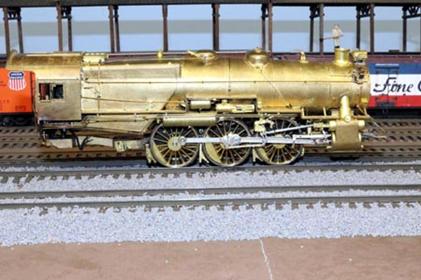 <![endif]> <![if !vml]>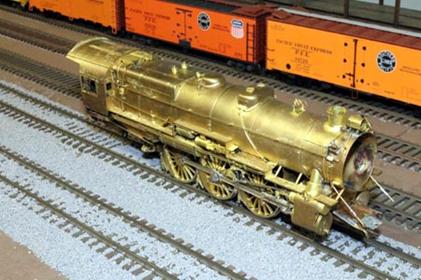 <![endif]>
The tender already has some extensive work done to it years ago in modernizing and adding the antennas.
<![if !vml]>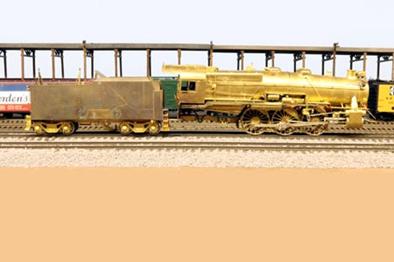 <![endif]>
This is adding the Jackson Standard gearbox to the drive replacing the awful Samhongsa original free rolling drive gearbox that WILL FAIL even with moderate use.
<![if !vml]>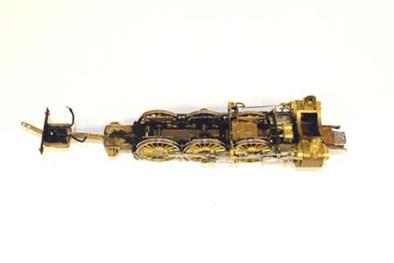 <![endif]> <![if !vml]>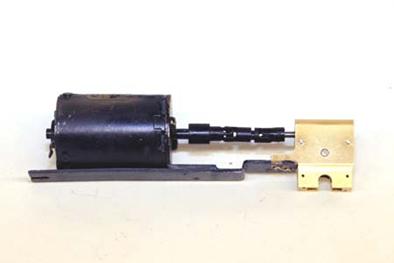 <![endif]> <![if !vml]>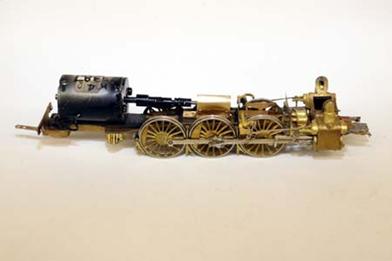 <![endif]>
Bare Naked K4
This is the K4 shell pretty much stripped down. Onward to starting the modernization and completion.
<![if !vml]>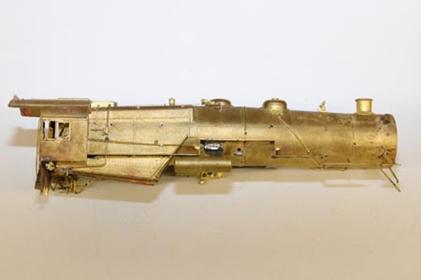 <![endif]> <![if !vml]>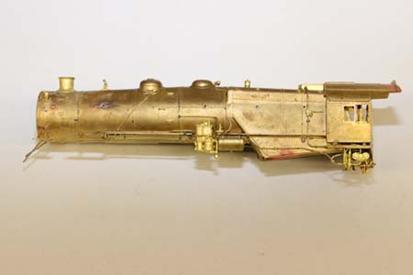 <![endif]>
Added 6-14-20
It is starting to look like a locomotive. The handrails are roughed in. I have the TCS WOW4 decoder installed with the headlight running. For the first time ever I briefly had 3 brass K4 running at the same time on my layout on 6-13-20. They all run well together even as a triple header. 5495 at left has been done for years. 295 is in progress. What is currently 5387 will be stripped and become 3858.
<![if !vml]>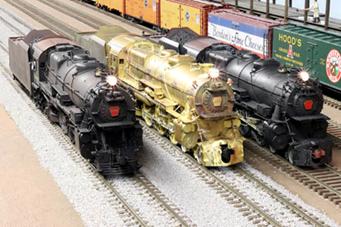 <![endif]>
Added 6-26-20
Reworking The Walkway
Since I did this detail work before on my K4 5495, I knew how very difficult and tedious it was to add the lubricator because I had to rework the walkway to clear it. The first issue was accurately measuring the pieces needed since there is no spare material to match 35 year old K4 walkway to be had anywhere. I had to recycle the original walkway. There was no room for error. The only way to maximize every bit of the walkway material is to shear it. Even a Dremel cut consumes some material. So I got my shear out and cut the walkway. But by far the difficulty is in the fabrication with everything so close together, soldering 1 new part on without something else falling off. I added small angles to the corners for added strength. I used water soaked cotton clipped to the part as a heat sink. It was literally steaming water off the part right next to where I was soldering. I threw the part into the water bowl a dozen times to soak everything again. The PBL Hotip resistance soldering unit was getting a real workout!
<![if !vml]>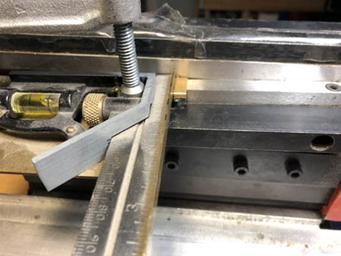 <![endif]> <![if !vml]>
<![endif]> <![if !vml]>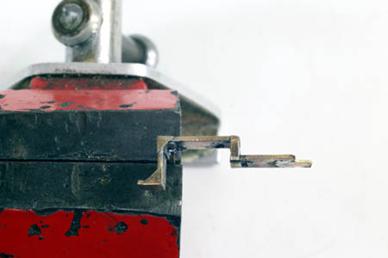 <![endif]>
I got my Unimat out of retirement to drill the hole in the lubricator. The new walkway is in place. Up next is making the linkage for the lubricator. I can say with reasonable surety I am never doing this again.
<![if !vml]>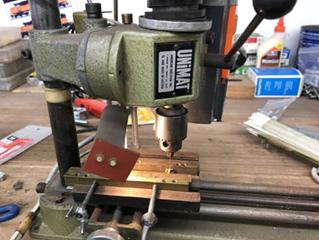 <![endif]> <![if !vml]>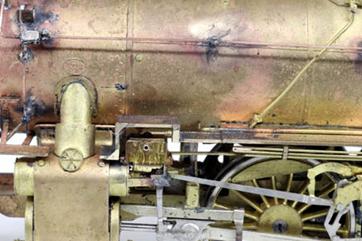 <![endif]>
Some Progress
Added 6-27-20
All the handrails are done. I added the angles by the cab that is really a walkway. Some more work is needed at the boiler front adding wires for the generator. The most difficult work is mostly done. There is significant work still needed for the tender.
<![if !vml]>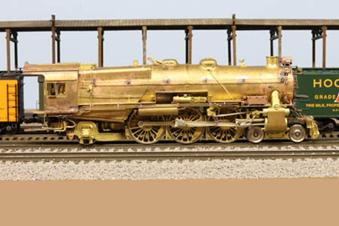 <![endif]> <![if !vml]>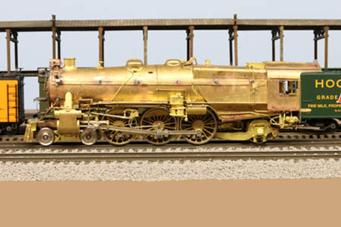 <![endif]>
<![if !vml]>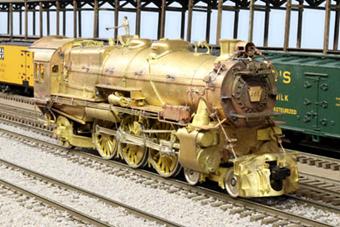 <![endif]> <![if !vml]>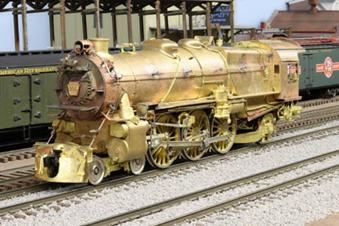 <![endif]>
K4 295 Detailing Is Done
Added 7-4-20
The loco detailing is done. There are a few more small things I could have done but this project is starting to grind on for too long. I hoped to be painting by now. Onward to completing the tender.
<![if !vml]>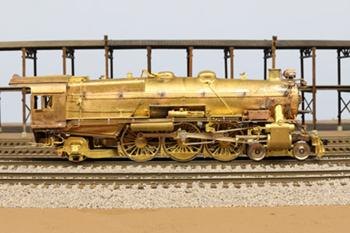 <![endif]> <![if !vml]>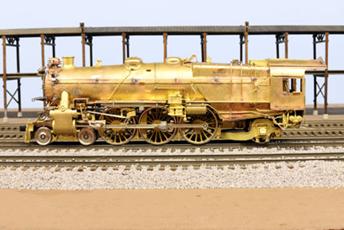 <![endif]>
<![if !vml]>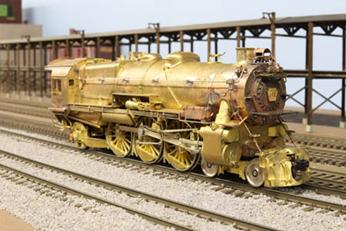 <![endif]> <![if !vml]>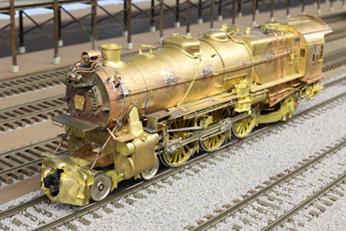 <![endif]>
Tender
Added 7-4-20
Overhead photos are difficult to find. I am very lucky to have 2 photos. This photo at left of K4 3885 showing the tender deck details with the antennas is just pure gold. It is actually from a 5-24-46 Pittsburgh newspaper about a railroad strike. Note the small hatch in the center of the tender deck. I am not making that.
<![if !vml]>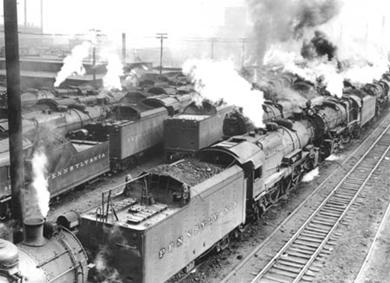 <![endif]> <![if !vml]>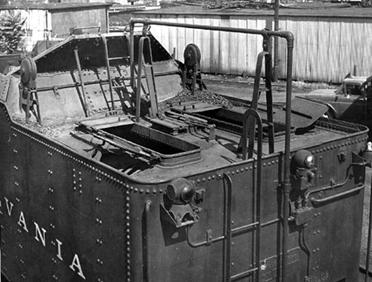 <![endif]>
This is the tender I started possibly 15 years ago. I don't remember when I was working on it last. It is rather tarnished at this point but the blast booth will easily clean it. There is only 1 tender in S Scale for a K4. This is the 110P70. The tenders were lengthened for more coal and water capacity. The larger tender would have been used pretty much throughout all of the K4 still running by the late 1950s. There is only so much I can do. Making a new tender is not in my plans so I detail them out as best as I can. It will be the only K4 tender in S Scale that I know if that will have antennas. But there might eventually be 2 tenders as 3858 which I am also planning on making had antennas as well.
I do remember fretting over filling in the hole for the original tender hatch. I mostly use solder for filling holes but more recently I have also used heavy coats of paint and wet sanded between coats to finish it off. This was my first attempt at scribing lines in the tender side and adding latches to simulate the equipment door. Even after doing it a few times since then, it is mostly not very noticeable when painted and done.
<![if !vml]>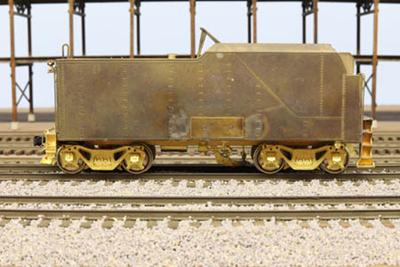 <![endif]> <![if !vml]>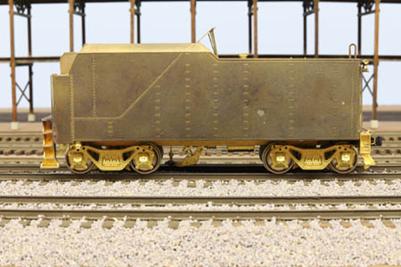 <![endif]> <![if !vml]>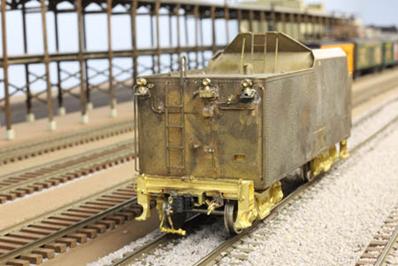 <![endif]>
<![if !vml]>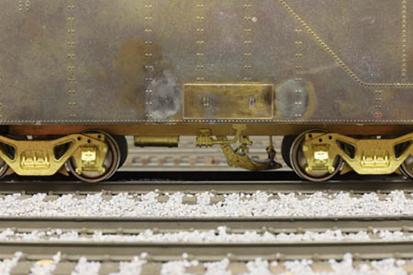 <![endif]> <![if !vml]>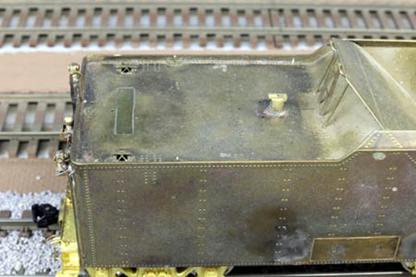 <![endif]>
Added 3-2-21
Ready For Paint
If I am working on a project for a few months I have frequently hit my attention span wall and off to working on something else I go. It does not take much but in this case getting the numberplate for M1 6840 took a while to get made with Shapeways "rules". I had to get Sculpteo to make it for me.
<![if !vml]>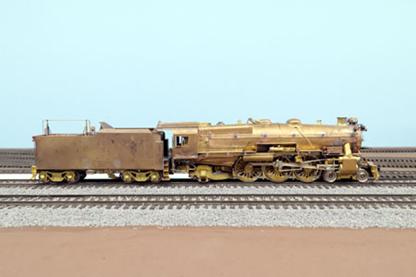 <![endif]> <![if !vml]>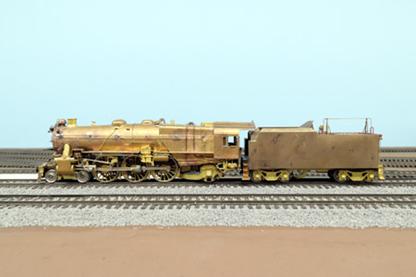 <![endif]>
<![if !vml]>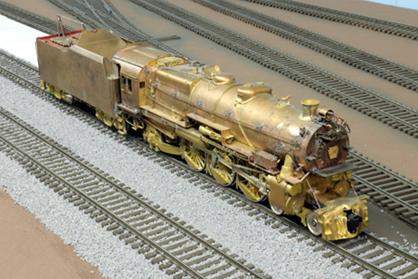 <![endif]> <![if !vml]>
<![endif]>
There is significant detailing on this tender. Running the conduits for the receivers under the slope sheet was quite the challenge.
I HATE Masking
Added 3-21-21
There is nothing in working on my trains that I HATE more than masking for painting. My goal is to do as little hand touch up as possible so that makes for an extremely tedious job of masking the boiler and tender. I forgot to take a photo of the masked up boiler just before I painted it – I just wanted to get it done. I had to move the original tender hatch and fill the hole with a patch and solder for the joints. I made the new hatches bolt on with studs instead of soldering so I did not disturb the solder on the hole patch. The bolt on tender hatches also meant I did not have to MASK around them!
<![if !vml]>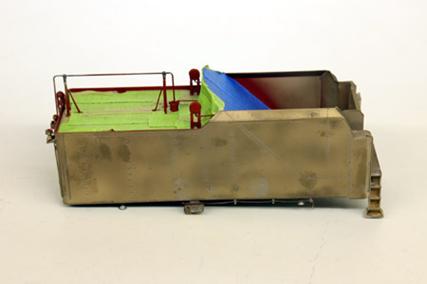 <![endif]> <![if !vml]>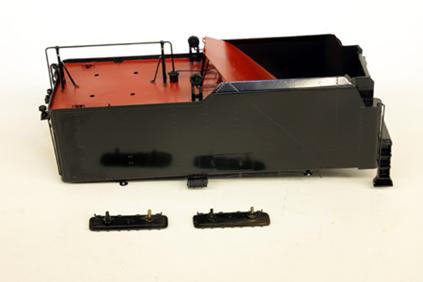 <![endif]>
Painting Is Done
Added 3-24-21
Finally the painting is done. I used Floquil graphite for the smokebox paint. The numberplates turned out really well for the 3 locos in this project. I used Tru Color flat Santa Fe red and flat yellow.
<![if !vml]>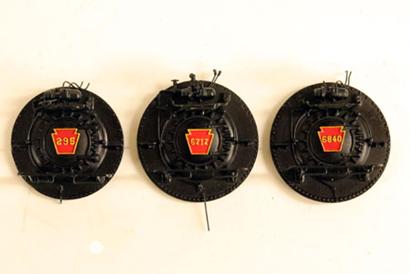 <![endif]> <![if !vml]>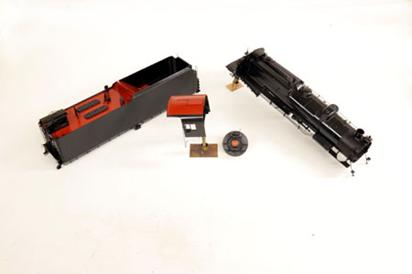 <![endif]>
Completed 4-1-21
This completes me having all my brass PRR locos in paint. The 3 in this project are the last of existing unpainted brass PRR steam locos I will have. It is all but assured no one else is going to make any new brass locos in the future. I am not buying any more. The modernization is too much work. Still I have the most unique and detailed collection of PRR steam locos in S Scale. Almost all of them have been significantly modified with parts I made that no one else has. My M1a 6702 is now my oldest surviving paint job. It is also my first modernization. I bought a K4 that was modernized and was a guide for later locos completed. Both could be updated and improved at some point to better match the rest of the fleet.
This K4 is a part of the project completing 3 locos that are the last PRR locos I am ever going to paint for the first time. There is a K4 and M1a I may update and repaint but I am never buying any more PRR brass steam locos because they are too much effort to modernize. I was hitting my attention span wall pretty quickly. The detail work was already done I was just painting. This is the least effort I have put into weathering. The cab roof and tender decks are a bit too red but I really just wanted to get them DONE.
<![if !vml]>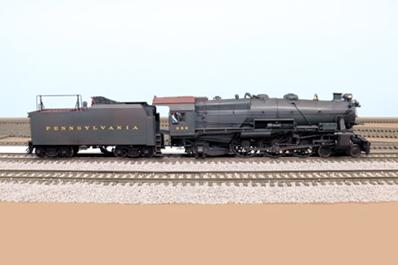 <![endif]> <![if !vml]>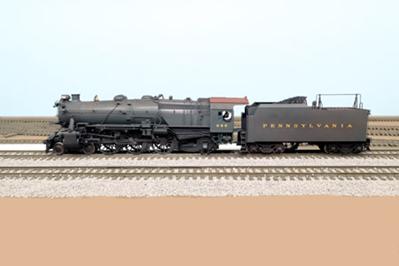 <![endif]>
This is my only known S Scale K4 with antennas. In reality it is too short for the 1950s era because they were lengthened but there is only 1 K4 tender made in S Scale. There is only so much I can do.
<![if !vml]>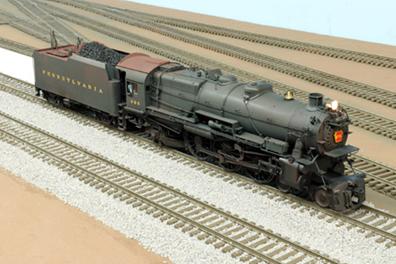 <![endif]> <![if !vml]>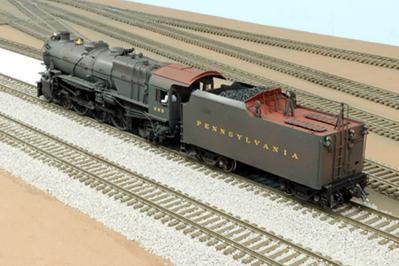 <![endif]>
Updated 4-2-21
All photos and content © Lanes Trains 2005-2021