<![if !vml]><![endif]>

This loco was made by Frank Titman. Frank was an extremely prolific builder of his own models and some were commissioned for sale. Like other locos I have made by him starting with an American Flyer cab and firebox then building everything else needed to complete it. It is mixed materials but is mostly made from brass. The drive was made from S Scale Loco & Supply parts. I replaced most of the code 125 wheels with code 110. The code 125 wheels can cause flash shorts on my turnouts. The drivers are the only remaining code 125 wheels.

I removed the Pittman open frame motor and added a can motor. I have done this 3 times before. This by far is the simplest motor bracket I have ever made. Getting the angle and gear engagement from the motor worm gear to the axle gear can be very time consuming.
I have been casting lead boiler weights for many years. I have a steel mold that fits most of my PRR brass steam locos. Other times if I only need 1 weight I will make the mold from wood which is what I did here. If the weight comes out of the mold that is fine but if not split the wood. It is not a great loss.
There are 5 things I really try to fit into a steam loco boiler – the motor, decoder, speaker, keep alive and boiler weight. It is a constant battle of physics for what will fit. I used a TCS WOW4 decoder. I could not fit everything and my favorite DLG-8 speaker. I used a 1"square speaker tucked up in the cab roof.
This paint was in great original condition. Frank painted everything with Floquil Grimy Black which made the decals have air bubbles most of the time.
<![if !vml]>
<![endif]> <![if !vml]>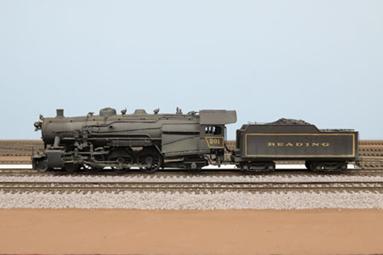 <![endif]>
<![if !vml]>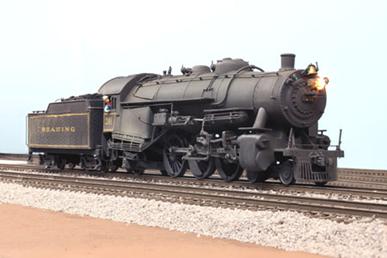 <![endif]> <![if !vml]>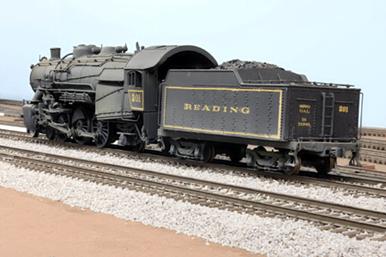 <![endif]>
These are 3 Frank Titman built passenger locos together. The left photo is my P-7sb 353, my G-1sb 201, my G-1sb 204 I built from an American Models pacific, and my friend's G3 218 just visiting.  At right it is just the 3 Frank built locos together. It is unknown if they were Frank's personal models or if they were made to sell.
<![if !vml]>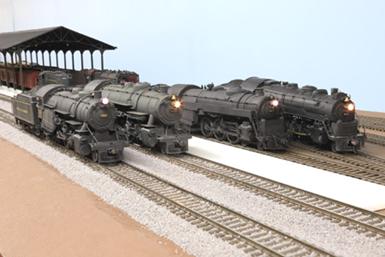 <![endif]> <![if !vml]>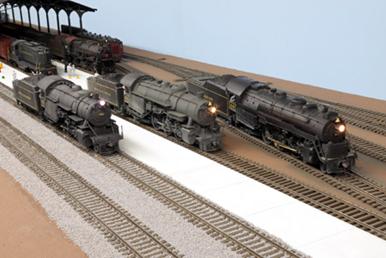 <![endif]>
Updated 1-14-21
All photos and content © Lanes Trains 2005-2021