<![if !vml]><![endif]>

<![if !vml]><![endif]>

Here is where is all started!

This might explain how I "got this way"…

Click on the photos to make most of them larger

<![if !vml]><![endif]>  <![if !vml]><![endif]>

Christmas 1967                              Christmas 1968

I have liked trains since my earliest memory. I have often asked myself why at various times throughout my life and have never been able to even come close to an answer. I just DO…The American Flyer trains shown above were bought for my oldest sister.  I know that my parents went to great lengths to preserve the Christmas morning anticipation for me since I am the youngest. Keeping Santa Claus "alive" as long as possible was a little challenge. That ½ hour from when the presents were first discovered until they were opened was probably one of the happiest moments of the year for my mom. We went to bed on Christmas Eve with the living room somewhat decorated for Christmas but still relatively intact. There was no Christmas tree or train platform. Everything magically appeared on Christmas morning, obviously set up by Santa Claus. Note the 1968 photo has such a complex track layout the Christmas tree could not fit on the platform any more. My Pop was not into trains but liked changing and adding to the set up for me.
I distinctly remember that extreme anticipation for Christmas morning 1967. My Pop ran a rope between my bedroom doorknob and the bathroom doorknob right across the hall to TIE me in my room because I kept on getting up while they were setting everything up.  Since I was still a little asleep, I was quickly shuffled back into bed and didn't think twice about what I thought I saw.
It was not about the new wrapped toys I would be getting. The completely unbearable anticipation was ALL about getting to run my trains again after a whole year went by. I stomped on and over all the new unopened toys in an effort to get the trains running as soon as possible. Again, I very distinctly remember my mother being forced to unplug the trains to get me to open my presents. I also remember very clearly that for Christmas 1968 that there was a PATH cleared in the presents for me to the quickly reach the transformers.
I designed and built my first permanent American Flyer layout with minimal help from my father at age 12. My second larger A F layout was built about 1 year later. That lasted for about 3 years. Unfortunately there were only a few bad Black &White photos taken of that layout. Here are 3 of them that I could find so far. The small structure that is near the grade crossing at the lower right of the right photo was made by me when I was 14. It is made from the cigar box from when my oldest nephew was born in 1975.  Now that I look at the photos again in 2007 I can still see what the photos do not show here.
<![if !vml]>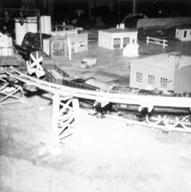 <![endif]>  <![if !vml]>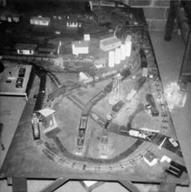 <![endif]>  <![if !vml]>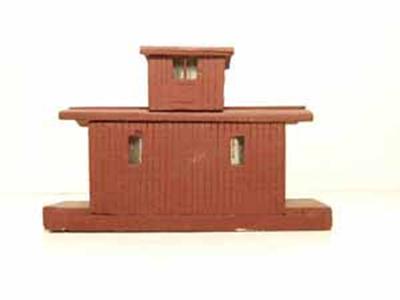 <![endif]>
Here are some other things I
made from about age 12 to 14.
In a few Father & Son moments I started making bridges with my father cutting the wood strips on the table saw. One of them was the famous Scottish Fourth Bridge which I got pretty far along on before I lost momentum. None of them were used on layouts or survived today. I was getting Model Railroader at the time and looking at the plans that were S Scale. I am pretty sure that the Bobber Caboose is from a Canadian plan. The Stock Car might be freelanced. There was a passenger car that was made from a solid piece of pine that is currently missing. I AM sure that was made from a PRR plan in Model Railroader – possibly a D85 diner car. I absolutely do remember making them all.
The Bobber was wood sheets also made by my father at his work as a Steel Foundry Patternmaker at Westinghouse Electric in Lester Pa. He had access to every woodworking machine possible so he surface planed top quality pine down to about 1/8" thick. The roof was soaked overnight in the bathtub taped to a coffee can to set a curve to it. I cut each slot to simulate the individual boards with an Exacto hand saw. There are 2 fishing dipseys screwed inside for added weight. 4 Bobber journal boxes were made from APPLE wood, but it has yet to roll down a track. I think I got stumped on how to put American Flyer knuckle couplers on it especially when I probably did not have any extras. It is what probably led to the permanent work stoppage on the Bobber. It is possibly the LAST time I tried to scratchbuild something from wood, but I look back now with some pride and sentimental memories that I was a modeler even back in the day…. 
I became interested in HO when I was 16 where I was involved in what was the only Explorer group in all of the Boy Scouts whose theme was model railroading. I was at a train show in about 1985 where I saw and bought an old S Scale boxcar that was not American Flyer that was built up from a kit. I did not know about any of these kits until I saw this car. It sat on a shelf for many months next to some of my American Flyer I had out for display. I looked at it daily thinking if only American Flyer were just "bigger HO" with slow speed DC operation. I did not know it yet but the seed had been planted. In 1987 a truly life changing event happened. I went to my first Central Jersey S Scalers Get Together in South Amboy NJ. The church hall was FILLED with an S Scale modular layout without any American Flyer running. I walked into that meet an HO modeler and left as an S Scaler.
I thought about forming a new S Scale group in my area in 1988. Many members of the Central Jersey S Scalers are still some of my closest friends today. I just wanted something more local though. When I met Roy Hoffman, we co-founded the South Jersey S Scalers in 1989. I was active in that club for about 12 years.  My interests were modeling S Scale. The main interest of the SJSS membership majority was almost always Hi Rail and American Flyer. The South Jersey S Scalers became the South Jersey S Gaugers in about 1995 and they are very active today. Lives and interests change. I met my wife in 2000. I am just not active with SJSG anymore. I run my trains at MY house now and occasionally a private S Scale layout that is about 20 minutes from me. Many of the people I see at this layout including the owner were a part of the SJSS/SJSG club years ago. See the Running Trains page for more information about that layout. My layout is running now. It is a freelance track plan with the emphasis on realistic trains and good operation.
I have been an S Scaler since 1987. I model the Mighty PRR in 1957. I also like PRSL, B&O, C&O, N&W, East Broad Top and most other Northeastern roads as well.  I have been a member of the PRR T&HS since 1990. I restarted the PRSLHS after a 20 year hiatus. It is on line only. I have been accused of being a Slobbering Pennsy Freak and a Rivet Counter. All I can say is somebody has to do it! I have been "brass bashing" almost exclusively for many years now. I don't remember the last time I painted or assembled a plastic kit. I enjoy working with brass most because I believe in the stability of solder more than I do of the longevity of adhesives or glue.
Custom Made Detail Parts
I have had brass parts, like PRR Trust Plates, PRR Round and Keystone steam engine number plates made (See my Solidworks page) and functioning draft gear from my master patterns because the parts did not exist in S Scale. I realized that the ends of a car are usually the most neglected area. My standard detailing upgrade includes installing cut lever brackets, phosphor bronze wire cut levers, air hoses and draft gear where it is possible. I think many production brass models are a good place to start to make a complete and correct model. I have not finished a model of my own without adding a detail or changing something before it was painted. Even though there may have been 100 pieces of an item made in the production run, the models are distinctively mine when I have finished them. It is my way of "making them my own".
<![if !vml]>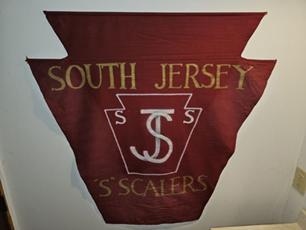 <![endif]>
<![if !vml]>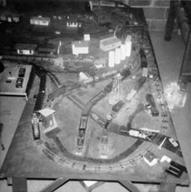 <![endif]>
Updated 12-1-12
All photos and content © Lanes Trains 2005-2013