<![if !vml]><![endif]>

Page 6

The progress to the layout was so great I filled page 5 in about a month. I am now doing things for ***SCENERY*** I never thought I would do. It is fun because it is different and noticeable immediately. Not that I am copying what Don DeWitt did but I was looking at old photos of the engine service area and decided I needed a diesel fuel storage tank.

Diesel Fuel Storage Tank

Added 11-30-20

Whether it really could have happened or not did not matter much to me - but I envisioned a tank car was salvaged from a wreck and put into use as a diesel oil storage tank. It is not meant to be an award winning model just a prop detail in a scene. The best part when making things like this is there are mostly no plans and I usually have everything I needed from many years of buying and parts hoarding. It is almost "put a happy tree there" stream of consciousness at work. I used an S Scale America tank car body and some Plexiglas for the "concrete" supports. I painted the tank cars with Tru Color REA Green. The decals were made by Don DeWitt and a Microscale alphabet set. I spliced 2 Pacific Rail Shops ladders together. The Plexiglas was cut to a rather random size so I had some wiggle room. I have 2 hole saws total. I was well beyond lucky because one hole saw was the perfect diameter to match the tank car body. The Big Green Milling Machine came to the rescue. Cutting the radius would have been difficult with Dremel tools.  The concrete supports were roughed out in about ½ hour. They are matched in tank height to .003! Cut things at the same time to make them match.
<![if !vml]>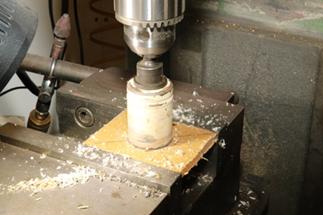 <![endif]> <![if !vml]>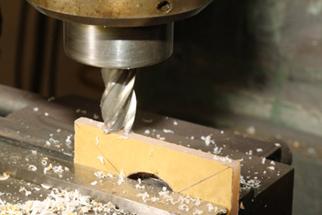 <![endif]> <![if !vml]>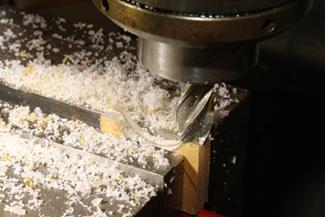 <![endif]> 
The "Diesel Fuel Only" was cut 1 letter at a time from a Microscale alphabet set. The black patches are also Microscale.
<![if !vml]>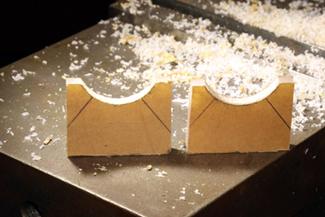 <![endif]> <![if !vml]>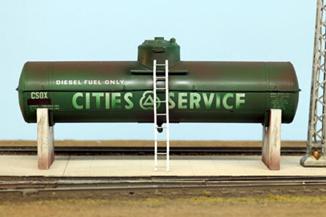 <![endif]>
It Is All In The Details
This is all completely new territory for me doing "scenery" and adding layout details. Some I am making and some I am buying. Some I designed and had 3D printed. It is all very different because something can take a day, an hour or a few minutes and it is done. Put it on the layout.
Subway Platform Entrances
Added 12-1-20
When I got the modules there were a few totes of scenery items and accessories included that I never really looked at much until now. A large very elaborate staircase was made to go over the track and access the station platforms. But it was in need of serious repair. Also with me raising the train shed to clear the stack cars these stairs would have to be made even higher. Further the stairs would clutter and block the view to the train shed.
I have had this idea for a while for "subway" entrances to an assumed tunnel under the station tracks from the street and sidewalks to the platforms and station – still to be built. It was very simple and easy. They can be moved around. They are the smallest Solidworks file I possibly have ever used, only 3 features needed. It made a 10kb STL file!
<![if !vml]>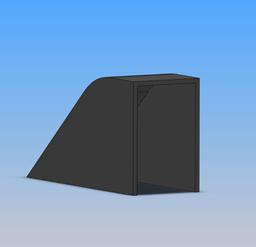 <![endif]> <![if !vml]>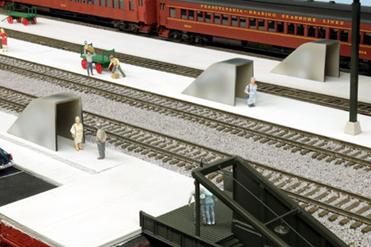 <![endif]>
These are both from Shapeways. The wheels were printed on the deck of the cart. It was a bit tricky getting them cut out. But it is otherwise a very nice REA cart. I will be adding details as time and money allows. This phase of layout building can get very expensive.
<![if !vml]>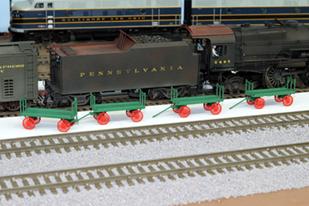 <![endif]> <![if !vml]>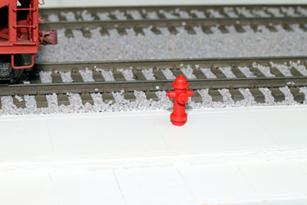 <![endif]>
Stairs To The Station
Added 12-8-20
I only have 1 bridge that simulates going across the width of the layout. There was a large elaborate staircase and pedestrian bridge included with the sale of the modules. I think it was many HO kits cobbled together but I do not know the manufacturer – but was told they are Faller HO. I liked it because it reminded me of an ancient steel stairs that could be in New York City someplace. The stairs were in need of significant repairs by the time I got it. It likely would have to be made even higher to clear Stack Container cars that did not exist in S when the stairs were originally made over 30 years ago. I could not figure out how it was used in that space it was built for. Further it would block the photography view into the one end of the train shed. Since I already decided to make the "Subway" access to the station as shown above these stairs could be repurposed and made much smaller. Making it smaller was a challenge as to what could be used and how to cut it apart. I got pretty lucky that where I did it cut matched the needed height very well.
<![if !vml]>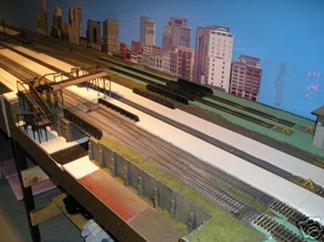 <![endif]> <![if !vml]>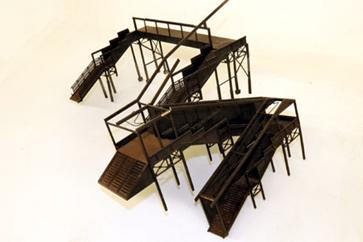 <![endif]> <![if !vml]>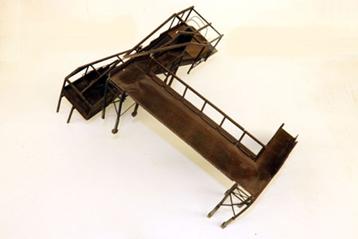 <![endif]>
It is roughed out here after cutting apart. You can see I removed the wide steps and cut about half of the other steps off. There are plenty of parts leftover for another stairs later. I would like to make a pedestrian bridge across the main lines just not for here.
<![if !vml]>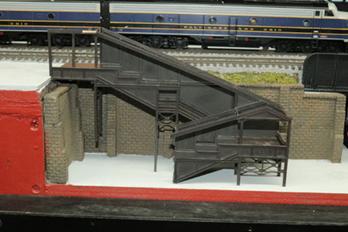 <![endif]> <![if !vml]>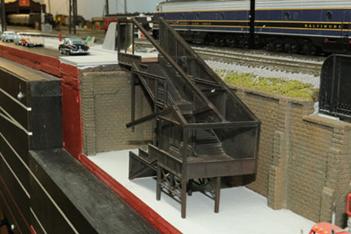 <![endif]>
Ready for paint
<![if !vml]>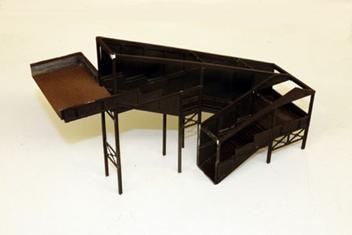 <![endif]> <![if !vml]>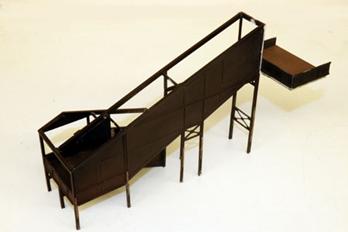 <![endif]>
I now have a path going from the lower street scene to the upper street scene and across to the train shed. The train shed trusses are painted Pullman Green but it is difficult to see so I painted these steps Pullman Green as well. Everything cannot be black. The light shades are Grandt Line O Scale. The "lights" are the white ball heads from sewing straight pins. I may weather the stairs up a bit at some point but it is done for now. At least you can see it is green.
<![if !vml]>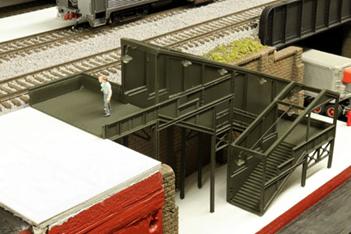 <![endif]> <![if !vml]>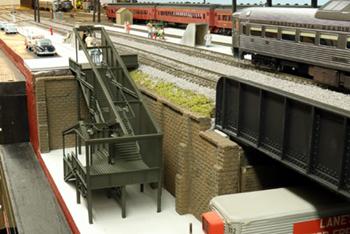 <![endif]>
Plywood Central No More
The layout is finally starting to look like something. It is amazing how ballast, a train shed and figures transformed the layout look. Many Artista figures and other details have recently been bought and added. Previously I had 2 figures only for the whole layout on the ice platform. Details that I never thought I would get to like parking meters, REA carts, and Pullman steps all will be on the layout. What was going to be just a "few days" work with installing the new ladder turned into 6ish weeks working truly every day because I have the opportunity now to do so. This all would have taken years worth of weekends to accomplish.
Added 12-8-20
<![if !vml]>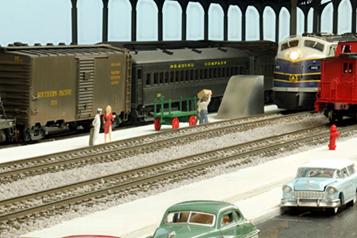 <![endif]> <![if !vml]>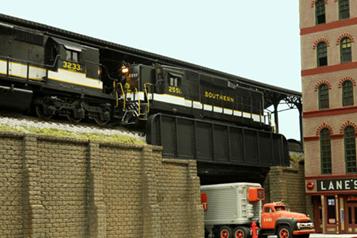 <![endif]>
The photo at left features much of my PRSL rolling stock.
<![if !vml]>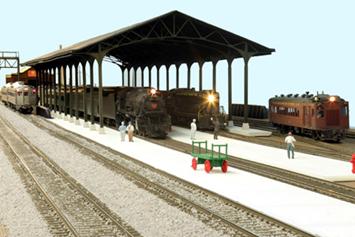 <![endif]> <![if !vml]>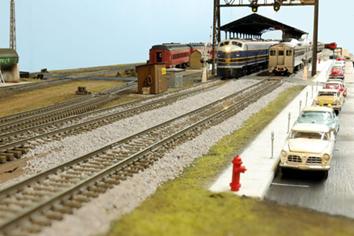 <![endif]>
Some might wonder what they are talking about – possibly the price of tomatoes. When I got the sailor and lady in red figures I thought they should go together just as a goof for at least a little while. Most standing Artista figures do stand up on their own. Some need a very quick grind of their feet on a Dremel cutting wheel to make a common plane to stand better. I do not want to permanently glue any figures in place.
Train Shed Lights
Added 12-11-20
When I first put the train shed on the layout I instantly saw a large dark space that would be difficult to balance for photography. I knew I would have to add lights (LEDs) to the underside of the shed. As mentioned the shed is 48" long. What kind and how many LEDs? My first test was the surface mount (very small) LEDs I use in steam loco headlights. While very bright for their small size that was not the answer. I moved up to 3MM LEDs. How many and where to put them? At first I was going to use the LEDSs without resistors with a separate transformer just to run the shed lighting. My test at a low voltage killed a LED. I was not going to guess what the magic setting was on this transformer for LEDs without a resistor. Plan C was going the known route of LEDs each with a resistor run by DCC power. I was rather proud of myself when that idea came to me.
I got a roll of 2 conductor wire from Miniatronics and used Grandt Line O Scale lamp shades mounted to Evergreen square tubing. I started at 4, then 6 then 8 and finally settled on 12 LEDs total with 2 each mounted on every other roof joist. 12 absolutely was the correct number. I did not think 1 decoder could handle running all 12 LEDs without dying so I tested 6 on a recycled NCE D13SRJ. It worked fine.
How many decoders does your train shed have? The correct answer would be 2. I used a 51 ohm resistor across orange and gray to simulate motor load. There was a LOT of difficult to access soldering working in between the shed posts. The train shed is programmed on both decoders as loco address 1234 wired to the forward headlight of blue and white. Further getting unnecessarily tricky just for a goof I enacted Rule 17 light dimming in reverse. So I have options for full on, dim and off all controlled from any DCC handle. I tapped the power buss for the outside main line to power the shed lights.
This is not something I am really into - but putting a decoder in the train shed gave me another idea about a real sound decoder. If you hit function keys you could fire incoming and outgoing train announcements. It would probably only be popular if there could be custom announcements per the layout's theme.  You would have to easily load your own messages.
<![if !vml]>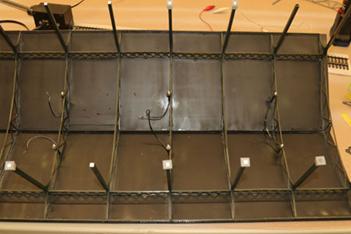 <![endif]> <![if !vml]>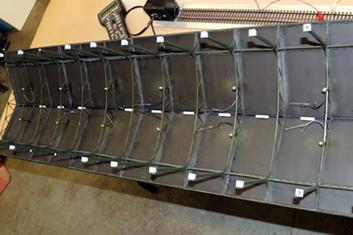 <![endif]> <![if !vml]>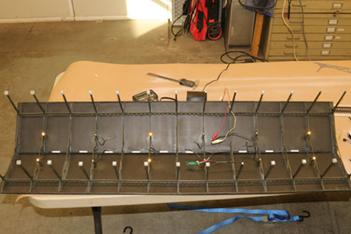 <![endif]>
<![if !vml]>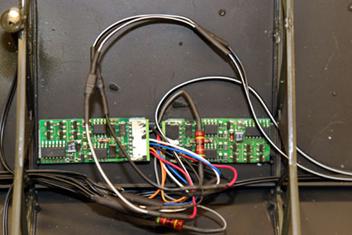 <![endif]> <![if !vml]>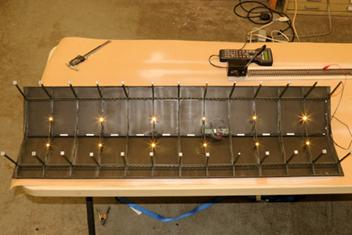 <![endif]>
These 2 photos are the same set up with but at right is with half the basement lights turned off. I am rather happy with them. More "night" photos are coming.
<![if !vml]>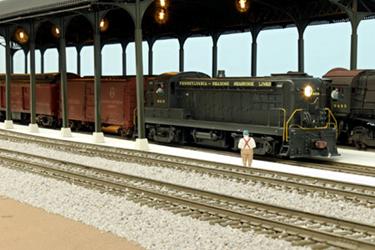 <![endif]> <![if !vml]>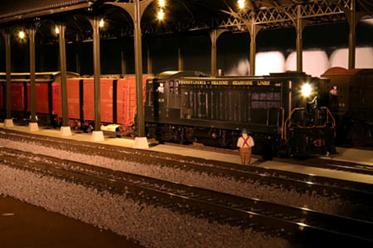 <![endif]>
And so this ends the somewhat obsessive 6 week layout building binge likely for a while. The backdrops need work and repainting. The ballast needs to be completed.  I will do small projects like finish a buiding or add other layout details. But now I go down to run trains and look at the layout almost like someone else did the work. I can't believe I DID all that….
<![if !vml]>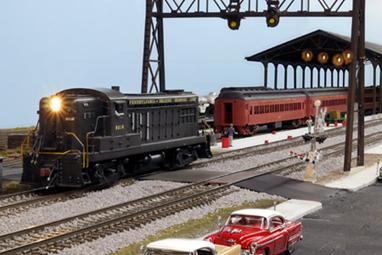 <![endif]> <![if !vml]>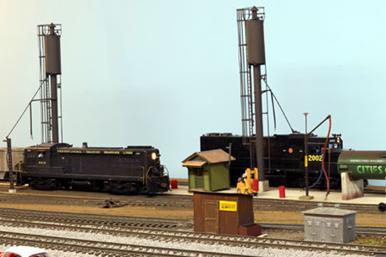 <![endif]>
Added 4-6-21
PRR Alphabet 2021 Version
 With the completion of my last 3 brass PRR steam locos, K4 295, M1 6840 and M1b 6717 I got all the PRR steam locos out for a portrait. One more loco E6 460 will join the group at some point but that is still in need of lots of work. They are in alphabetical order in the photos. This is all representing 30ish years of my modeling work.
1) A5
2) B6
2) I1
1) J1
3) K4
2) L1
3) M1
The A5 and B6 locos are diecast. Everything else is brass. I did not paint 3 locos pictured but 2 of the 3 could get repainted in the future.
<![if !vml]>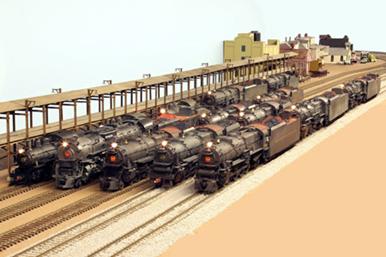 <![endif]> <![if !vml]>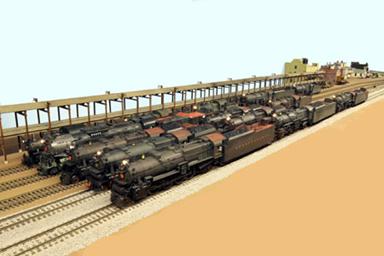 <![endif]>
<![if !vml]>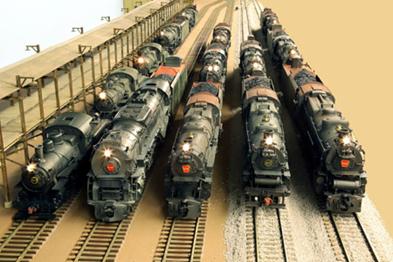 <![endif]> <![if !vml]>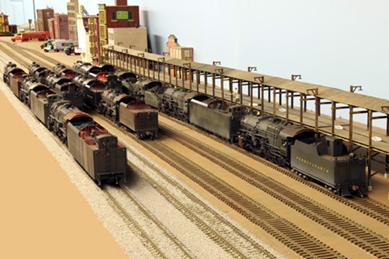 <![endif]>
Woodbury Station
Added 7-16-21
I do work on trains during the summer but they are usually smaller projects. With the winter and spring getting a lot of rolling stock projects done I am doing small things to the layout again. Some new ballasting and ballast repair may get done. I decided to time share the ice platform siding when Woodbury station was announced from https://www.rightontrackmodels.com/store.html This is the second building I bought from Right On Track Models. I am beyond extremely happy with their buildings. Unlike many building kit manufacturers Rich will assemble as well which is what I did. It arrived ready to use. The ice platform and ice building went on the shelf for a while. I only have so many sidings on my layout. There is a small chance I may move the station to the left a bit so the ice platform can return keeping both on the layout together. It makes sense to have a smaller town station that is exactly opposite the big town station but not seen because of the backdrops. Plus Woodbury station is my second favorite that still exists 3 miles away from me. At 1 time Woodbury was a double tracked mainline that had a passenger shed for the northbound trains. I do not have room to use that passenger shed. I will be adding details like people and dachshunds soon!
<![if !vml]>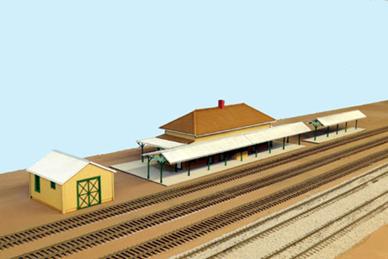 <![endif]> <![if !vml]>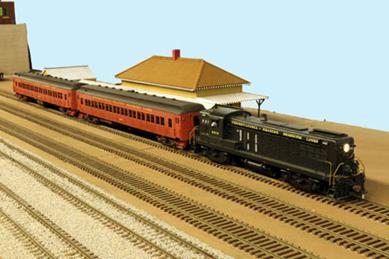 <![endif]> <![if !vml]>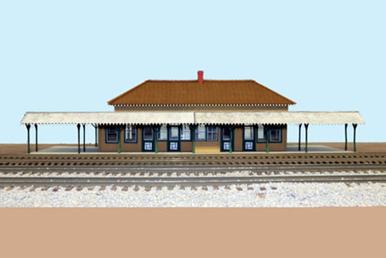 <![endif]>
<![if !vml]>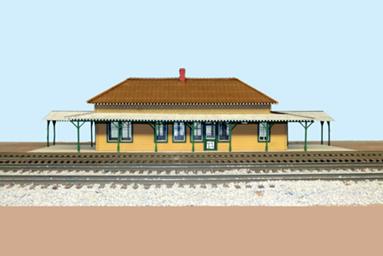 <![endif]> <![if !vml]>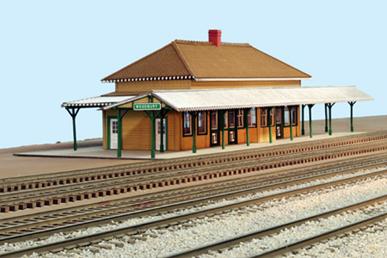 <![endif]> <![if !vml]>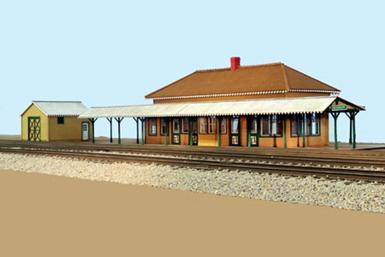 <![endif]>
United States Post Office Loading Dock
Added 8-11-21
This is my custom made post office building from https://www.rightontrackmodels.com/store.html It is very loosely based on the post office next to the former PRR 30thStreet station in Philadelphia. I only had about 3" from the backdrop to the track. Making the building overhang the track made for a massive improvement. It is 11" high and 22" long. The X42 is 62' long for a comparison. I envisioned this side of the layout as being a medium size city scene with the large passenger station, Post Office and Railway Express building. The above Woodbury Station is exactly across the other side of the layout but is view blocked by the backdrop as a small town station.
I highly recommend Rich if you need a custom building. Even though this building was designed and custom made for me I don't care if you want 1 built for you. Further Rich will assemble 1 of his existing kits for you.
<![if !vml]>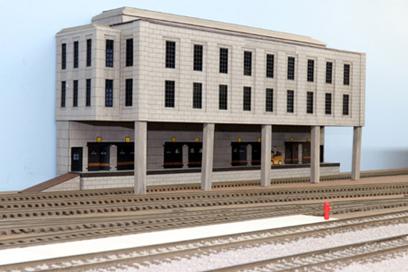 <![endif]> <![if !vml]>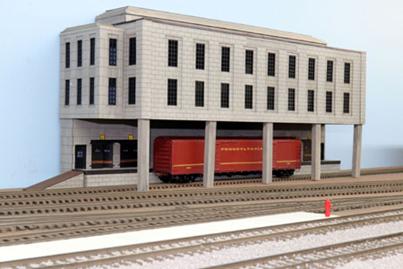 <![endif]> <![if !vml]>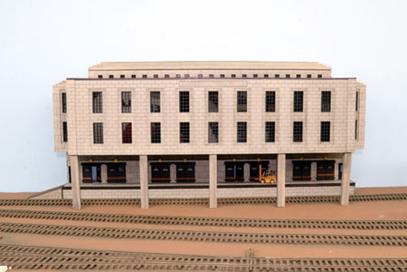 <![endif]>
<![if !vml]>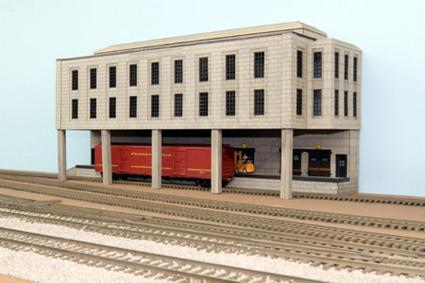 <![endif]> <![if !vml]>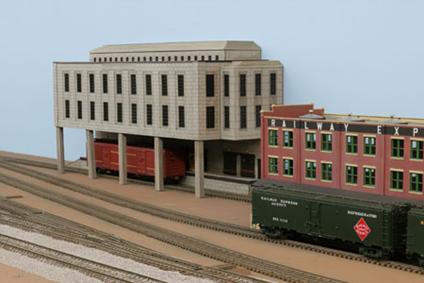 <![endif]>
Reworking Code 137 Turnouts
Added 8-23-21
These are the first 3 turnouts ever made for my layout by my friend John Wickham. There was perfectly good code 100 track in place that I removed to install code 137 track for the mainlines to show track separation of the code 100 yard tracks next to it. There are no code 137 turnouts for scale operation so John custom made them for me. I had to do some repairs to them over the years some of which did not go well. The resistance soldering unit slightly damaged the thinnest parts of the points. Most of the other code 137 turnouts have P48 cast frogs and points so I know that is what I needed to make the repairs. It took a few years to convince someone to make code 137 #6 castings but I finally got them. I just removed the inside parts and replaced them with the castings. I have not installed the P48 guardrails yet, and might not use them. They are quite long on a #6 turnout. I can now complete the ballasting on the mainlines and surrounding tracks.
<![if !vml]>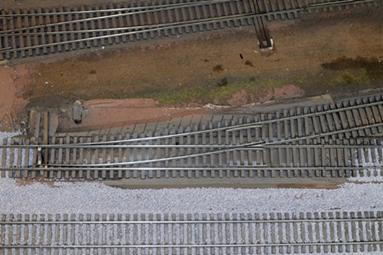 <![endif]> <![if !vml]>
<![endif]> <![if !vml]>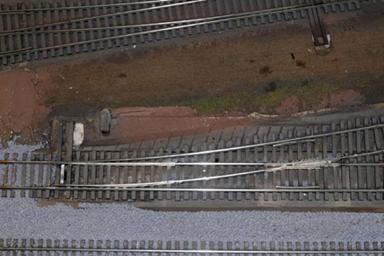 <![endif]>
Added 11-7-21
My Reading Green & Yellow Fleet
With the purchase of my powered and dummy SD70 earlier this year, I got my Reading green & yellow locos together for a photo. The SD70 are American Flyer by Lionel. The rest are American Models. The RS3 were made as original releases by S Helper Service in 1991. As of 11-7-21 the Trainmasters are still available new from American Models.
<![if !vml]>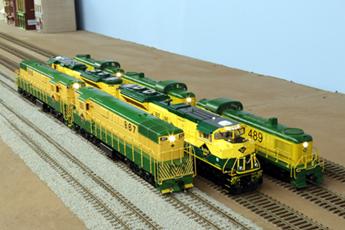 <![endif]>
Got Dachshunds?
For many years before the above scenery binge the 3 or so dogs greatly outnumbered people figures on the layout. I later got more dachshunds. In the summer of 2021 Sherri from Catzpaw https://catzpawstore.myshopify.com indulged me with even more 3D printed dachshunds including 1 she modeled after my friend Frank's late Leo. Leo was a large standard dachshund at 30 pounds. Leo was a wonderful boy. Sherri is excellent at making animal shapes. She has 5 different S Scale dachshunds now. I got the Wienermobile to add to the goof of a loose herd of dachshunds running around the layout.
<![if !vml]>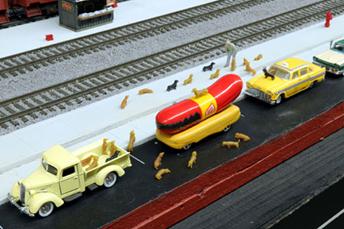 <![endif]>
Added 1-9-22
Chessie Collection 2022
In November 2021 I got a second Chessie SW1and SW9. This is all of the B&O Chessie locos that S Helper Service made. There are 2) C&O Chessie locos that I do not plan on buying.
So I got all my Chessie locos out for a quick pose session. They are a GP35, RS3, 2) SW1 2) SW9 and 1) SW1200 which is brass. I discovered the RS3 is a custom paint job not a first run S Helper Service as I thought. B&O Chessie did not even have RS3 which is odd because the builder went to some effort to make metal handrails. Why make a foobie?
<![if !vml]>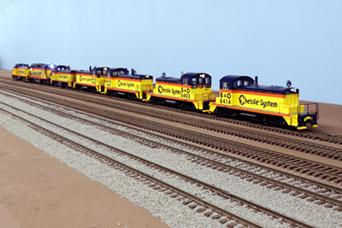 <![endif]> <![if !vml]>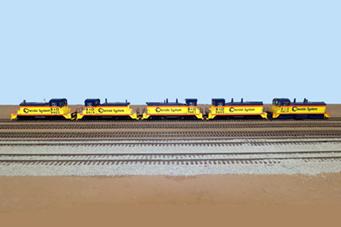 <![endif]>
Conrail Collection 2022
I have not bought anything new in Conrail in about 7 months. But this is my current Conrail collection of SW9, ES44C (Heritage Unit) U33c, SD60, GP35 and SD40-2.
<![if !vml]>

<![endif]>
<![if !vml]>

<![endif]>
<![if !vml]>

<![endif]>
Revised 1-9-22
All photos and content © Lanes Trains 2005-2022