<![if !vml]><![endif]>

<![if !vml]><![endif]>

This was a one of a kind Reefer at a beer distributor that sat just adjacent to the Wildwood NJ Oak Avenue Station for many years. It was stationary cold storage and never moved while "in service". It was more of an advertising billboard for the beer distributor. There are no known photos of the dock side of the car so I don't know how or if it was painted to match the billboard side. In an end photo I saw the ladder was painted black on the dock side of the car -possibly indicating both sides were painted the same. We don't know if beer was ever delivered by the "carload" to Sellright via the PRSL, or if it was delivered by truck. When the car arrived or how it was acquired by Sellright is also unknown.
Still it was an interesting car that I remembered seeing myself growing up while visiting Wildwood. I thought it would be great to have it as a part of my "Wildwood Obsession". Since it was a real billboard car it was very unusual because they generally did not last until the 1970s making it "correct" and not bogus. Given it was a car that NEVER moved, the number of photos I was able to assemble by eBay purchases and from fellow members of the PRSL Historical Society http://www.prslhs.com is pretty amazing.
There is ONE plastic RTR reefer in S Scale that was suitable so I was lucky it worked out so well as a reasonable stand in for the real car.
There are a few minor modifications that needed to be made to the S Helper Service car to better give the appearance of the Sellright Reefer. I added some plastic strips and changed the stirrup steps to brass castings I made. This car is also special because I have prototype S Helper Service USRA draft gear that never got made for production. It is 1 of a very few existing cars so equipped.
The decals were made for me by John Frantz and Jerry Glow
Prototype Photos
<![if !vml]>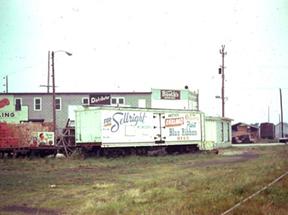 <![endif]> <![if !vml]>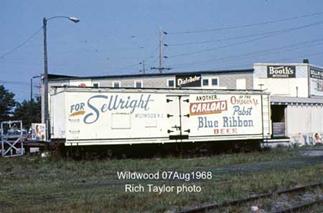 <![endif]>
This is perhaps the most important photo of all taken on 8-8-73 in Tuckahoe because it indentified that the car was really FGEX 33489 and about when it left Wildwood. We are very lucky to have this photo. What happened to the car after it left Wildwood is unknown.
5-20-15 Update
This slide was listed on eBay. Of course I had to win it. Now the mystery is solved. The dock side of the car is blank. None of the modelers that decaled on both sides are modifying their cars.
.
Under Construction
<![if !vml]>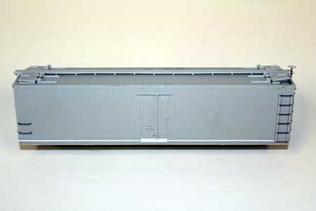 <![endif]> <![if !vml]>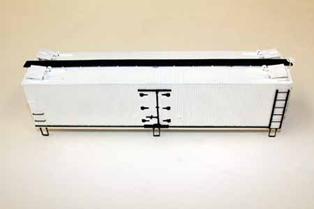 <![endif]> 
Painting the black on white proved to be very difficult. It was a battle of colors and a constant touch up job.
 Completed 4-26-13
The last details I made and added were a tack board and another board that blocked off the car's original reporting marks. The car is decaled and detailed the same on both sides. It is not clear coated for now as I did not want the colors to shift even a little.
<![if !vml]>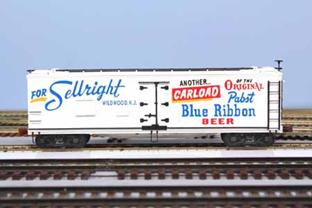 <![endif]> <![if !vml]>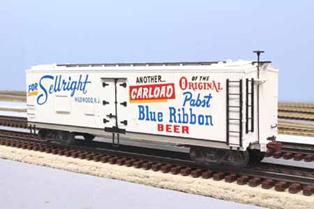 <![endif]>
I think it is just a stunning car.
Added 7-21-13
This car was quite involved to make so only having 1 car would not due. If I actually get to make the Wildwood Station scene the white car will likely be parked there to never run. So I thought about a slightly "imagineered" car with reporting marks that will run in regular service. I got a stock S Helper Service car that was factory painted reefer orange but was not lettered. I think this paint scheme just POPS! This is the actual car number of the real Sellright reefer. I decaled another car with a different number for a friend so there are 3 cars total in existence.
<![if !vml]>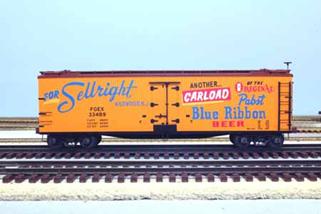 <![endif]> <![if !vml]>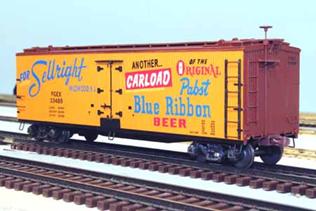 <![endif]>
Added 12-4-18
Another Sellright reefer photo appeared on eBay so I bought it instantly. The date is unknown but I am guessing early 1970s because of the faded paint. Note the car number is exposed as well.
Back to
<![if !vml]>

<![endif]>
<![if !vml]>

<![endif]>
Updated 12-4-18
All photos and content © Lanes Trains 2005-2019