<![if !vml]><![endif]>

And now for something completely different for me modeling MODERN, and for the first time ever modeling a loco that is currently running, on the Conrail roster out of Camden NJ. My last "modern" modeling was my Conrail SD40-2 in 1990.

The below photos were taken on 6-29-19 in Paulsboro NJ. What a novel concept it is to be able to take your own research photos especially close to home.

<![if !vml]><![endif]> <![if !vml]><![endif]>
My friend John Peters Jr. is running 5235 remotely in Camden NJ.  Note the belt control box. He is engineer and also uncouples the cars for switching.
This loco was also bought at the Ted Mauer auction on 6-22-19 with my Norfolk Southern B32-8 and Southern SD40-2 from the collection of the late Dave Bailey. I have recently become slightly obsessed with second generation High Hood diesels, which is very far off track from my main PRR, PRSL and Reading modeling interests.
This loco is Overland/Ajin model 1755 released in 1984. Only 15 were made making it a rather rare model. My choice to make this Norfolk Southern instead of Norfolk & Western was really tough. I like N&W as well.
<![if !vml]>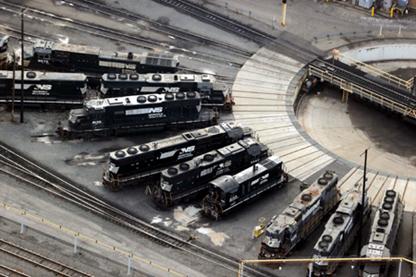 <![endif]> <![if !vml]>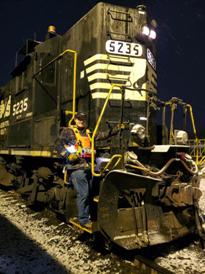 <![endif]>

<![if !supportLineBreakNewLine]>
<![endif]>
This plate should be in the long hood, not where it is here on the deck. Do we have classic cold Overland solder joints, OR, NO Solder? In this case BOTH!!!  I spent an hour going around the handrail stanchions soldering them back for reinforcing. No Overland diesel I have ever handled had all the handrails well attached. They all needed repair or better soldering.  I got rid of the rubber tubing motor coupling and installed NWSL cups and a custom brass dogbone shaft.
<![if !vml]>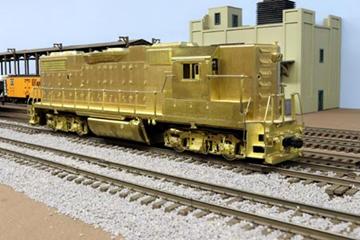 <![endif]> <![if !vml]>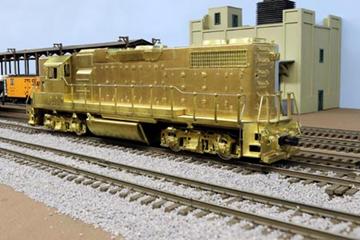 <![endif]>
Revised 7-28-19
All photos and content © Lanes Trains 2005-2019