<![if !vml]><![endif]>

This page is now dedicated the late Dave Bailey who passed 1-23-19. Dave was 1 of the pioneer "Modern" S Scale modelers in the early 1990s, and the reason I made this model. On 6-22-19 I went to the Ted Maurer Auction and bought some of his locomotives.

<![if !vml]><![endif]>

<![if !vml]><![endif]>
In my early S Scale days of the 1990s, I was buying S Scale brass indiscriminately, without any real "plan" as to how it might all fit together some day. The S Mod Modules were being used frequently. We were getting together as a club with the Central Jersey S Scalers on a regular basis. Dave Bailey's 32 foot long "Allen" hump yard had his 3 Conrail SD40-2 putting on an amazing modeling show moving cars over the hump with a working car retarder. I wanted to join in on this action. This SD40-2 was my second "big" project after my PRR GP9 was originally completed in 1988. Since I was making railfan trips to Altoona at that time, the SD40-2 were truly everywhere, and became a favorite of mine. They still are to this day.
This model was made by Overland in 1983 as Overland model 1744. I got this one in about 1990 and had it painted by the 1991 NASG Convention in Syracuse NY. I would eventually have 3 of them, but sold the other 2 without finishing them as I focused more on PRR transition era. I still would LOVE to have a Chessie SD40-2 though!
Syracuse NY 1991 NASG Convention Contest
First Place!
<![if !vml]>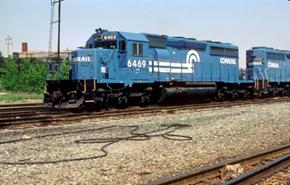 <![endif]> <![if !vml]>
<![endif]>
In the pre-internet days of 1990, I relied on Dave Bailey to help me pick a number of a Conrail SD40-2 that did not have anti-climbers. Those models in S Scale with anti-climbers were particularly rare. In 2016 a quick internet search showed 6469 had anti-climbers, as seen above. Either the anti-climbers on the real 6469 were added or Dave was wrong! Does it really matter now? I am not changing the number!
I did not want to weather it much as that was a new concept for me at that time. Unfortunately, you could not accuse Overland of using too much solder on this model. Some of the handrail stanchions and major hood cross braces have come loose. The thought of matching the Conrail blue paint for the needed repairs was so very discouraging that lead to a very long time with it not running. When I changed to DCC I could not run it at all.

September 2016
For no particular reason other then, "why keep it if I don't run it"- Conrail 6469 was run for the first time on 9-8-16 in maybe 20 years. I flopped down 3 pieces of flex track on my layout and clipped a DC transformer to it. It ran OK but my 2016 skills should be able to make it run really well, and add the modern electronics of a sound unit and significantly better LED lighting. The constant lighting units never worked well anyway.
Photos taken 9-8-16
I am going to keep the 1991 paint job as much as possible.
<![if !vml]>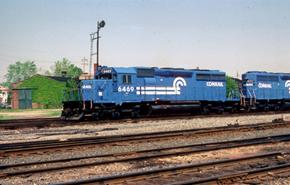 <![endif]>  <![if !vml]>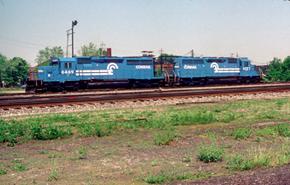 <![endif]>
<![if !vml]>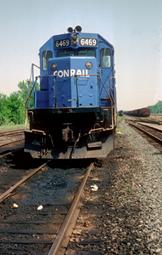 <![endif]>  <![if !vml]>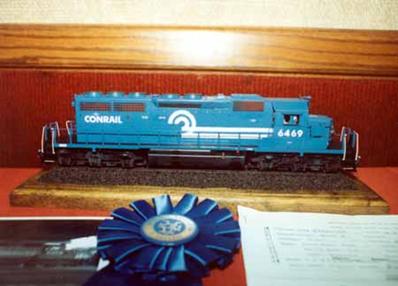 <![endif]>
1990 Electronics
This is what I did in 1990 as an extensive rework, with me trying to light the headlights, numberboards and corner markers with 4 light bulbs total. I was concerned about the overall amperage draw. There are 4 Dallee electronics constant lighting units crammed in here. Two are constant and two are directional. I tried to light the corner markers with fiber optics strands from the numberboard bulbs.  The bulb holders were massively time consuming to fabricate. It all failed miserably. There was not much that got brightly lit. The good thing is the Dallee 3 volt bulbs were massive compared to today's LEDs. I recycled the bulb holders to also hold the LEDs.
The below photos are for historic record. Again - the lighting system failed! You just can't replace a constant voltage for model lighting to emulate the real thing. DCC fixed all of these problems. But maybe there are ideas here that can be adapted for other locos.
<![if !vml]>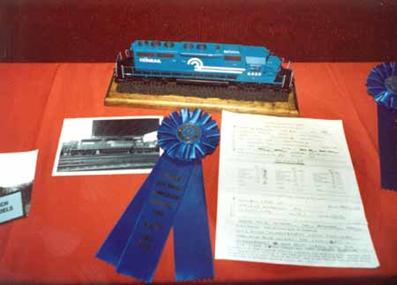 <![endif]>  <![if !vml]>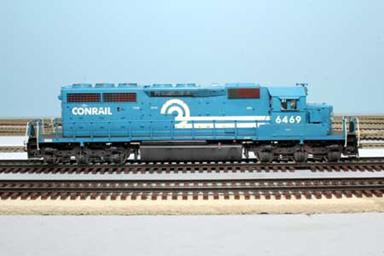 <![endif]>
<![if !vml]>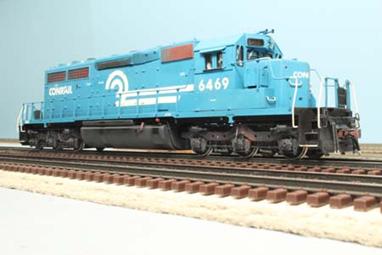 <![endif]>  <![if !vml]>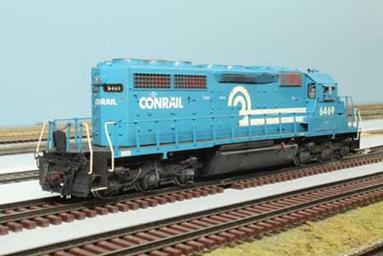 <![endif]>
This is the light manifold for the long hood showing the headlight at the top and numberboards at the bottom. I put tissues in as a lighting diffuser. The triangular plate at the bottom should still be soldered as a mounting crossmember in the long hood. Overland Models were full of cold solder joints that frequently failed. I probably cannot solder this back in now because it is painted.
This is mostly a stock Overland drive for this time period. I went flywheel crazy. At one point I had three flywheels here, but could not fit the drive into the shell! It is likely to lose at least 1 and maybe both flywheels before this project is over.
 Repairs Begin
9-11-16
As mentioned the long hood crossmember popped off the shell. After some procrastinating, I decided to "go for it". Major soldering on a painted model is not for the faint at heart. I bought a JB Weld kit for this repair but always prefer solder over any adhesive.
With some liquid flux and my Hotip only set to 2 I tinned the shell without burning any paint. Burning paint would have been a deal breaker in keeping this paint job, and why I love Scalecoat paint. It can take the heat! I put the plate back in place and 4 flathead screws later it was fixed, better than new.
10-8-16
It might not look like much but I have put MANY hours into upgrading this drive. I removed 1 flywheel I added in 1991. There is zero chance any shaft or U joint will slip when I am done.
<![if !supportLineBreakNewLine]>
<![endif]>
I am big on all wheel pickup. But for the SD I only use 8 not 12 wheels. I cut grooves into the backs of the wheels for my phosphor bronze wipers to ride in. They won't wander and possibly short. They have to be custom bent and fiddled with so they make constant contact but make no additional drag, then liberally oil the grooves. The electricity does not care.
I machined collars for the ends of the driveshafts to the tower and trucks that I can use a set screw with significant torque. You can sort of see them. For the tower and motor cup I cut a slot in the end of the shaft. I drilled a .025 hole through the center of the cup hole, insert a piece of wire and key it all to the shafts. You would have to shear that wire to have the cup spin on the shafts. No slipping there.
I modified and mostly recycled the V shaped light manifold  I made in 1989 to light the numberboards. I used 5MM LEDs, and now wanted to use them individually instead of trying to light both numberboards with 1 bulb or LED. I had to install the headlight LED before installing the light manifold. In testing the headlight was going to be very dim because of the very old MV lenses. That was not acceptable to me. More on the headlights later.
<![if !vml]>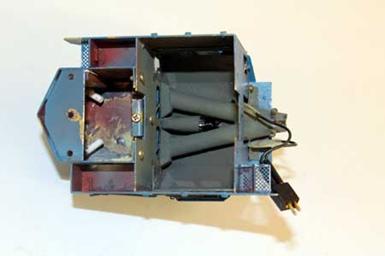 <![endif]> <![if !vml]>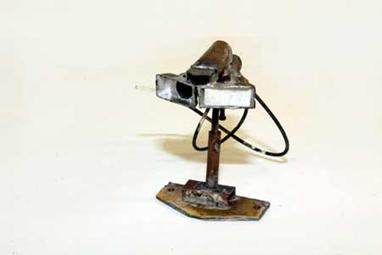 <![endif]>
<![if !vml]>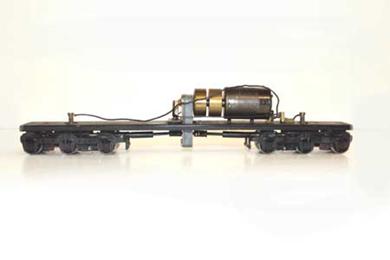 <![endif]> <![if !vml]>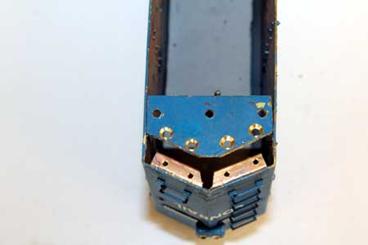 <![endif]>
Added 10-25-16
Lighting
This loco has always been about the lighting system I designed, starting in 1989 and revising it in 2016. I knew this wiring would be a beast and it was. I mounted the decoder and speaker on a piece of brass flat stock, facing upwards to the roof. There were 2 dividers going across the long hood that I used to mount the brass flat stock. There was a truly obscene amount of time spent on getting this lighting system wired and working.
<![if !vml]>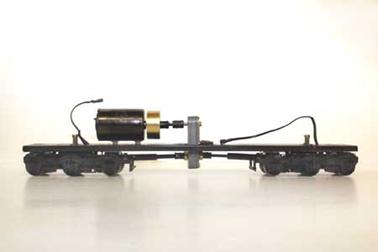 <![endif]> <![if !vml]>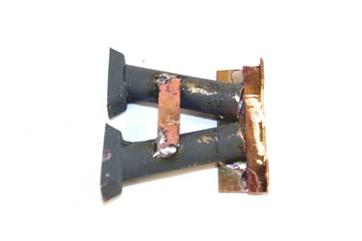 <![endif]> <![if !vml]>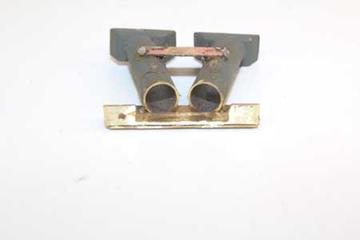 <![endif]>
Rats Nest!
This is what I had to deal with and hook up. I used a piece of brass flat stock as a "terminal strip" for the blue common wire. All the LEDs needed to tie into the blue wire.
<![if !vml]>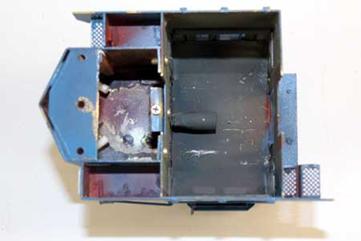 <![endif]> <![if !vml]>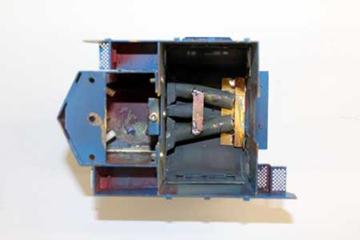 <![endif]>
This is all tucked up as much as possible. Lots of Scotch Tape is hopefully going to keep it all in place. It is a Tsumnai2 EMD 2 amp decoder with a Current Keeper capacitor bank, visible at the purple item at lower right.
I did not like the very dim headlights from the original 1989 completed project. The MV lenses went yellow with age. Sort of keeping with the old idea of using fiber optics, I turned some clear acrylic rod on my lathe and inserted them to carry the light forward. They were about .070 x ½" long. I glued a new MV lens to the end of the acrylic rod. Not perfect and not scorching bright like I prefer, but MUCH better than it was. It is by far good enough for me. The numberboards turned out to be VERY bright which helped me to have to fix the headlights. All this effort to upgrade worked out. I wanted to SEE the loco lighting with the room lights on. It runs very well. The Tsunami2 sounds great.
Completed 10-25-16
In spite of some significant repairs I was able to keep almost all of the original 1989 paint job. That was important to me. The Tru Color Conrail Blue matched pretty well. The reworked lighting system mostly exceeded my expectations, especially the very bright numberboards. Unfortunately 1 of the corner marker surface mount LEDs that was problematic in the rebuild, has died quickly. I am in no hurry to fix it. That would be at least a day's works to get back into this locomotive.
<![if !vml]>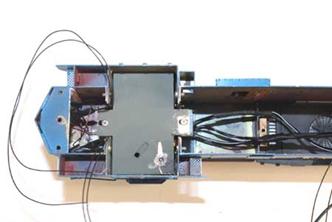 <![endif]> <![if !vml]>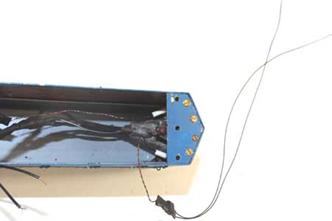 <![endif]> <![if !vml]>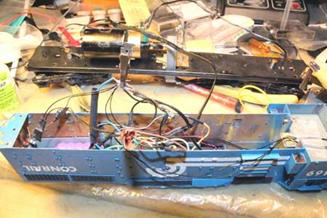 <![endif]>
<![if !vml]>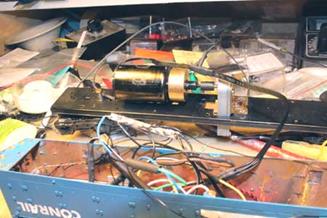 <![endif]> <![if !vml]>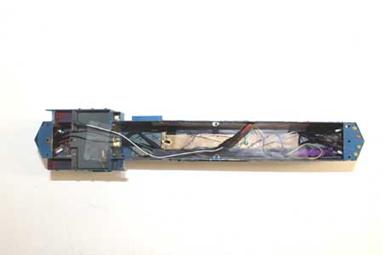 <![endif]> <![if !vml]>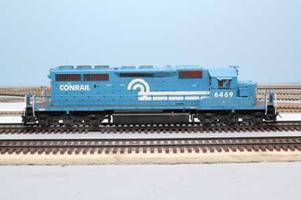 <![endif]>
Added 11-5-16
My Pitiful "Modern" train
Now that my SD40-2 is done of course I want to run it. I have all but ignored buying cars that would correctly run behind a Conrail locomotive. I currently have 2 Conrail boxcars. Everything else was bought with a cutoff date of about 1958 for transition era rolling stock. On 11-5-16 I got out what I had and took 6469 for a spin around the layout. That Tsumni2 decoder is really working it! It's big fun running the 6469!
<![if !vml]>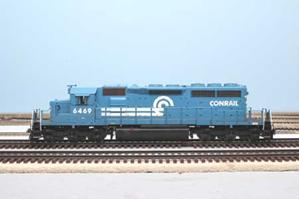 <![endif]> <![if !vml]>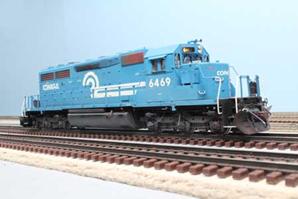 <![endif]> <![if !vml]>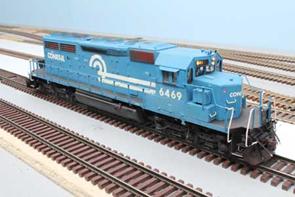 <![endif]>
Added 12-24-19
Spark Up The Barby
Ever since the days with Dave Bailey I always thought how huge the SD40-2 "porches" were compared to earlier EMD locos. I thought about doing a goof of the crew having a barbeque on the "back porch" as they were running. It would make for a good layout scavenger hunt item. The original idea was to have a colorful awning roof and sneak it onto 1 of Dave's locos. It took over 25 years for me to finally get it done in October 2019. The conductor is checking his watch. The whole thing is removable but I like it as is.
<![if !vml]>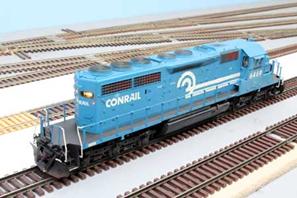 <![endif]> <![if !vml]>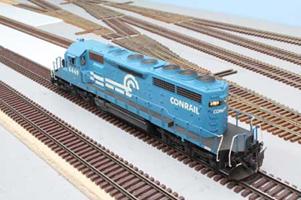 <![endif]>
My Much LESS Pitiful "Modern" train
In the past few years I have added substantially to my "modern" collection. I now have over 30 feet of TOFC and Husky Stack cars. I also got Downs Model Railroad "Tank Train" tank cars. It is all a 1970s + based collection of cars from Penn Central, Chessie, and Conrail. I don't claim era perfection here. The below is a Stack Photo and video of a better version of my modern train.
Updated 12-24-19
All photos and content © Lanes Trains 2005-2022