<![if !vml]><![endif]>

Added 10-22-12

PRR K7a

<![if !vml]><![endif]>

Added 10-18-15

Canadian National 8 Hatch Reefer
Added 5-2-20
Hood's Milk Reefer
This is the same kit as the REA car below. I have had this car just laying around in my shop collecting dust for at least 4 years. It was an eBay win. I think I was disappointed that there is a shrinkage split in the wood side I might have missed. It also has no weight - all wood and very light. Otherwise the buildup was pretty nice. There was significant brake rigging. I don't build up wood cars I just buy them done.
I found some old school trucks that had code 125 aluminum wheels and a sheet metal bolster. The aluminum wheels had to go. The axles on the wheels I wanted to use where just short and would not stay in so I soldered 2 washers at each axle hole as spacers. I also soldered some square stock to keep the side frames from spinning on the bolster like a propeller. Equalized OK - propeller no way.
Up next was adding weight. How to you add weight to a sealed car that will not survive any temporary disassembly? I did this once before. I cut a slot in the middle of the center sill. In this case I luckily had a 1/8 end mill and used my milling machine. There was the constant chance of bad things happening and this car going toothpicks in 1 second flat. The big green machine stops for nothing. There was a large solid block in the center of the car. I was expecting to cut through the floor and insert the lead strip. (car tire weight) But I had to mill about 3/4" deep in this block to hide the weight. Some of the brake rigging suffered in the process. Oh well. Maybe 3-4 hours of fiddling I have a brand new Hoods car.
<![if !vml]>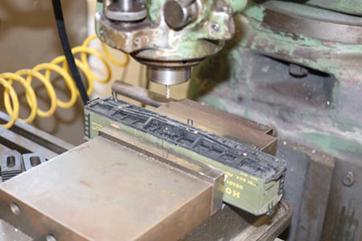 <![endif]> <![if !vml]>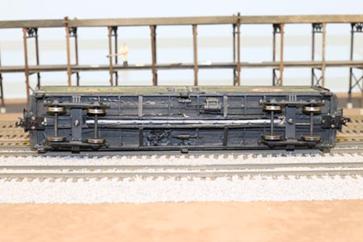 <![endif]>
<![if !vml]>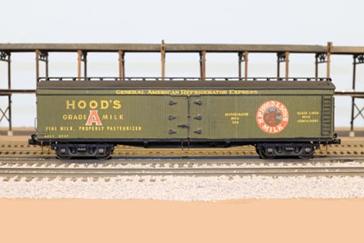 <![endif]> <![if !vml]>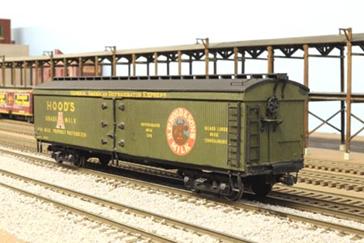 <![endif]>
Added 3-31-18
Railway Express Agency Wood Reefer
This is an old school Kinsman wood kit car I bought built up as shown from the estate of my friend I miss greatly, the late Lee Johnson. I have not assembled wood car kits yet, and likely will not. They just don't interest me. The kits came with prepainted and printed sides. The car was built up nicely. I think "Railway Express Agency" is on the car 1 time too many, probably on the letter board. Trying to match the green to paint over it is not likely so it will remain as is.  I will eventually add more weight to it, which is a challenge on a sealed car. I changed the wheels to code 110, and repainted the roof that was a bit rough. 
<![if !vml]>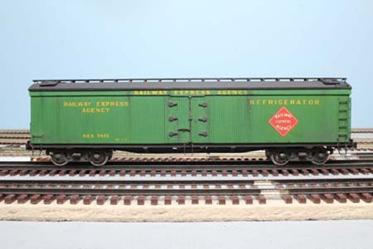 <![endif]> <![if !vml]>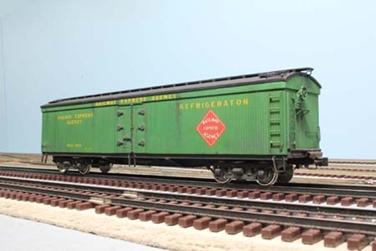 <![endif]> <![if !vml]>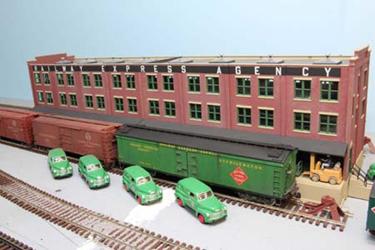 <![endif]>
Added 8-19-18
Railway Express Agency Steel Reefer
Pacific Fruit Express & Various Reefers
Added 8-16-20
Custom Reefers by Bob Hogan
These PFE reefers were made by Bob Hogan for himself and he let me buy them. If they look yellow they are orange.
<![if !vml]>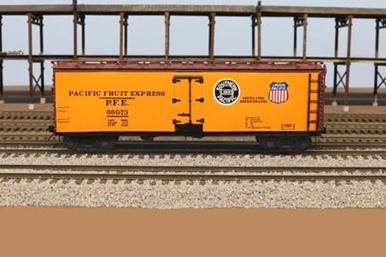 <![endif]> <![if !vml]>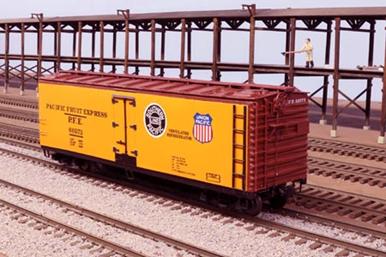 <![endif]>
<![if !vml]>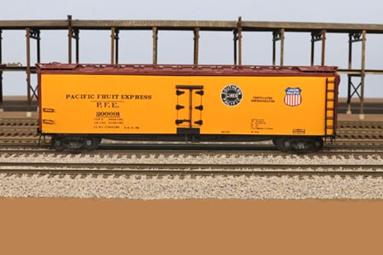 <![endif]> <![if !vml]>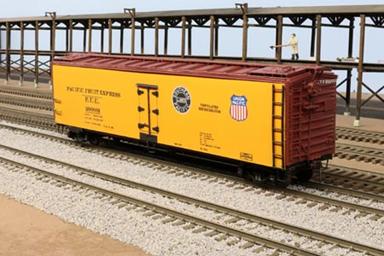 <![endif]>
PFE R-70-2 Reefer
Added 5-1-22
SFRD 50' Reefers
Added 10-10-20
These are the cars that I saw as HO brass models and realized there were no 50' reefers in S Scale. They also were built by Bob Hogan. I wanted them first but Bob wanted to build the above PFE cars first. We combined our parts stashes from various sources and Bob got them done. 1 is representing a wood sided car and the other is steel sided.
<![if !vml]>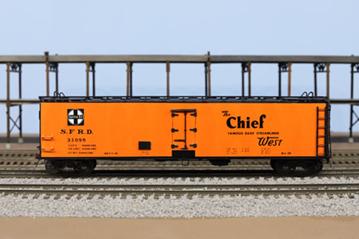 <![endif]> <![if !vml]>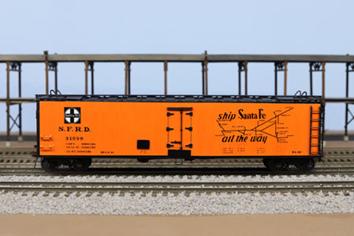 <![endif]> <![if !vml]>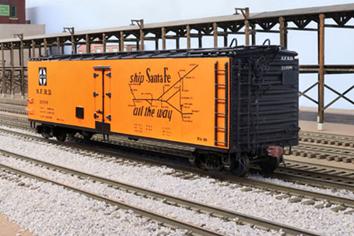 <![endif]>
<![if !vml]>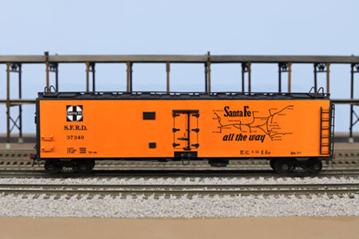 <![endif]> <![if !vml]>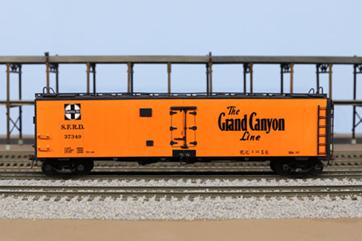 <![endif]> <![if !vml]>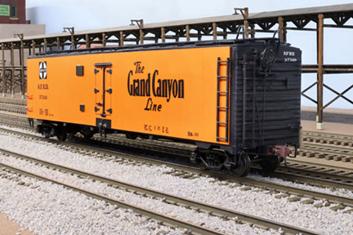 <![endif]>
Added 5-30-16
The pile of Pacific Rail Shops Reefer kits still to be assembled on 6-2-16
These are the same kit painted for various companies. It was made by Pacific Rail Shops, now owned by Des Plaines Hobbies. In May 2016 I started assembling the many kits I have had since the 1990s. They are a very nice kit but very time consuming to assemble especially with the hatches opened.
When the kit first came out I had a machinist friend Bill Benson, custom make me this drill fixture, knowing I would need it for "someday".  Previous Pacific Rail Shops boxcar kits had drilling spots under the roof for the roofwalk pins. There are none on underside of the reefer roof. Bill just went with it and made this.
<![if !vml]>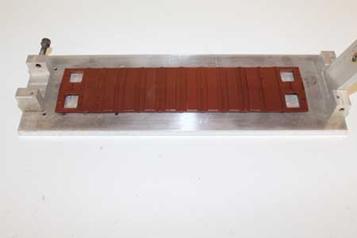 <![endif]> <![if !vml]>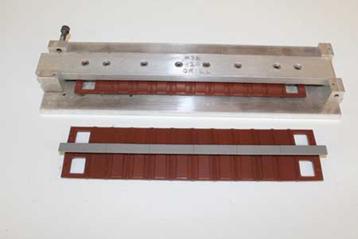 <![endif]>
On 5-15-16 I finished this first batch of 3 cars and ran them with my S Helper Service Reefers, adding some color to the mostly black and brown car mix on the layout. I REALLY like when the hatches are opened.
<![if !vml]>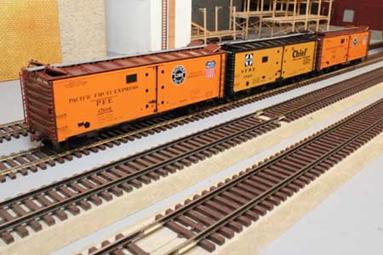 <![endif]> <![if !vml]>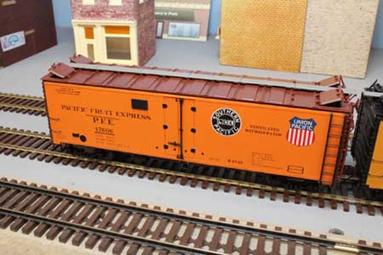 <![endif]> <![if !vml]>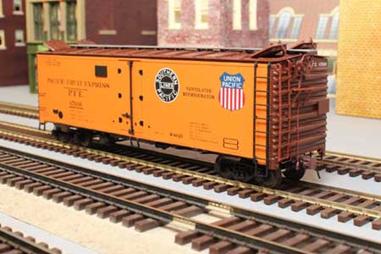 <![endif]>
<![if !vml]>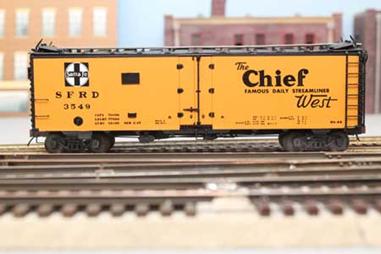 <![endif]> <![if !vml]>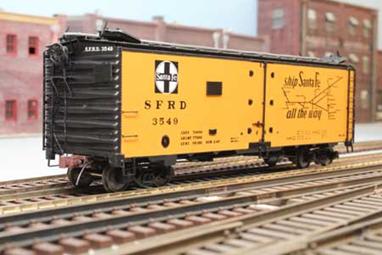 <![endif]> <![if !vml]>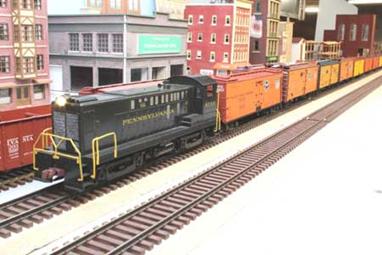 <![endif]>
Added 6-5-16
Some cars in the below photos are also S Helper Service which were ready to run.
I was just goofing running the Docksider with the growing reefer train. The train is currently 24 reefers and a brass caboose.
I know it can pull more as I had it pulling 50 empty S Helper Service hoppers.
<![if !vml]>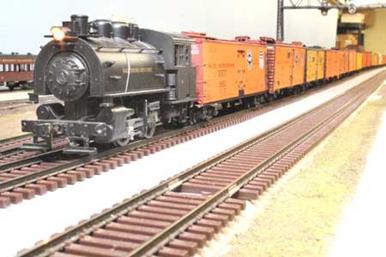 <![endif]> <![if !vml]>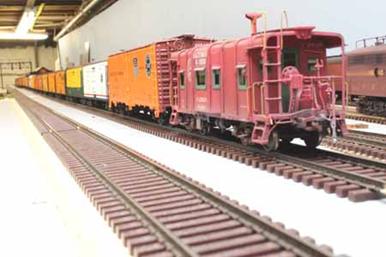 <![endif]>
A snaking line of color running on the freight bypass.
Added 6-19-16
Pacific Fruit Express made 2 experimental aluminum cars. This is 1 of them. What a great looking car with the black hardware. It just pops and really stands out in the train. What a shame that PFE only made 2 of them in aluminum.
<![if !vml]>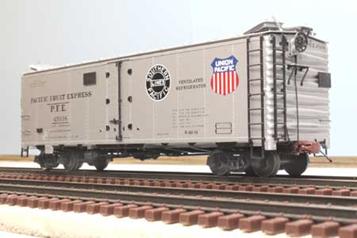 <![endif]> <![if !vml]>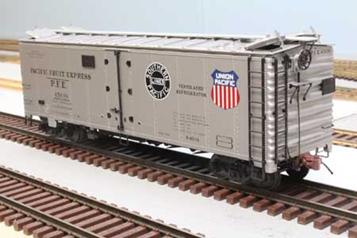 <![endif]>
<![if !vml]>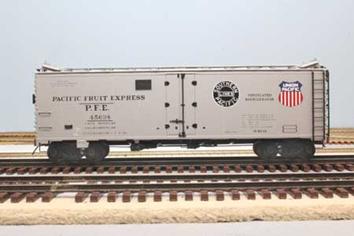 <![endif]> <![if !vml]>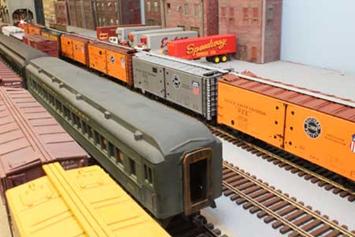 <![endif]>
Added 4-29-13
Sellright Reefer
Added 5-2-20
This is a stack photo of the icing platform M1, and I1 taken 3-17-20
Updated 11-7-21
All photos and content © Lanes Trains 2005-2022