<![if !vml]><![endif]>

Taken 7-13-14

In May 2014 my custom made PRR Head End Car decal set I have waited about 8 years to get made finally arrived. I put these decals right to work! Most of the B60 and R50b I painted years ago with a mix of decals and dry transfers were traded away for unpainted models and the rest will be stripped and repainted – all just to get the later Dulux lettering color. Pretty much every car is getting a new paint job. I found that by 1956 there would likely not have been any Gold lettering left on cars. I was going to keep a few cars but they all had to go! Surprisingly the R50b changed to Dulux lettering very early on.

Some of this work also lead to the varying of the colors used, as previously I just used Scalecoat Tuscan on ALL cars. I have used a custom 50/50 mix of Oxide Red and Tuscan, and even painted some cars Oxide Red, which I never would have done even a year ago. I am not using Tuscan only again. It is too dark. The results are obvious! However, the fluorescent lights over my layout are awful for washing colors out. The colors look the same so big color differences are needed to be noticeable.
Amtrak Set
Added 11-21-21
CNJ Blue Comet
Added 1-13-21
Completed 6-4-14
<![if !vml]>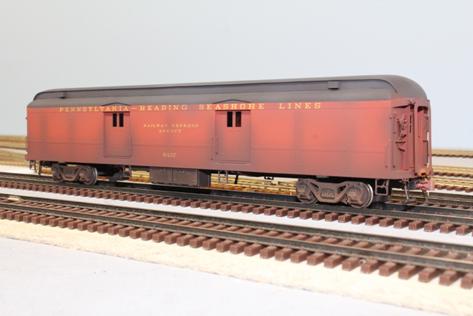 <![endif]>
PRR B60 and B60b Baggage Cars
I made some modifications to some of my B60 and B60b Baggage Cars.  I removed the roof vents on 2 of my B60b leaving 8 square holes in each roof. I machined square plugs to solder in from the inside. I filled the small gap around the plugs with solder and wet sanded them smooth to match the roof contour. It was quite labor intensive on 16 openings. The PRSL B60 had some different work performed on it. I had some extra K4 tender trucks that look very similar to some of the trucks used on B60 and B60b. When I put the K4 tender trucks on the floor the coupler height was very high. I had to machine the center truck bushings down to almost nothing to lower the coupler height. I also changed the doors to the square window style to match a specific PRSL car. See the book "Pennsylvania Reading Seashore Lines in Color" on Page 72. I have 7 B60 and B60b cars total which is really not enough to make up a second class passenger or mail train. I may get more at some point.
PRSL "Hot" P70
Added 9-19-17
PRR R50b
All of my R50b were completed June 2014
Added 7-27-14
This R50b was made by Southwind Models in 1989. While not overly obvious here, I did use 3 different colors on these 4 cars. 2 cars were painted oxide red, 1 was painted a custom 50/50 tuscan/oxide red mix, and 1 was Tuscan only. The color difference is noticeable while the cars are passing you in the train. This will be my last use of Tuscan only
Car 2551
<![if !vml]>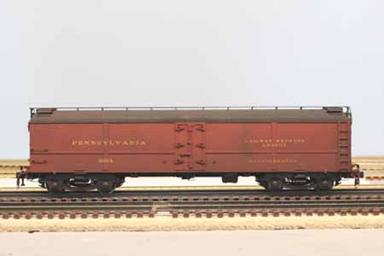 <![endif]> <![if !vml]>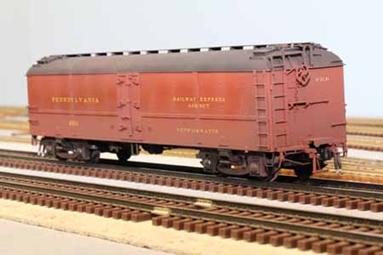 <![endif]>
Car 2670
<![if !vml]>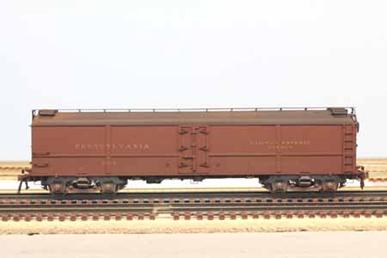 <![endif]> <![if !vml]>
<![endif]>
Car 2899
<![if !vml]>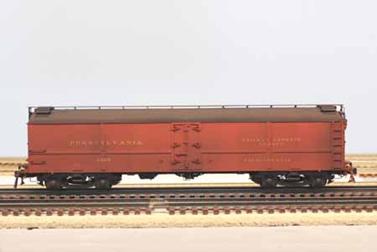 <![endif]>  <![if !vml]>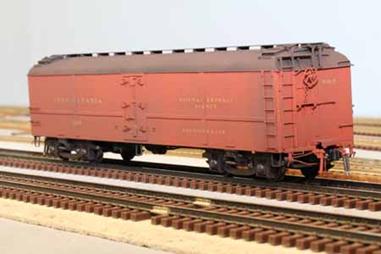 <![endif]>
Car 3184
<![if !vml]>
<![endif]> <![if !vml]>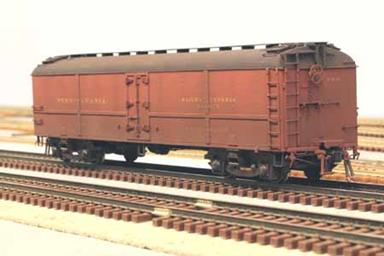 <![endif]>
Norfolk & Western Passenger Cars
Added 8-20-23
In July 2023 I bought a small collection of Norfolk & Western Passenger Cars that were built or painted by Bob Yahnke. Custom and 1 of a kind models are extremely interesting for me. Bob also built a American Models GP9 in the N&W "Red Bird" passenger scheme. Unfortunately Bob's layout sat dormant for a long time making the cars rather dusty.
This is a Southwind Models SWM-0176 New York Central baggage painted for N&W. Southwind only made 1 complete passenger train that was all New York Central so some cars got painted for "other" railroads. I do not know how close it is to anything N&W. Oddly it has PRR 2D-P5 trucks on it.
This is American Models with some details added.
This is American Models with some details added and new sides laminated to the car body.
This is American Models with some details added and new sides laminated to the car body. A compete train in this scheme would have ben awesome and matched the GP9 well.
Reading Passenger Cars
In 2011 I started to make some Reading Passenger Cars to fill out the "R" in my PRSL fleet. I had urethane roofs and roof vents made to fit the plastic S Helper Service heavyweight cars.
More to come here…
Seaboard
In October 2017, 4 custom made Seaboard passenger cars were listed on eBay. 3 were Sleeper cars and 1 was a Diner. They were made by the late Bob McCarthy when he was running his "Supply Car" S Scale parts company. He was promoting different cars sides to be overlaid on American Models shells. As the listing went on there did not seem to be much interest in them, so I bid on 2 and won a Sleeper and the Diner for not much more than the cost of the parts to build them. Seaboard cars did run through to Atlantic City.  They will stick out as Stainless steel cars as something different in my collection of mostly PRR Red and Reading Pullman green cars.
The cars are a little rough. They need some TLC, with redoing the windows, maybe with real glass.
<![if !vml]>
<![endif]> <![if !vml]>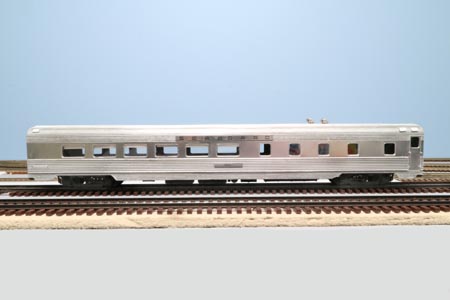 <![endif]>
<![if !vml]>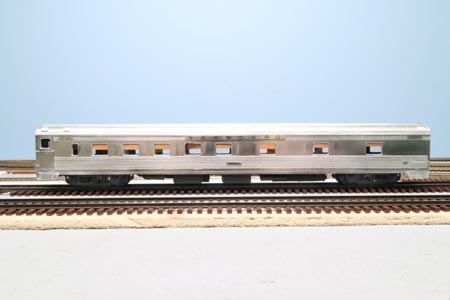 <![endif]> <![if !vml]>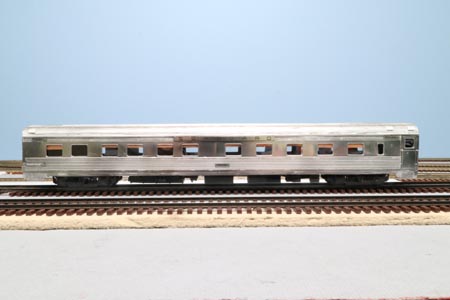 <![endif]>
I like the look of the 2 vestibules on the outer ends.
Southern Railway Crescent Limited
Added 5-10-23
Troop Cars
Added 1-17-20
Since these are essentially passenger cars I guess they fit here. These cars were made by River Raisin Models in 2003. There were 3 cars made, a troop kitchen, troop sleeper and converted boxcar. In January 2020 I realized I never added then to my website so now they are. I did not do anything to them except cut the wires off the Kadee couplers. I am not much on passenger car interiors but seeing the bunk beds in the sleeper is pretty cool.  The Allied Trucks are rather different and interesting. My somewhat fudged converted troop sleeper REA boxcar is here.
<![if !vml]>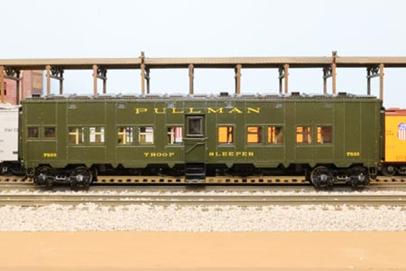 <![endif]> <![if !vml]>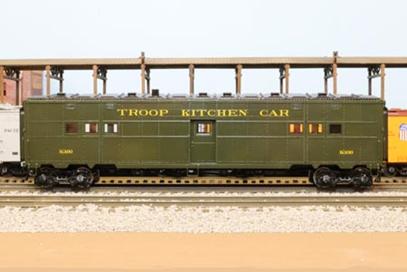 <![endif]>
<![if !vml]>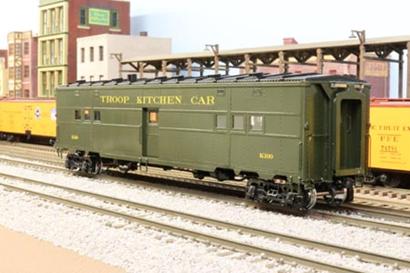 <![endif]> <![if !vml]>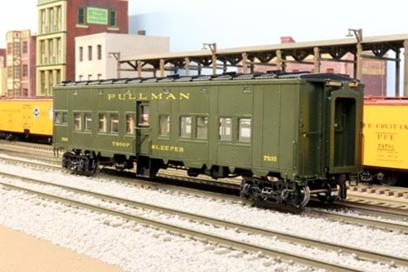 <![endif]>
<![if !vml]>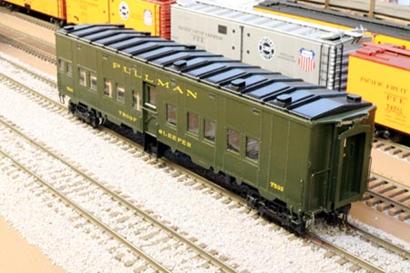 <![endif]> <![if !vml]>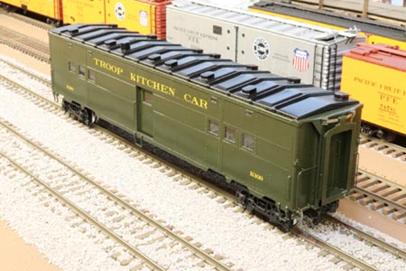 <![endif]>
Updated 8-20-23
All photos and content © Lanes Trains 2005-2024