<![if !vml]><![endif]>

PRSL Baldwin AS16 # 6015

A One Of A Kind S Scale Model

This is the "poster child" of my modeling procrastination habits taken to an extreme level here. As seen below, which is a bit more blog than my usual project page, I have worked on this model numerous times since 1993 but have never completed it. This loco maybe be second in terms of time spent making it only to my K4 5495, which also ran on the PRSL. Starting on 12-10-17 is the LAST time it will be worked on. It will be completed this time.

<![if !vml]><![endif]> <![if !vml]><![endif]>

I won about 20 PRSL Builders Photo copy negatives on eBay. Builders Photos are my driving inspiration.  It is all there to be seen and modeled. Since I model the 1956-57 era my model would have to be back dated and completed as shown in the Builders Photos. Still here are great variances in details especially at the loco got older and was shopped.
I have kept much of my old text in place even though it is obviously very wrong as seen by the 10+ year old dates. The surviving old text is in black. But I have inserted more and newer photos, making the timeline slightly off in places. Some older photos are not the best, working with my first or second digital camera in 2007. Note the evolution of electronics. There have been 4 decoders used over the years.
How I Got The AS16 Shell
I got this locomotive as a shell only. I acquired it in a "no holds barred" buy and trade deal about in about 1993. It was scratchbuilt by a contract builder whose name escapes me at this point. It took him 5 years to finish it and the intended customer died waiting for it!  The builder was a HO modeler so the S Scale shell was of no use to him. It wound up in the hands of a friend who completely and totally taunted me by literally waving it in front of my face and said I would NEVER own it. Even though this was well before my PRSL interest really happened, I knew it was 1 of a kind and I wanted it. I offered to buy the shell only on the spot for $500.00. No, it was not for sale, not ever, and especially not to me. It drove me absolutely NUTS which was the intention. Well, never actually did come one day about 2 years later when I found something for sale that HE really wanted, an Overland SD40-2 with Anti-Climbers (Production was about 20 models). I fully returned the abuse in spades and was so ruthless that I actually got the shell for free by the time the trading and buying was done! I am not overly proud of it, but I got the shell and this story is one of my all time favorites.
The Drive
The drive is from a run of brass GP30 produced in 1997 from Greenbrier Models. In about 2000 large components of the GP30 run started to appear on eBay. I bought a drive, moved the truck centers out a bit, and installed Southwind Models (now BTS) Alco sideframes. It runs REALLY well.
This is the AS16 shell about as I bought it. Shown here on 12-15-05 it has had some work done because a drive exists.
<![if !vml]>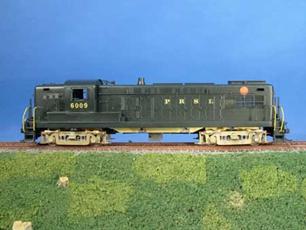 <![endif]> <![if !vml]>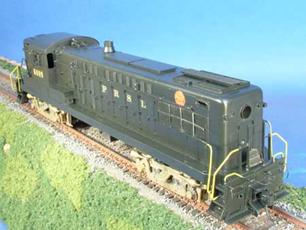 <![endif]>
I knew the completion time would be extensive but so worth it. It had been about 8 years since I last worked on it. I started making items then like the air tanks and the long sign boards. I installed all wheel electric pickup when I discovered phosphor bronze wire. That is very time consuming but necessary especially now with DCC. It was probably the intimidation of how to get the sign boards around the carbody hump on the fireman's side that sent it back to the box for an 8 year nap. Decisions like that have proven to be good for me. When I get the itch to work on it again, the results are significantly better because I have improved as a modeler and now own tools I did not back then. The internet was not available to me then as well. I can now blast out a question and hopefully get an answer. That was the case here for a few details. I bought a Baldwin PRSL Lettering drawing that was a great find. The original signboards I made were discarded in favor of brass channel. It is not quite as correct because the real signboard is a flat sheet that is frequently supported so it sort of looks like a channel with lots of notches.
Scratchbuilt Parts
Revised 12-30-17
For these parts I scratchbuilt in brass just before I learned Solidworks, I am not sure I would do it any differently now. There is just an obscene amount of time spent in making these parts.
My resurrection of the PRSLHS has caused me to work on my AS16 steadily for about the past month now. I just might get it done this time. I have the fuel tank made. I mounted air tanks I made years ago from the last time I was working on it. I now have the long sign boards installed. I was eyeing how to make the cab interior. None of it is dead perfect but it will due over what is in second place which is nothing.
Fuel Tank
4-17-07 Update
<![if !vml]>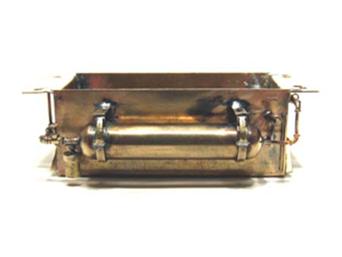 <![endif]> <![if !vml]>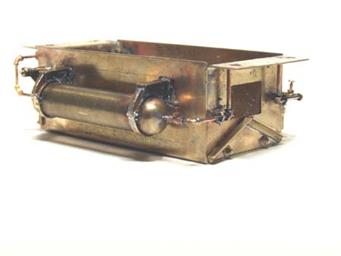 <![endif]> <![if !vml]>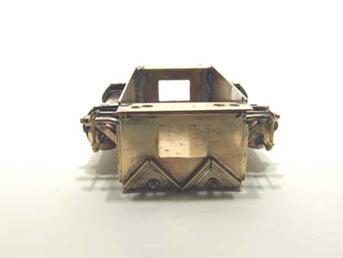 <![endif]>
Cab Interior
The issue was how to make a cab floor wider than the opening in the body. I wanted the crew to be at the windows leaning on the armrests. I threw some heavy thinking time at it and was pretty happy with the solution. That is actually the FUN part, figuring out how to make the part. I almost never make any drawings. I figure it out on the fly. The cab floor is split in half. The front and back walls slide in place. A strip screws in and clamps the 2 floor pieces in place. I originally had a cab light in place but I am not going to do it now.
<![if !vml]>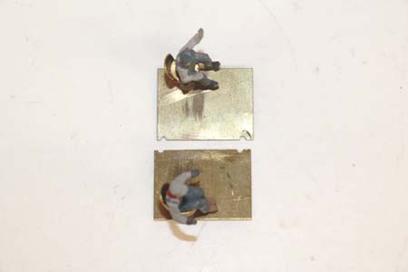 <![endif]> <![if !vml]>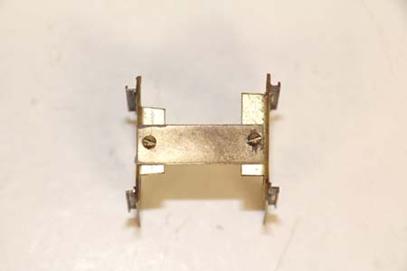 <![endif]>
<![if !vml]>
<![endif]> <![if !vml]>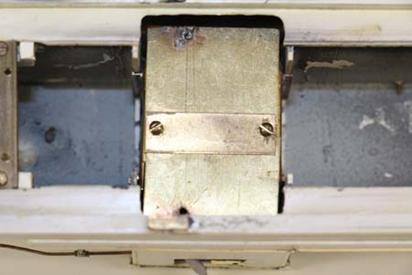 <![endif]>
6-28-07 Update
The fuel tank is made and painted. The new MU stands are almost done. I ran it for a night on DCC. It ran VERY well! I was surprised in early May with the fact that LokSound makes a Baldwin sound unit. I now have to go back and rewire everything for sound.
End Rails With M/U Hoses
Baldwins were multiple unit controlled with compressed air not electricity making them not compatible to run with other diesel loco builders. Looking at AS16 photos there seemed to be many different configurations of M/U valves and hoses. The first photo is how I made the end railings in 2007. I never really liked the 8 train pipe valves per end as that was not correct. The other photos are from 2017 when I wanted to fix them. I recycled the train pipe valves, cutting them in half so I could attach hoses to them. They rest are elbow castings trying to make 90 degree elbows look like 45 degree elbows. I had great fear this whole thing would fall apart while making the changes but it did not happen. I used clips and a wet cotton ball for heat sinks. Work like this simply cannot be can't done with a conventional soldering pencil. You need a resistance soldering unit like the PBL 300 watt Hotip. It all went really well. I still have to add some chains to both ends.
<![if !vml]>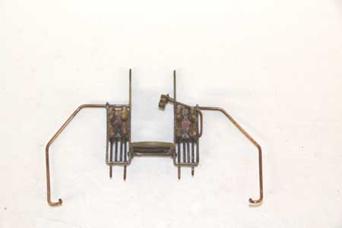 <![endif]> <![if !vml]>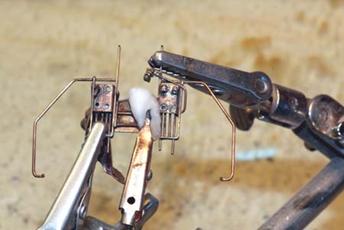 <![endif]> <![if !vml]>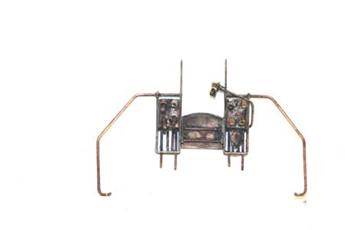 <![endif]>
Footboards
I wanted footboards with some form of an open grate. I am not sure if they were round or rectangular holes but good enough. The other piece will go between the footboards under the draft gear.
<![if !vml]>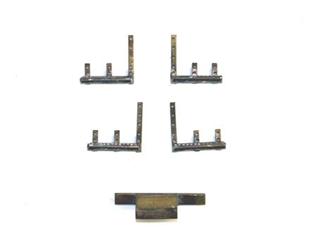 <![endif]> <![if !vml]>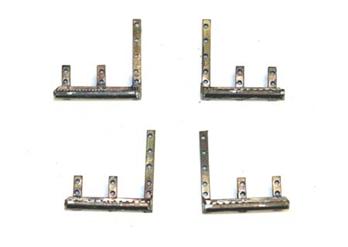 <![endif]> <![if !vml]>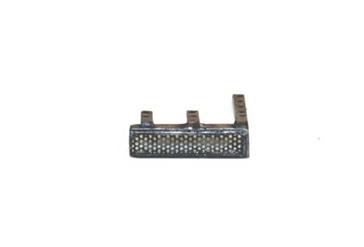 <![endif]>
7-20-07 Update
The sound unit is in. Wiring DCC and sound can be a challenge in the narrow hood units like the AS16 and GP9. I try to fit in the biggest speaker possible. While the sound is not going not straight out of the top of the shell because there are no fan openings etc. as I usually prefer, I am taking advantage of the large screened openings on the sides. Since I am currently using LokSound units, their 100 Ohm speakers really limit the available speaker variety. I really wanted lit numberboards, but after a very close call with slightly melting and almost ruining my GP9 I decided against it.  I have put a lot of additional time in making sure the model stays together. Major brass detail parts like the signboards are getting bolted on with 00-90 screws being used as studs. Other parts are being pinned with wire when they are glued together. After all of this time and effort I do not want to have to repair it and do touch up. This is the very reason why I model almost exclusively in brass. A good solder joint is forever.
Note the cast weight I made next to the gear tower.
Loksound decoder And Soundtraxx Speaker
I co-opted a Train Control box from a parts K4 pilot. As shown in the Builders Photos, there is an up and over walkway.  I made the walkway part pretty easily. The biggest anxiety attack was when I was drilling the holes through the deck to mount the parts.  I got pretty close but still had to make a little wiggle room to get them lined up perfectly
.
On 7-24-07 I took the biggest leap of faith so far when I stripped the paint. After working on the shell for a few months now I was pretty sure it was made from Evergreen styrene. In spite of getting $45.00 of Chameleon Stripper, I actually had visions (no make that nightmares) of pulling a sagging goopy blob of plastic from the soup when I dunked it. I can now attest that the Chameleon Stripper (no longer available – Scalecoat makes an identical plastic stripper) was safe for at least this shell and another one I stripped yesterday. I did a little test on the inside before going for the big dunk.  The paint did not fly off but there were no signs of damage or crazing. 2 hours later after some pretty steady scrubbing with a small stiff paint brush it was pretty good. A few steps got knocked out in the fray but they will be repaired.
10-8-12
I am back on it again. Procrastination sometimes works on my favor. There is now a Tsunami Baldwin decoder. I ripped out the LokSound unit. I never really liked it anyway. I am getting custom decals made by Jerry Glow. I have moved on to using RailMaster Deep Bass speakers with the Tsunami. These are all good things.
10-12-12
The Tsunami is installed and it is running very well. Some details are made and are not installed yet.
A lot of details and rework have to be done.
This is the "test run" portrait on 10-12-12
A YouTube clip of this test run is here
Coupler Mounting
12-10-17
This coupler mount was likely done before I stripped the paint in 2007. I had GREAT concern of a collision or hard coupler hit, and if the pilot would survive the impact. The plastic has proven to be a bit brittle. I would have rather attached the couplers to the drive but could not see how that would work while filling in the draft gear and pilot. I went to some rather extreme building making this elaborate coupler bracket tying it into much thinker areas of the shell.
<![if !vml]>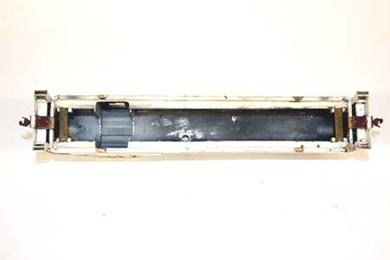 <![endif]> <![if !vml]>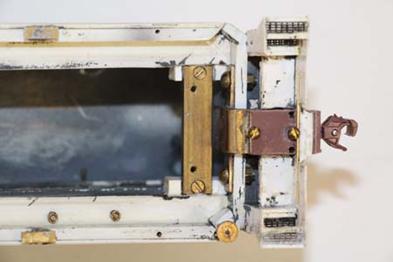 <![endif]>
I reworked the housing that goes under the draft gear. I really did not have a plan for how to do it well in 2012. It is a bracket that screws to the bottom of the Kadee coupler box. This makes coupler replacement possible because it is all removable. The bracket is a bit wider than the draft gear for additional strength and protection.
Many projects have been done since I last worked on this. In 24 years after getting the loco shell it is time to get it done. Today I installed the LAST of 4 decoders and speakers. This first photo is a Mini Soundtraxx Baldwin Tsunami2, Current Keeper capacitor bank and a RailMaster DLG8 speaker. I did not cut grooves into the backs of the wheels for this loco. I started doing that later. With the Current Keeper that fixes many pick up issues. No lights yet. The last time I worked on it was going to be incandescent lights. I am using all LEDs now, and have to make a complete new light system. I also installed much better driveshafts than the cobbled together pieces I was using. It was great to pull a PRSL train of my "HOT" PRSL P70 that did not exist that last time I ran it in 2012.
<![if !vml]>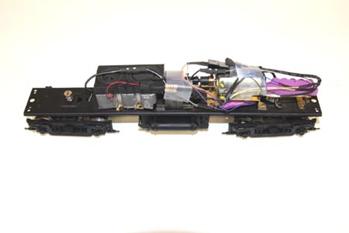 <![endif]> <![if !vml]>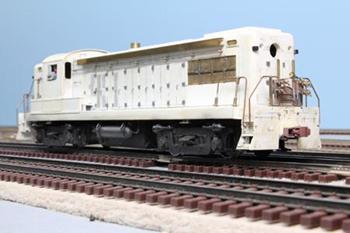 <![endif]> <![if !vml]>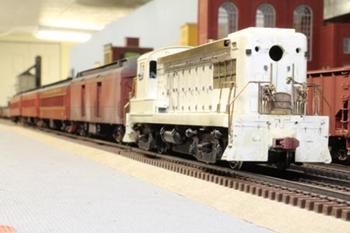 <![endif]>
Added 12-30-17
Let There Be Light
I consider lighting to be slightly more important than sound. Some of my locos can have just a motor decoder only but they WILL have a nice lighting system. The first photo is a Solidworks screen shot of the marker lights. The next photo is the headlight bezel ring. These are the only 3D printed parts on this loco.
<![if !vml]>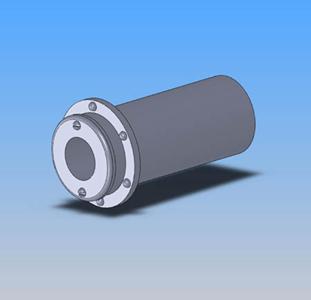 <![endif]> <![if !vml]>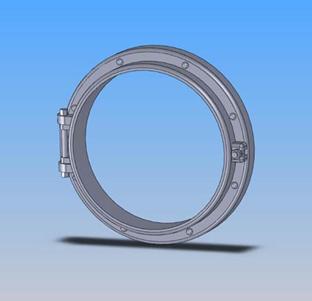 <![endif]>
This is a BTS 07079 Alco 2 bulb back up light http://www.btsrr.com/btsdet01.htm that just happened to fit perfectly in the existing headlight holes. I soldered it into a round brass tube that is also the led holder. I really wanted to use 3MM LEDs because I like very bright headlights, so I modified the casting extensively. The above bezel fits around the outside of the backup light casting. A clear lens will cover the casting.
Finally some new progress. I wired the 3MM and Pico red LEDs for the marker lights. The marker lights are not really as large and bright as shown in the below photos. The marker lights are translucent red and with the red LED really GLOW. It should not be that large once the shell is painted. This is the first time the marker lights have ever worked. The bottom right photo is inspiring for when it is really done and painted.
<![if !vml]>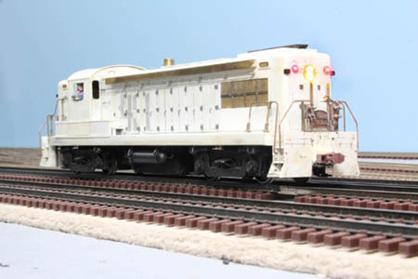 <![endif]>  <![if !vml]>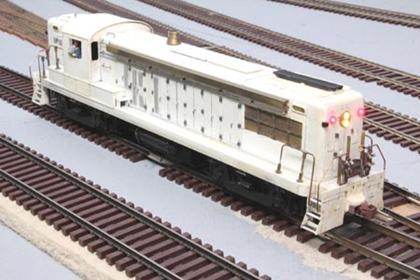 <![endif]>
<![if !vml]>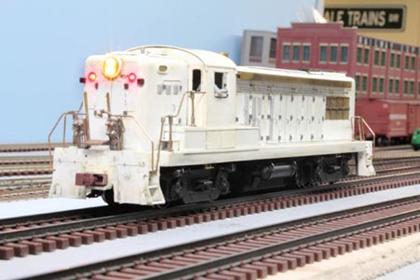 <![endif]> <![if !vml]>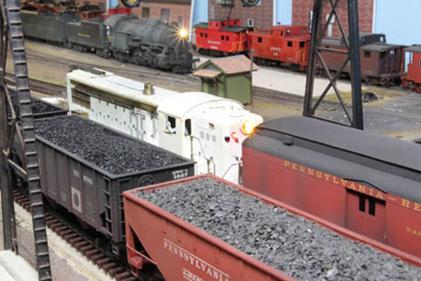 <![endif]>
Ready For Paint
Added 1-7-18
I looked at the model through my "current" eyes and saw some things for the first time I needed to fix. There was no "hinges" or handles for the doors under the cab. There was no windshield wipers. I glued things on that have been loose and test fitted for many years. It was a great feeling to know the build is done. Onward to painting.
<![if !vml]>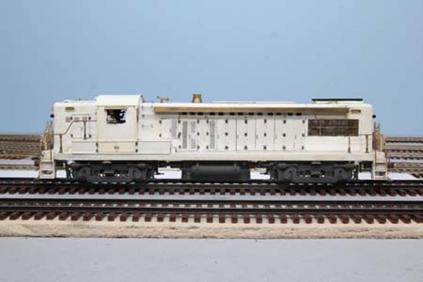 <![endif]> <![if !vml]>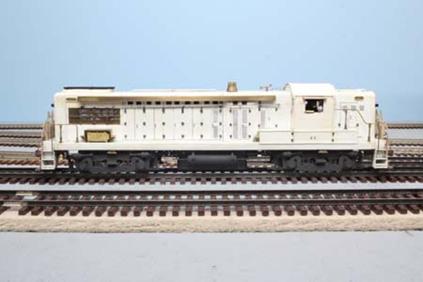 <![endif]>
<![if !vml]>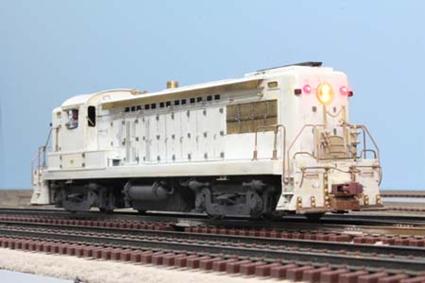 <![endif]> <![if !vml]>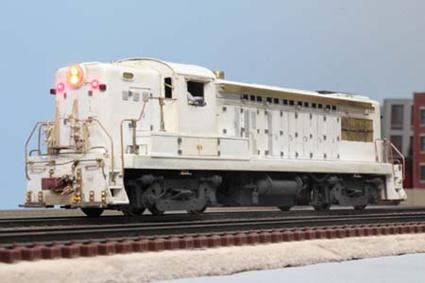 <![endif]>
<![if !vml]>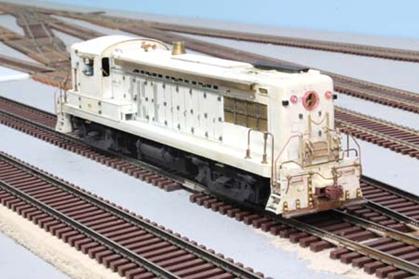 <![endif]> <![if !vml]>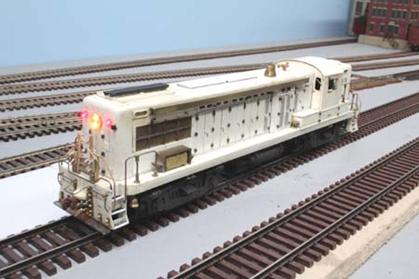 <![endif]>
Completed 1-11-18
After all the starts and stops over many years I am SO happy it is finally done. It is a lifetime project that took on a life of its own. But some things that are important cannot be rushed. The below is not the model I could have made even 5 years ago. It is significantly better, and hopefully I will not have second thoughts on what else I should have done to it in the future.
<![if !vml]>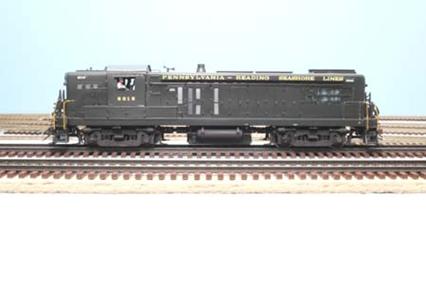 <![endif]> <![if !vml]>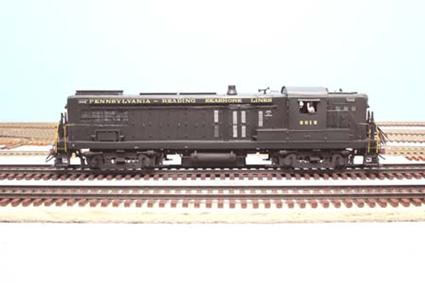 <![endif]>
<![if !vml]>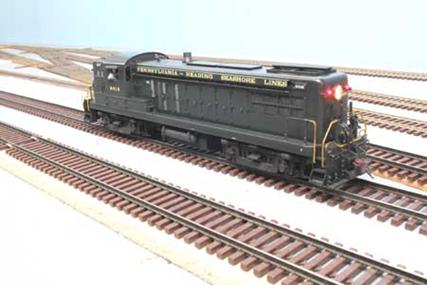 <![endif]> <![if !vml]>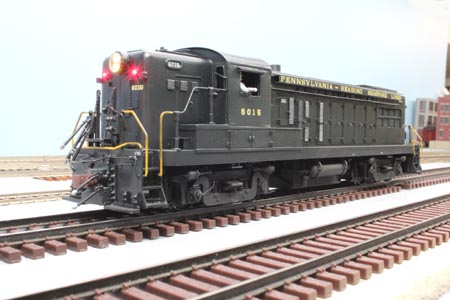 <![endif]>
<![if !vml]>
<![endif]> <![if !vml]>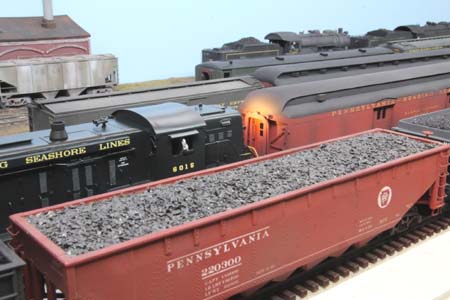 <![endif]>
Maximum PRSL
I don't think I can possibly squeeze any more PRSL in this photo. All of the icons are finally here, RDC M405, AS16 6015, and K4 5495. They are the stars of my Wildwood painting completed in 2009. All I need is Wildwood Station!
<![if !vml]>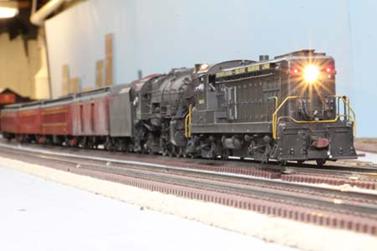 <![endif]> <![if !vml]>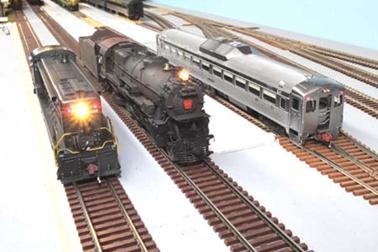 <![endif]> <![if !vml]>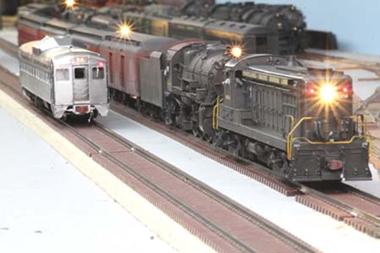 <![endif]>
Added 1-20-18
A week after completing my AS16 I rediscovered this photo of a test run on a friend's layout on 3-28-07. What a difference start to finish for my completed model!
Updated 2-25-18
All photos and content © Lanes Trains 2005-2018