<![if !vml]><![endif]>

<![if !vml]><![endif]>

I have long wanted a N&W Y6b in S Scale, since my HO days when I had a AHM Y6b. The massive front cylinders and pilot handrails are unique. 30 years of new S brass projects came and went including a lot of steam locos. The Y6b was not one of them. At this point it is not likely to ever get made in brass. I am mostly good with that. I would have a difficult time in trying to justify spending $2500.00+ on a brass locomotive now anyway.

In 2012 Lionel was expanding the American Flyer line with all new locomotives. The Y3 was 1 of them. In spite of lobbying Lionel for many years to make steam locomotives with scale wheels they would not do it. They did make separate scale wheels available for some diesels. I have the American Flyer ES44ace PRR Heritage unit.

Lionel approached my friend Fred Rouse about doing scale steam loco conversions at significant skill and effort, giving him their blessing and some support. Fred made custom stainless steel driver rims and wheels. The drivers had to be completely disassembled and reworked.  Under 20 of these locomotives were converted to scale making them rather rare. There will be no more made. Lionel has reduced their new offerings. The Y3 is not currently in the American Flyer catalog.
I had seen 1 or 2 scale wheel converted Y3 on eBay before but they were not Norfolk & Western. If I was going to fill the Y6b void it had to be N&W. I did not even want the PRR Y3. In December 2017 a N&W Y3 was listed and bought. It was described as a project currently running on DC needing DCC. The original Lionel electronics were already removed from the locomotive when I got it. I would have gutted the Lionel electronics anyway. I had DCC issues with the ES44ace.
Right Out Of the Box
<![if !vml]>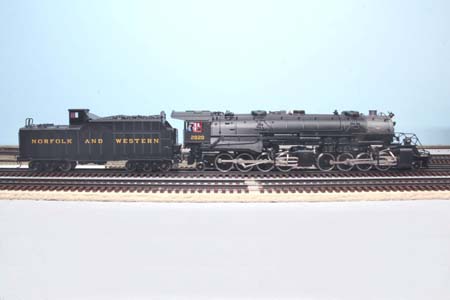 <![endif]> <![if !vml]>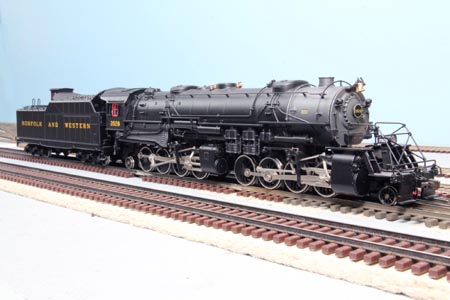 <![endif]>
Doing The DCC
There were still some small remains of the Lionel controls in the loco. This is the drive after I got it stripped down to the motors only. I am really NOT a fan of the "Chinese Drive" with 2 motors not connected to each other, but there is nothing I can do to fix it. It is what it is.
<![if !vml]>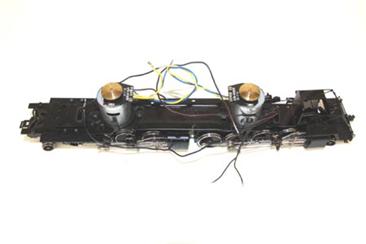 <![endif]>
I was not prepared to find the tender filled with more electronics. I could see the massive speaker in the tender floor. The tender was PACKED with electronics. The PILE is what I removed. After seeing this I have a bit more respect for Lionel.
<![if !vml]>
<![endif]> <![if !vml]>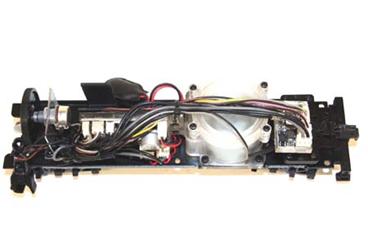 <![endif]> <![if !vml]>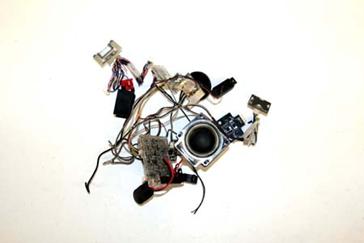 <![endif]>
In spite of the size of the Y3 that is not that much space for a decoder and a big speaker in the boiler. I always try to have the speaker pointing straight up right under the stack. My choice was a smaller square speaker under the stack or my favorite the RailMaster DLG8 speaker in the center of the boiler. This is a first for me with the leaning stack of electronics all in 1 place. It is the Tsunami 2 amp steam decoder, Current Keeper and the speaker on top. There is plenty of volume with this set up.
<![if !vml]>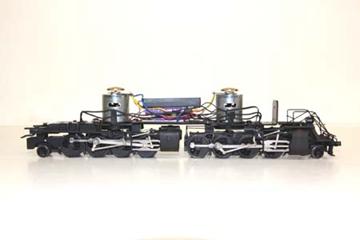 <![endif]>
I HATE having wires run between the loco and tender. This is all that was needed for me to run the backup light, not the POUND of electronics above. It is a NCE D13NHJ decoder which is the D13SRJ with a capacitor bank included. I put a 60 ohm ½ watt resistor across the orange and gray wires to simulate motor load. Program it for the loco number 2020 and install the LED on the blue and yellow wires. Good to go.
<![if !vml]>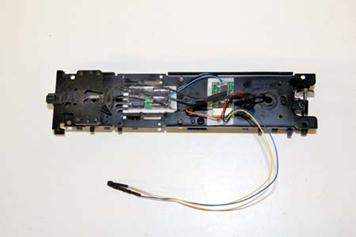 <![endif]>
Unlike the real articulated locomotives, the front and back driver sets pivot to get around sharp American Flyer turns. I tried to lock the rear drivers from pivoting, but it was not to be. My test run did not go well. The rear drivers did not track well at all. It must be because they actually pivot in the CENTER of the drivers. With my big turns you really cannot see the rear drivers pivoting anyway. It is significantly less boiler overhang than the B&O EM1.
Completed 12-16-17
(In about 24 hours from loco arrival)
I just had to knock the shine off. It is all clear coated with Scalecoat "flat glaze" which is not dead flat, but is MUCH more durable to handling wear than Dullcoat. I don't use Dullcoat much at all any more because it wears off easily even years later. I "accidentally" killed the headlight LED which was a SMALL surface mount chip, so I replaced them both with nice flame-throwing 3mm LEDs. Since I clear coated everything all the original acrylic windows were removed. They all got replaced with real glass. I put in a very chopped at Kadee 802 coupler head in the pilot. The boiler front marker light LEDs should be red not green, but I got them working anyway. The coal nuggets look like coal but are too large and uniform in size. I want to do a recoat with my coal. I will add a lens to the backup light.
It is a little more gear noisy than I would like, all the better to run it with the sound unit on. With the basic programming it is very fast, and 1 speed step change on the throttle is very noticeable. I have the momentum set to run with my B&O EM1 below. The Y3 is set to 60 when I usually use 10 to 15. That is odd. The EM1 is exactly twice the throttle speed setting of the Y3. They run together very well now.
I like to show partial coal consumption. The coal pile in the tender was not always heaping and full. I was going to cut out the "fake" coal load which might be real coal, make a coal bunker, and my own coal load. With the tender being die cast that is not happening. I may try a sprinkle coat on top with my real coal. This load is large nuggets and very uniform in size.
Painting the divers black greatly improved the appearance further removing the American Flyer look to it. When I paint my brass steam locos the rods get painted as well. I really like the look here without the painted rods, but they did get clear coated. There is a smidge of weathering. I might do just a little more.
<![if !vml]>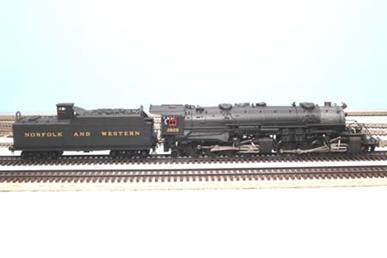 <![endif]> <![if !vml]>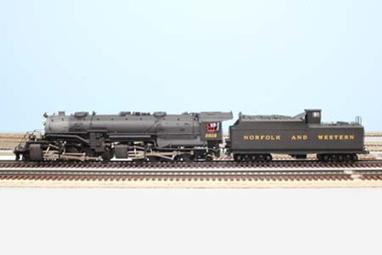 <![endif]> <![if !vml]>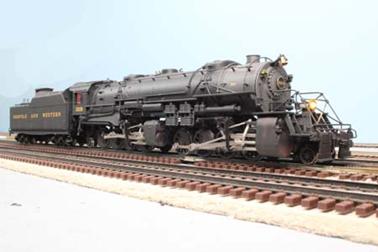 <![endif]>
<![if !vml]>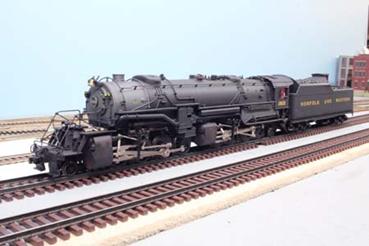 <![endif]> <![if !vml]>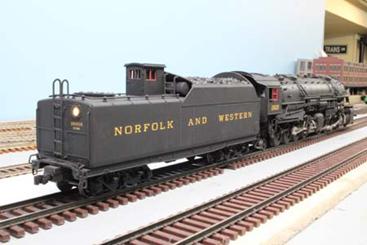 <![endif]>
Brothers From Another Mother
Posing And Running With My B&O EM1
My Articulated loco collection is now complete.
The Southwind Models B&O EM1 is significantly longer than the Y3 which I did not expect. Still they look great together.
<![if !vml]>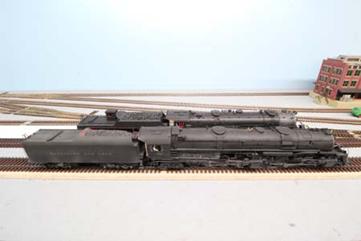 <![endif]> <![if !vml]>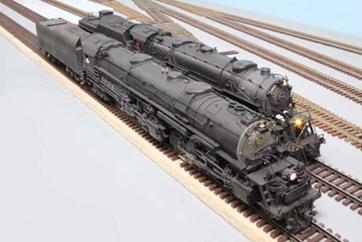 <![endif]> <![if !vml]>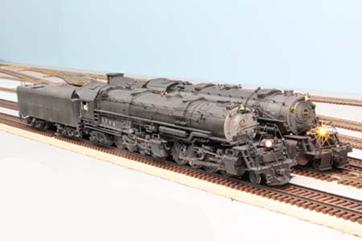 <![endif]>
<![if !vml]>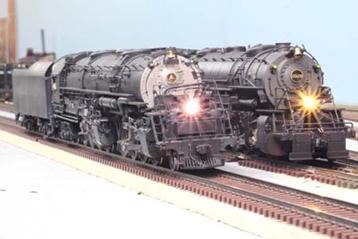 <![endif]> <![if !vml]>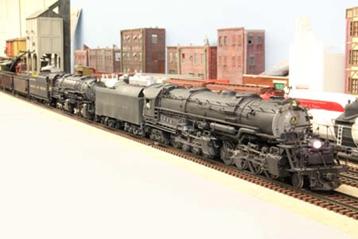 <![endif]> <![if !vml]>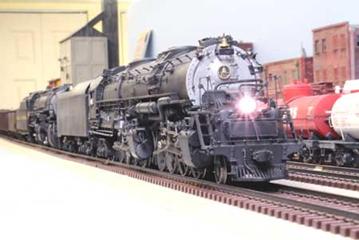 <![endif]>
Added 2-13-18
Norfolk & Western Caboose
On 2-12-18 I got an American Models caboose It's a foobie but making a N&W caboose is not in my plans.
<![if !vml]>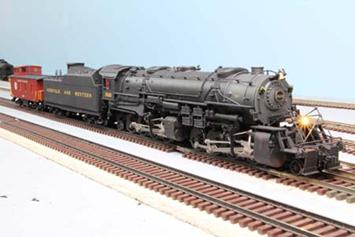 <![endif]> <![if !vml]>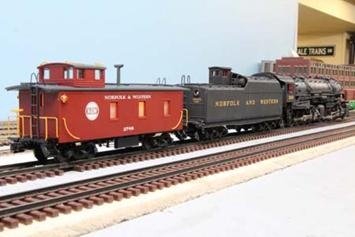 <![endif]> <![if !vml]>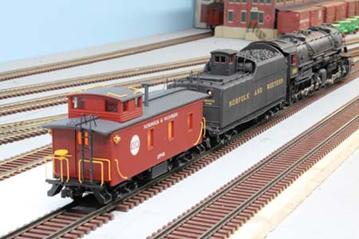 <![endif]>
Added 7-15-18
Overland Auxiliary Tender
AKA "Water Bottle"
In June 2018 an Overland N&W A 2-6-6-4 and Auxiliary Tender came up for sale on eBay. I never had the N&W A. As mentioned above I always wanted the Y6b which was never made, and why I got the Y3. I bid a silly low $100.00 on the A, figuring I would lose but I really wanted water car. Yes, I bought a brass tender to run with an American Flyer locomotive! With only about 20 of the Y3 converted to scale wheels I have to be the only one with a water bottle!
The tender arrived with some loose parts needing some TLC and touch up. I also wanted to add headlights. Most tenders do not have 2 headlights. I get that the forward headlight on the Auxiliary Tender is not likely to be on when moving forward, but I LIKE lights. I added pick up wipers to 4 wheels, a NCE decoder with a capacitor bank and 3MM LEDs. There is a 50 ohm resistor in place of a motor.  There will be NO light flickering. The decoder is set up like a diesel with directional lighting. Good enough.
<![if !vml]>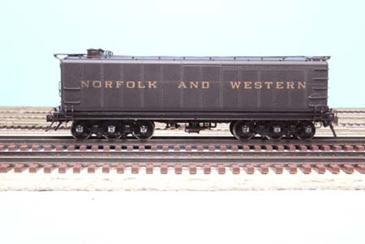 <![endif]> <![if !vml]>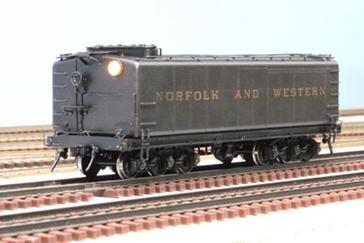 <![endif]> <![if !vml]>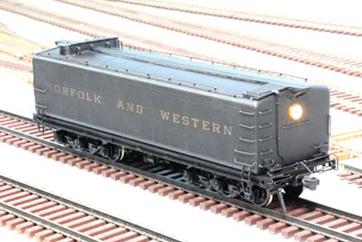 <![endif]>
I may get new decals made to better match the locomotive lettering color. Repainting the tender would be very easy.
<![if !vml]>
<![endif]> <![if !vml]>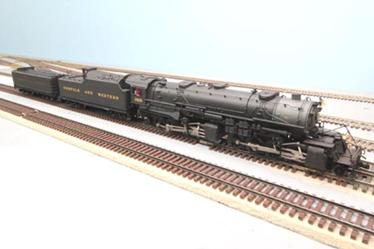 <![endif]> <![if !vml]>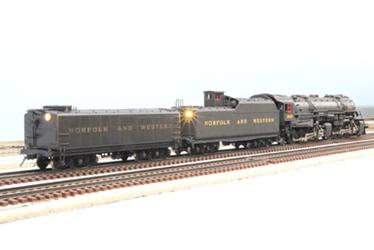 <![endif]>
Updated 7-15-18
All photos and content © Lanes Trains 2005-2019