<![if !vml]><![endif]>

Maybrook NY Excursion  10-14-56

Maybrook NY Excursion  10-14-56
Philadelphia PA 9-7-62
<![if !vml]>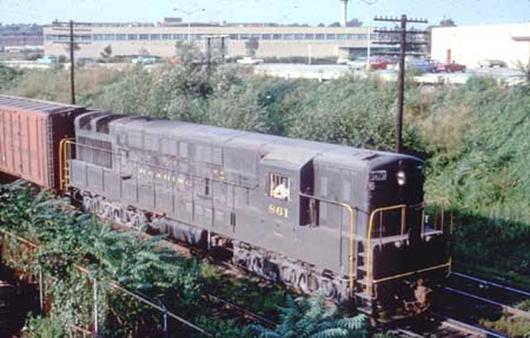 <![endif]>
The American Models Fairbanks-Morse Train Master was out for many years before I bought one. I did not think they were interesting enough to add antennas for PRR. Then my Reading modeling binge hit in 2015. It is all something a bit different. No Trainphone antennas are needed; it is Pullman Green and some were used in dual service for freight and passenger service. My 861 will mostly be used in passenger service.
Since I was not going to make a PRR unit I never really paid attention to the Trainmaster. The model was significantly better than I expected. American Models diesels always had Delrin plastic handrails that never stayed in place. The Trainmaster has very nice and STRONG metal handrails. That a major plus, as it is one very big thing I would not have to replace.
I wanted to get an unpainted model but got a good deal on this Wabash. I liked the Wabash paint scheme but it had to get stripped. It is shown below as right out of the box. Ironically the Wabash is 561, which was to become Reading 861.
Photos taken 11-8-15
<![if !vml]>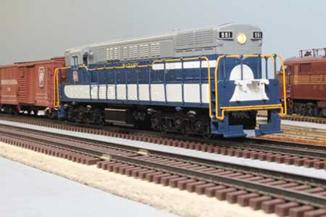 <![endif]> <![if !vml]>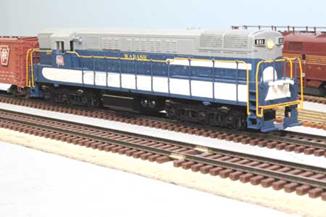 <![endif]>
Pilot Plug
The most glaring issue out of the box was the very large pilot opening for the American Flyer compatible coupler. That had to be filled in - first and set the correct coupler height. I designed an integral pilot plug piece and draft gear, and then 3D printed the pieces. These are screen shots from Solidworks of the 2 pieces I designed.
<![if !vml]>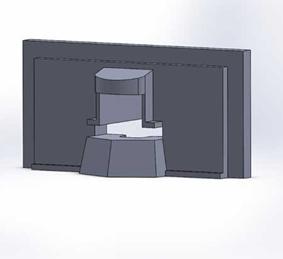 <![endif]> <![if !vml]>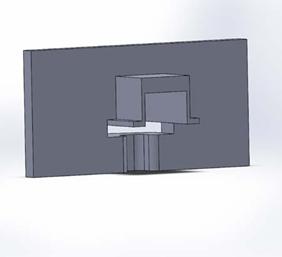 <![endif]> <![if !vml]>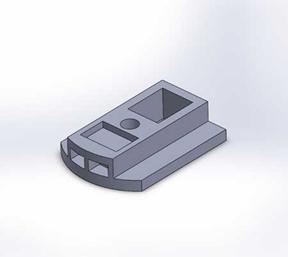 <![endif]>  <![if !vml]>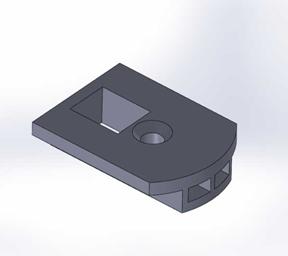 <![endif]>
It was not my preference but I had to move the coupler mounting from the metal frame to a 3D printed draft gear on the shell. In tests of early versions it proved to be more than strong enough, as long as I can avoid head on collisions! Luckily, ACC bonds well to this material. I had to mill the frame to remove the original coupler pad and slip it past the new draft gear on the body.
<![if !vml]>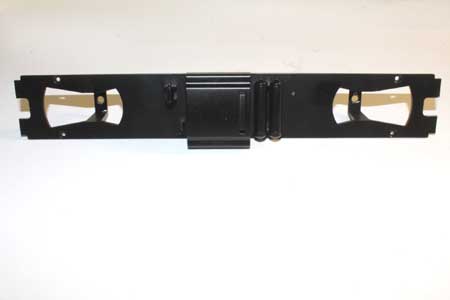 <![endif]>  <![if !vml]>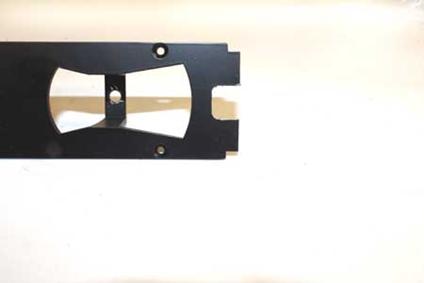 <![endif]>
I recycled the original foot boards. These photos of the completed pilot were taken 11-8-15.
<![if !vml]>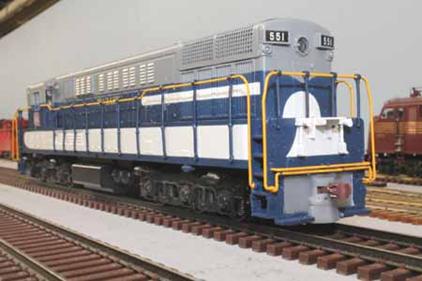 <![endif]> <![if !vml]>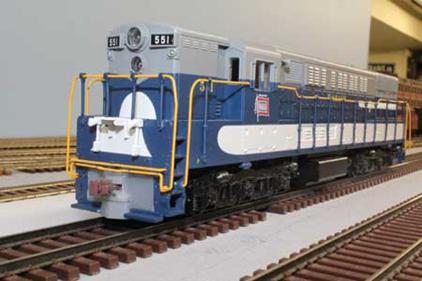 <![endif]>
Note the opening in the bottom plate. I had to insert the centering spring after the coupler and plate was slid into place.
<![if !vml]>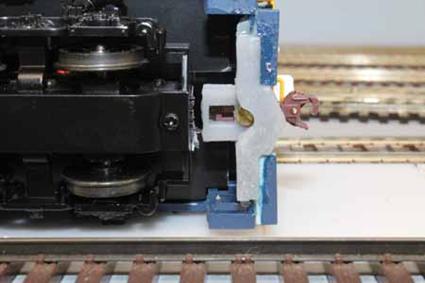 <![endif]> <![if !vml]>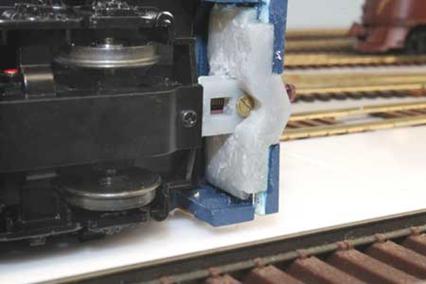 <![endif]>
Figuring the correct coupler height in a draft gear is always a guess and a challenge. But that makes it fun as well!
Paint Stripped
7-24-16
I stripped the paint using Scalecoat paint stripper for plastic models. It must be the same stripper as the old and very expensive Chameleon stripper that is now out of business. It takes a few hours but works very well. Some prodding and scrubbing is needed. Once completed it washes off with water.
For some reason the paint on the handrails did not get stripped. That turned out to be a big problem. That paint was nothing short of amazing. It was bulletproof. I had to literally grind it off with a carbide cutter that took over an hour. Grinding that paint off also reduced the handrail diameter by .006 which is substantial. It looks much better now.
Lesson learned here is buy unpainted models if possible. I did not save anything by getting the Wabash model.
<![if !vml]>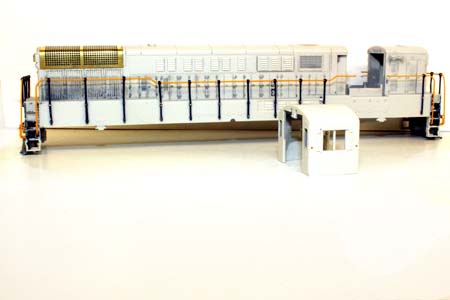 <![endif]>
Filling In The Dual Headlight & Ready For Paint
8-7-16
I don't know why, but there was a dual headlight on the short hood only. That also had to go. After some thoughts of turning a plug on my lathe, the much simpler idea came to me to use the original headlight lens to fill the hole. That worked out very well. I have been using a very old school auto body product called Nitro-Stan as a body filler. It is 1 part, so no mixing is needed. It dries pretty quickly and is red so it is easy to see what remains as you are sanding it down to what is really needed.
I also added the rain gutter to the cab roof that is on many Reading diesels.  It is Plastruct plastic angle.
You can see in the short hood end shot the headlight lens after the first round of sanding. I painted the end to see what needed filling and sanding work.
All of the brass castings for the air hoses are from Bills Train Shop. http://www.btsrr.com
<![if !vml]>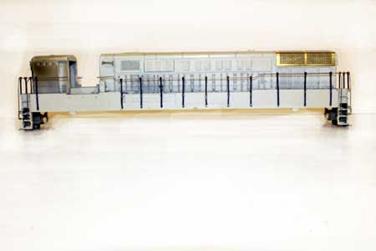 <![endif]> <![if !vml]>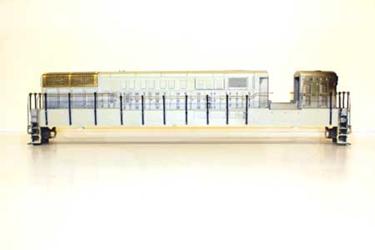 <![endif]> <![if !vml]>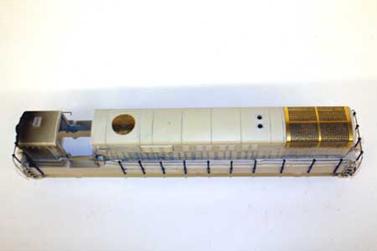 <![endif]>
<![if !vml]>
<![endif]> <![if !vml]>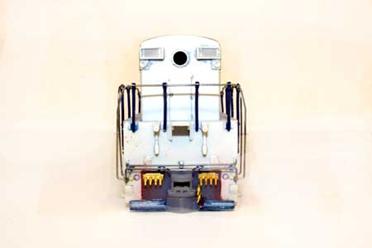 <![endif]> <![if !vml]>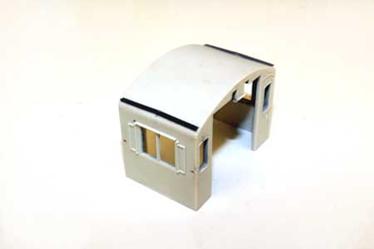 <![endif]>
Finally some paint
8-8-16
The second headlight on the short hood went away pretty well. You really can't see it at all. The remaining headlight is too high to put the horn above it that is buried in the carbody. There is only so much I want to fix here.
<![if !vml]>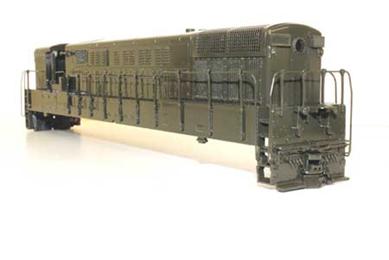 <![endif]>  <![if !vml]>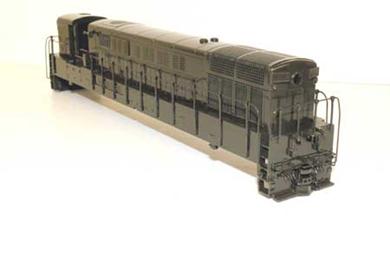 <![endif]>
<![if !vml]>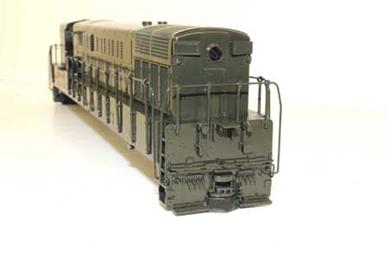 <![endif]>  <![if !vml]>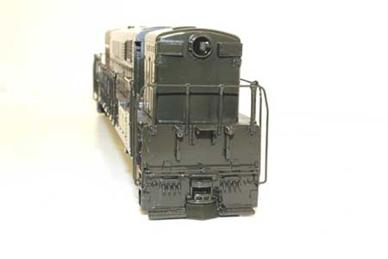 <![endif]>
Completed 9-4-16
Painting the handrails yellow again was a significant effort. Painting yellow over a dark color is at least 2 coats. There is currently no attempts at weathering, and I have not decided yet it there will be any. It is just too pretty! I used real glass for the windows instead of the American Models plastic windows. I added some details to the underbody, like a speed recorder, fuel fillers, and "pipes" to the air tanks. Hoses for the Multiple Unit, Train Pipe, Signal Line, and Steam line were added to the pilots.
<![if !vml]>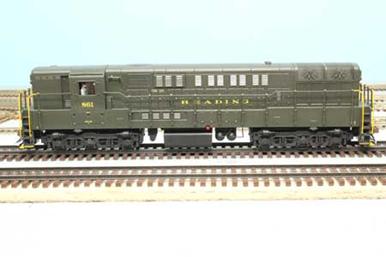 <![endif]> <![if !vml]>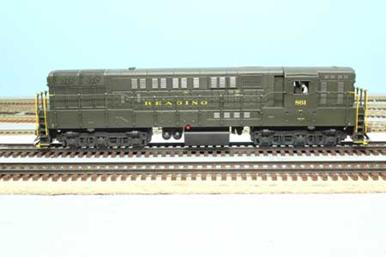 <![endif]>
<![if !vml]>
<![endif]> <![if !vml]>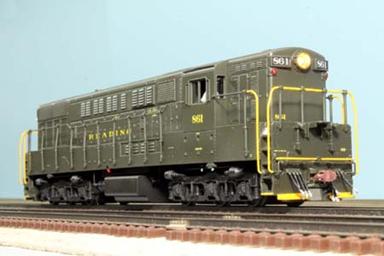 <![endif]>
<![if !vml]>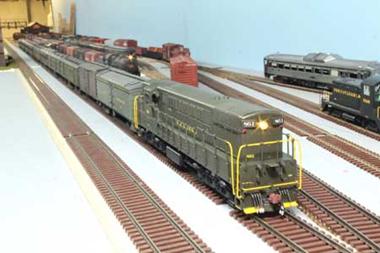 <![endif]> <![if !vml]>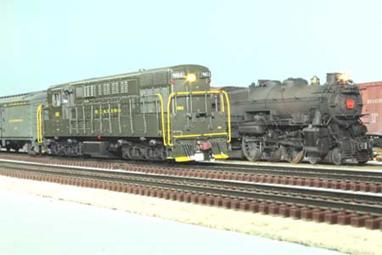 <![endif]>
Added 8-18-19
In July 2019 I bought 1 of the very few locos factory painted for Reading. American Models has a 2 unit set in yellow and green. The yellow and green scheme has grown on me since making 861 above. They were a much less involved project as well. The second headlight on the short hood will remain as is. I just had to fill in the pilots though. When I made 861 I was doing my own 3D printing. I have not used my own 3D printer in years so I had to prove Shapeways could make my parts. It all worked out very well. I think the before and after is evident. The design of the pilot and coupler cover is really good! I am very happy with how they turned out.
<![if !vml]>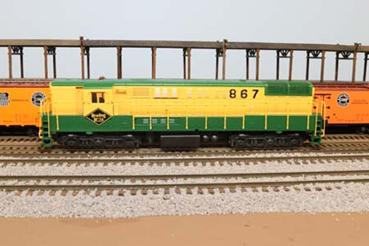 <![endif]> <![if !vml]>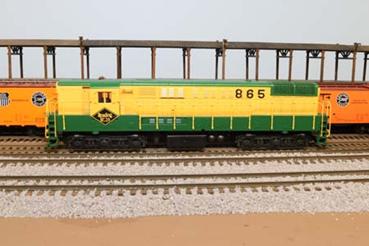 <![endif]> <![if !vml]>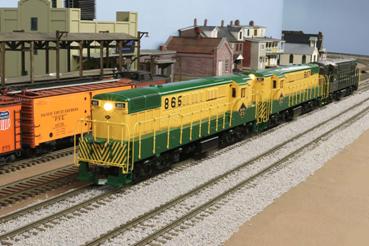 <![endif]>
<![if !vml]>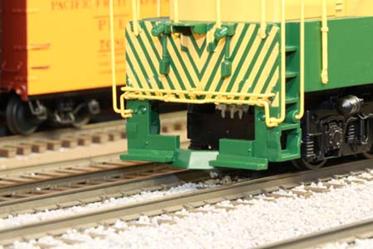 <![endif]> <![if !vml]>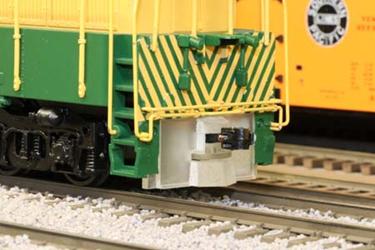 <![endif]>
Completed 8-28-19
As mentioned this was a little fix up project, not intended to be a many month's long effort.  There has to be some variety in my projects.
<![if !vml]>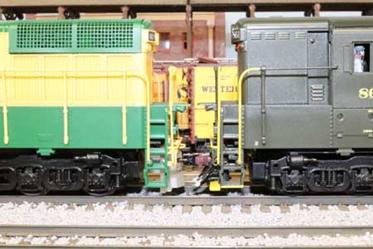 <![endif]> <![if !vml]>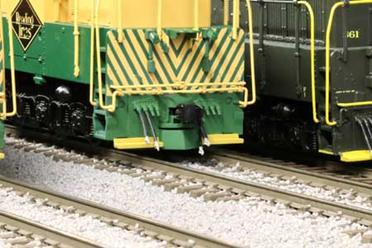 <![endif]>
<![if !vml]>
<![endif]> <![if !vml]>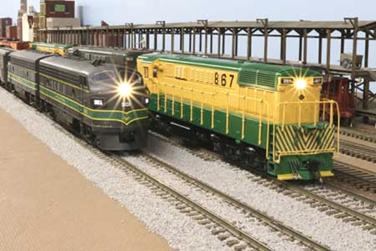 <![endif]>
Updated 8-28-19
All photos and content © Lanes Trains 2005-2019