<![if !vml]><![endif]>

S Scale is unfortunately lacking a large variety of flat cars

Here is part of my collection.

FM

This car is a urethane kit that was made by Steve Funaro for Central Hobby Supply in Syracuse NY in the early 1990s. It was released at the same time as the GRa kit, which I assembled first. I built both of these cars before I really became heavily involved with brass cars. A plan for the FM was printed in Mainline Modeler at about the same time the car was released.  I thought the kit was a little rough. I hollowed out the center sill and made a small lead weight that fit under the deck. I followed the Mainline article and added a full brake system. I discarded the urethane deck that was included and installed a board by board deck. Finally, I made the 2 Carmer Cut levers.

F30

This is a F30 that was made by Southwind Models in the early 1990s. It is pretty much right out if the box and is not weathered at this point. I had to use a mixture of HO and S Scale decals to finish this car.

<![if !vml]><![endif]>
F33
In 2012 I produced the PRR F33 as a urethane body. It is similar to the well hole flat car below but is shorter buy about 10 feet. This car shown is the first production mock up taken on 11-27-12.  More on this car later when I complete it with decals and more details. 
<![if !vml]>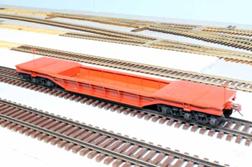 <![endif]>
F34
This is a F34 also made by Southwind Models. It is factory painted and has not been weathered yet.
F39
This F39 Truc Train was released by Bill's Train Shop in 2005. It is a pewter and plastic kit. My friend Gus Minardi assembled it, and I finished it from there. The roller bearing trucks and larger trailer were made by S Helper Service. The smaller trailer was made by Hartoy.
NYC/C&O Well Hole Flat
This C&O/NYC Well Hole flat car was made by River Raisin Models in 1995. I added a board by board deck inside the well.
Seaboard F-6 Flatcar
Completed 1-16-14
Navy Boat Flatcar Load
Added 9-8-20
These flat cars were gifts from a friend that I helped do research on some PRR cars for him. The flat cars are S Helper Service. I am not into military modeling but these Navy boats as flat car loads are absolutely awesome. I do not know who built them but I am guessing he was a military modeler. The details inside the boats and weathering on the boats are really great. I now have cars with machine guns – in the crates.
<![if !vml]>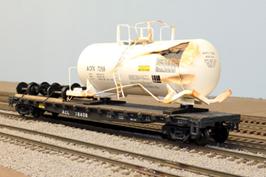 <![endif]> <![if !vml]>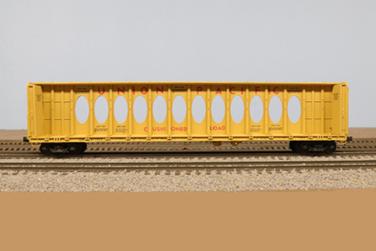 <![endif]>
<![if !vml]>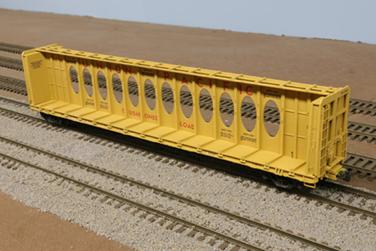 <![endif]> <![if !vml]>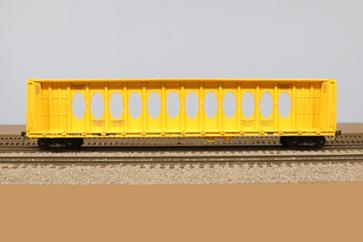 <![endif]>
<![if !vml]>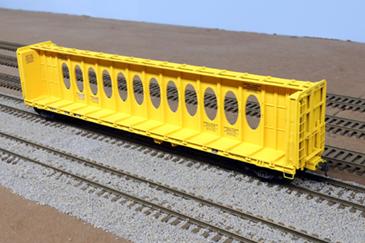 <![endif]> <![if !vml]>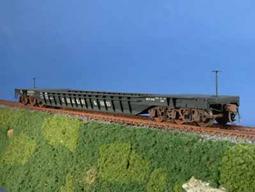 <![endif]>
Flatcar Load
Added 7-31-19
I got this item at an auction for the late Dave Bailey with 3 diesels on 6-23-19. I did not know what it was but knew it would be a great flat car load, and likely Dave's intent as well. It is painted a custom Scalecoat color made for Canadian reefers. I decided it could have been made by Bethlehem Steel so I had some custom decals made. I filled it with 5 ounces of lead car tire weights. After posting on the internet to some train and steel mill groups I got this reply as it what the item is.
Ken Reiter Gear case for a large ship main reduction gear. Two turbine inputs, double reduction. Output shaft bearing location is the half circle at the bottom. The low speed 'bull gear' lower half fits into an oil sump just as large as this case. Some bull gears are 12 feet in diameter
I think it is so cool I had to feature it as a model on the flat car page. I have a depressed center flat car in mind for it.
<![if !vml]>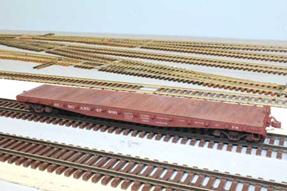 <![endif]> <![if !vml]>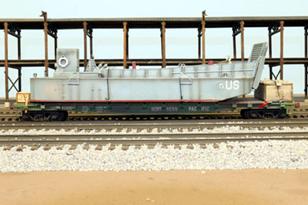 <![endif]> <![if !vml]>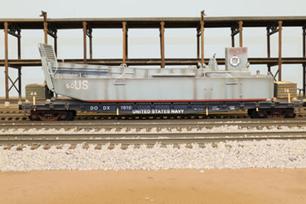 <![endif]>
New York Central Merchants Despatch Milk Flat Car
Added 12-25-19
It is a bit of a stretch to call this a flat car but that is what I am doing. This a 1 of a kind in S Scale scratchbuilt car made by Kent Singer. Kent liked things New York Central and was an amazing modeler. This was a Best In Show winner at a NASG convention. I bought it as shown below in December 2019 from Dick Karnes. Kent used Kadee #5 couplers that were tight to the buffer. I changed to my custom brass #5 shank that is longer with an 802 coupler head for easier coupling after the below photos were taken. Sometimes the #5 couplers do not play well with the S Scale 802.
<![if !vml]>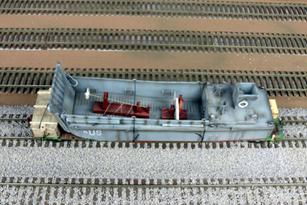 <![endif]> <![if !vml]>
<![endif]>
<![if !vml]>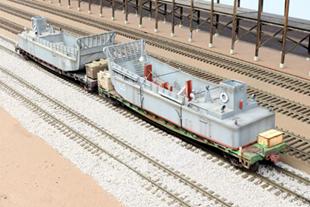 <![endif]> <![if !vml]>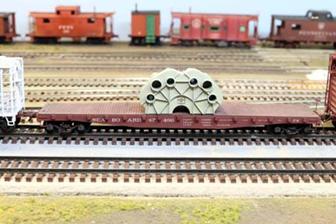 <![endif]>
Updated 9-8-20
All photos and content © Lanes Trains 2005-2020